Welcome to Mountain IQ's Climb Kilimanjaro Guide, the web's most authoritative information portal on trekking Mount Kilimanjaro.
Our Mission
Our mission is to:
1. To provide up to date and comprehensive information on trekking Mount Kilimanjaro so that your experience is as fulfilling and safe as possible.
2. To promote responsible tourism to Tanzania so that the natural environment and local communities that depend on the mountain are positively impacted by your visit.
3. To promote safe and responsible trekking experiences on Kilimanjaro, with a particular emphasis on ensuring porters and guides are treated fairly and ethically.
Our Team
Climb Kilimanjaro Guide was launched by Mark Whitman in 2013. Since then the site has been visited over 5 million times, and helped countless people achieve their dream of climbing Kilimanjaro.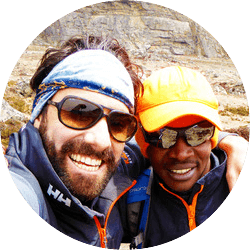 Today, our site is maintained by a network of expert contributors, all of which have climbed Mount Kilimanjaro and some of which guide or have guided treks to Uhuru Peak. Contributors to the site are volunteers and are not paid.
If you are interested in contributing your knowledge and experience to the site please contact us.
Getting Started
There is a wealth of information on our site, so to help you get started either check out this page or view our site map.
The website is also available as a downloadable eBook – see here.
Happy browsing,
Mountain IQ Team