Hey, I'm Mark 👋. Welcome to my guide on hiking Mount Kilimanjaro.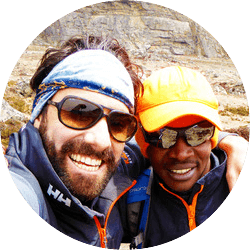 My aim is to provide free and inspiring advice to help you prepare for an amazing Kilimanjaro trekking experience.
I started this website in 2013 after climbing Kilimanjaro for the first time. Since then, over 5 million people have visited the site, and my guidebook, Mount Kilimanjaro: Trekkers Guide to the Summit, has been downloaded over 10,000 times.
On this page I cover everything you need to know about Mount Kilimanjaro and how to prepare for your summit attempt.
So stick around, pop the kettle on, and let's get started!
Kilimanjaro Travel Guide 2021
Skip to Kilimanjaro FAQs or Kilimanjaro Facts
---
Summit Safely and Successfully
We do not sell tours, we simply provide impartial advice. Get a quote from our recommended local trek operator.
---
Kilimanjaro FAQs
How difficult is Kilimanjaro?
Hiking Kilimanjaro doesn't require any technical climbing or mountaineering skills, but due to the high altitude, it is a tough challenge. Anyone with the right level of fitness and mental determination can climb Kilimanjaro though. For inspiring stories and preparation information see our article can a beginner climb Kilimanjaro?
Mt Kilimanjaro Overview: Why is Kilimanjaro famous?
Mount Kilimanjaro is situated in the Northern part of Tanzania, in the Kilimanjaro National Park. It covers an area of 100 kilometers long and 65 kilometers wide.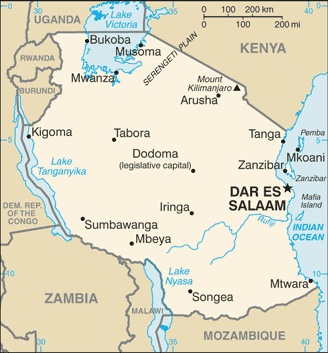 The mountain is a dormant volcano which is comprised of three volcanic cones, Shira, Kibo (on which Uhuru summit stands) and Mawenzi.
Kibo is classified as dormant but not extinct. The last major eruption from Kibo occurred 360,000 years ago. The last volcanic activity happened 200 years ago and resulted in today's ash pit (visible from Uhuru Peak).

Mount Kilimanjaro is the highest mountain in Africa and the tallest free-standing mountain in the world. By free-standing, or non-massif, we mean it is not part of a mountain range.
The height of Mount Kilimanjaro is 5,895m or 19,341 feet, and its main summit is called Uhuru Peak. To put Mt Kilimanjaro's height into perspective, Mount Everest stands at 8,848 meters (29,029 feet) – just over 2,950 meters higher.
But here's an interesting Kilimanjaro Fact: Both Everest Base Camp's (EBC) – South and North – are below the summit of Kilimanjaro; however, most hikers take upwards of 8-10 days to reach EBC.
On Kilimanjaro trekkers on fast routes reach the summit within 4-5 days. The rapid ascent of Mount Kilimanjaro makes it a difficult and rather dangerous mountain to hike due to the risks of Altitude Sickness.
As the highest mountain in Africa, Mount Kilimanjaro is one of the Seven Summits (i.e. highest mountains on each of the seven continents).
The other mountains on the Seven Summit circuit, in order of height, are:
Mount Everest – Asia – First ascent 1953 – 8,848 meters
Aconcagua – South America – First ascent 1897 – 6,961 meters
Denali – North America – First ascent 1913 – 6,194 meters
Mount Kilimanjaro – Africa – First ascent 1889 – 5,895 meters
Mount Elbrus – Europe – First ascent 1874 – 5,642 meters
Mount Vinson – Antarctica – First ascent 1966 – 4,892 meters
Mount Kosciuszko – Australia – First ascent 1840 – 2,228 meters
Here is a chart that shows the relative heights of the Seven Summits in relation to the 14 highest peaks of the Himalaya.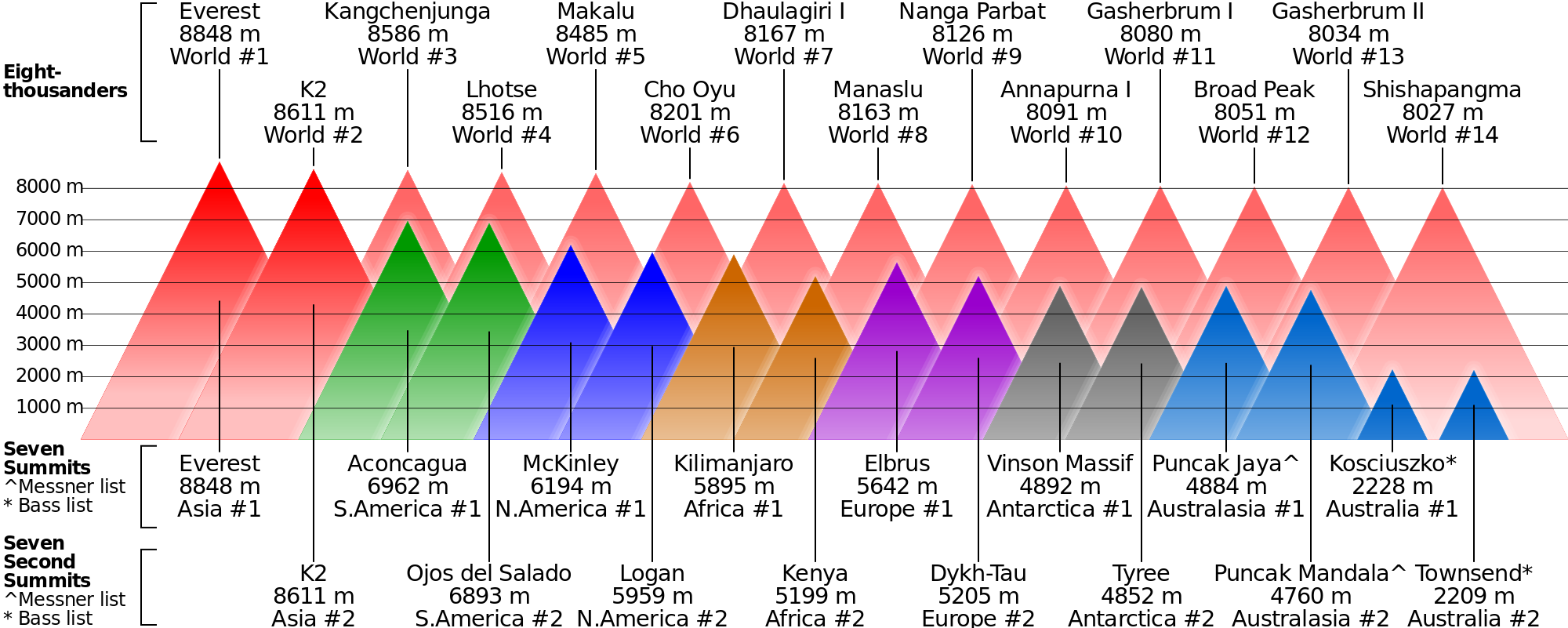 What are Kilimanjaro Hike Routes?
There are 7 official routes on Kilimanjaro. Check out our Kilimanjaro route overview article where we provide a summary on the pros and cons of each trail to peak.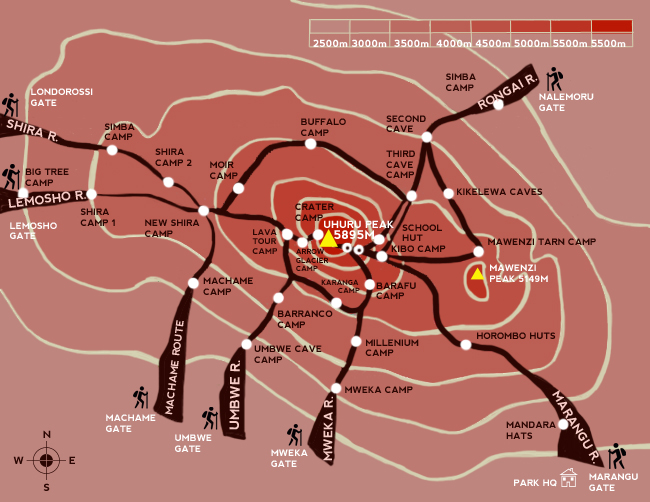 ---
There're over 200 Kilimanjaro Operators (Choose Wisely!)
We do not sell tours, we simply provide impartial advice. Get a quote from our recommended local tour operator.
---
Popular Southern Circuit Routes
Lemosho Route
The Lemosho starts on the far Western side of Mount Kilimanjaro. It is best trekked on a 7 or 8-day itinerary and offers great acclimatisation. High summit success rates and awesome scenery make the Lemosho one of our favourite routes on Kilimanjaro.
Discover the Lemosho Route.
Machame Route
The Machame starts from the South-west at a slightly lower altitude than the Lemosho. It is typically completed on a 6 or 7-day itinerary, with the latter offering better acclimatisation and higher summit success rates. Like the Lemosho it is scenic and a great route to choose.
Discover the Machame Route.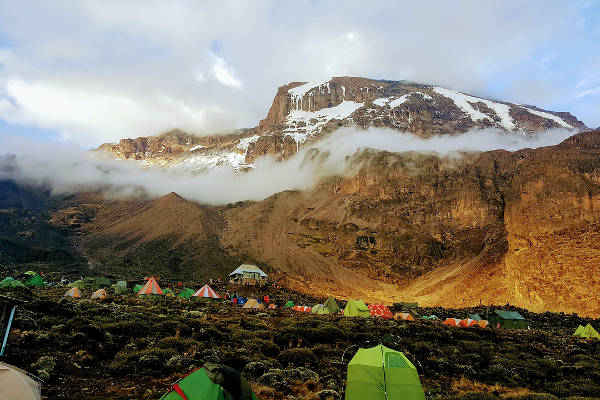 The Western Breach is a somewhat technical approach to Kilimanjaro. The route bypasses the Southern Circuit and heads north past Lava Tower. The trail is rocky and unstable. Rockfalls are common and we do not recommend this route.
Other Unique Kilimanjaro Route Options
Marangu Route
The Marangu is the only route with hut accommodation. It tends to be the most popular route as it is shorter and cheaper than others. Success rates are relatively low though. If you are considering the Marangu make sure you choose the 6-day itinerary (not the 5-day).
Learn more about the Marangu Route.
Northern Circuit
The Northern Circuit is the longest and quietest route on Kilimanjaro. The route starts on the Lemosho but then traverses the Northside of the mountain and approaches the Uhuru Peak via Gilman's Point. It's a great trail if you have the time and money, and want to avoid the busier trails.
Learn more about the Northern Circuit.
Rongai Route
The Rongai is the only route that starts in the north, from the Kenyan border. The trail offers some of the best low lying images of Mount Kilimanjaro. It is also a great option if you are restricted to climbing during the rainy season, as the north tends to be in a rain shadow.
Learn more about the Rongai Route.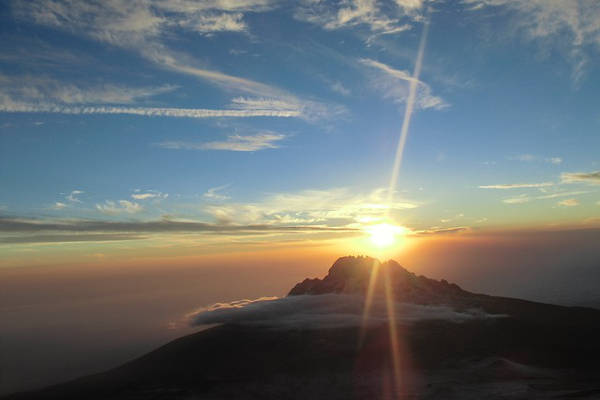 Kilimanjaro Routes (Not Recommended)
Shira Route
The Shira is the old starting point from the Western side of Kilimanjaro. Since the Lemosho gate opened, the Shira has become much less popular as it start point is relatively high, and therefore not good for acclimatisation.
Learn more about the Shira Route.
Western Breach
Learn more about the Western Breach.
Umbwe Route
The Umbwe starts in the south and follows a relatively direct path up to Lava Tower, where it joins the Southern Circuit routes to Barranco. Due to its fast and direct approach, acclimatisation opportunities are poor and we don't recommend it.
Learn more about the Umbwe Route.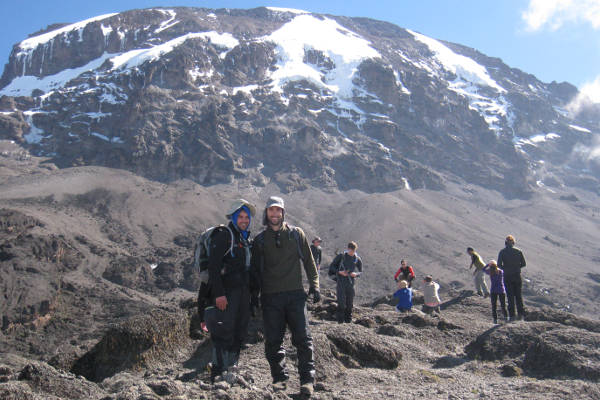 ---
Great Prices. Unbeatable Value.
We do not sell tours, we simply provide impartial advice. Get a quote from our recommended local trek operator.
---
When is the best time to climb Kilimanjaro?
The best time to hike Kilimanjaro is January – March and June – October. The former season is generally colder than the latter but is also often quieter.
Here is a brief overview on the main seasons or read our article on the best time to climb Kilimanjaro.
January-March
January through March is a good time to climb Kilimanjaro. The weather is pretty stable and there isn't much rain. It is however colder during this period. Snowfall at or near the summit is quite likely.
April-May
April and May are the rainy season months. It is not a great time to hike Kilimanjaro. Heavy rainfall on the lower reaches of the mountain is common. Cloud cover and poor visibility are also significant during this period.
June-October
June through October is the busiest season on the mountain as it coincides with the summer holiday period in Europe and N. America. The weather is also very good. Generally dry and warm during the day.
November-December
November is a light rainy season. The Rongai makes for a good choice during this month as the North tends to stay dry. December is fast becoming a popular season, despite being very cold on the summit.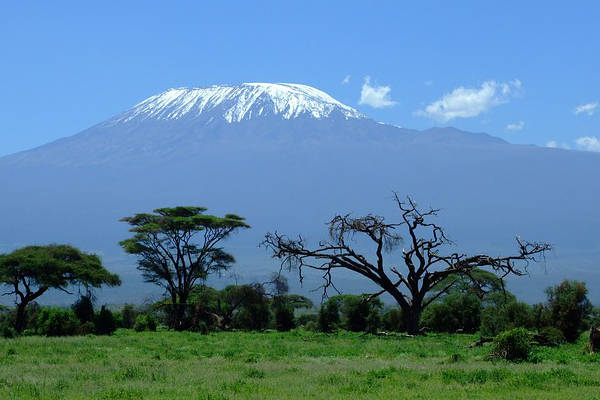 Can you give me more detail on Kilimanjaro weather?
We have a detailed article on Kilimanjaro's weather, but as a quick snapshot, here is some detail.
Kilimanjaro's weather is heavily influenced by the interaction of trade winds.
The Southeast trade winds travelling over the Indian Ocean carry loads of moisture. When they hit Kilimanjaro, around March, they are forced upwards where they condense, form clouds and precipitation. This means March through to May is the wettest season on Kilimanjaro.
Anti-trade winds from the northeast carry very little moisture but blow strongly. The strength of these winds which last from April through to October keep the Southeast trade winds below them, hence these months are usually dry and cloud cover and precipitation is generally restricted to the lower slopes.
The North-east monsoon arrives in November and brings some light rains to the northern slopes of Kilimanjaro.
March, April and November are the wettest months on Mt Kilimanjaro. January-March and June-October are the best months for trekking. Snowfall and cold temperatures are common during December-May.
The chart below shows the average snowfall in cm on the summit of Kilimanjaro. As you can see it is highest during November-May.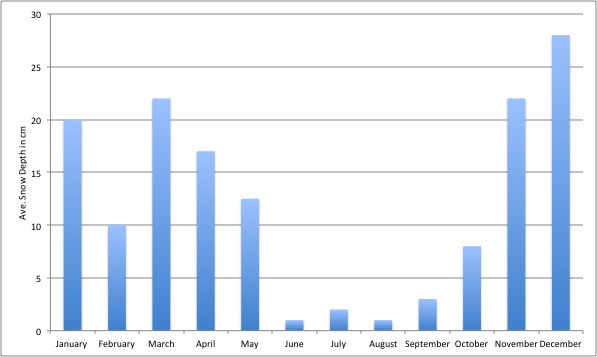 In terms of temperature, here are daily averages in degree Celsius by month at different altitudes.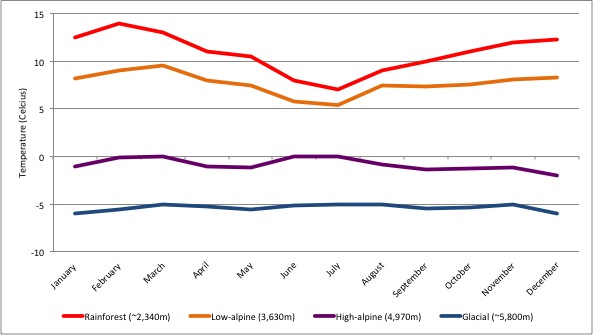 How much does it cost to climb Kilimanjaro?
It costs between $2000-$3000 to hike Kilimanjaro.
Trekking Kilimanjaro is unfortunately not a very cheap activity. Prior to 1991 you could literally rock up in Moshi with a backpack, some dry food and a spirit for adventure, and be on a trail up to Kilimanjaro's summit unsupported. Since the early 90s, though, trekkers have had to be accompanied by a registered guide and pay entrance park fees. The latter has got relatively expensive and can cost up to $1,000 depending on the length of a trek (see information on Kilimanjaro park fees).
Today, the standard setup for a climb involves a full support team of a guide, cook and porters, who are instrumental in getting most trekkers to the summit successfully and safely. The combination of high park fees and full support teams mean that an average Kilimanjaro hike (excl. travel expenses like flights and off-mountain expenses) costs between $2,000-$3,000. It is possible to find climbs for as little as $1,500 but these tend to be with operators who have questionable practices, particularly with regard to how much they pay their porters.
You may want to read this article: Climbing Kilimanjaro Cost: The Financial Stuff to be Aware Of
How can I avoid altitude sickness on Kilimanjaro?
Altitude sickness (aka Acute Mountain Sickness) is a systemic issue on Mount Kilimanjaro. This is partly to do with the fact that Kilimanjaro is a high altitude trek, but more critically because the speed of ascent on most Kilimanjaro routes is relatively rapid. Before you travel to Kilimanjaro it is vital that you understand the risks of high altitude trekking.
We have written a detailed online guide that explains how you can improve your chances of achieving proper acclimatisation on Kilimanjaro, as well as explains what symptoms to look out for in terms of altitude sickness. We also provide information on the severe and dangerous conditions of High Altitude Pulmonary and Cerebral Edema.
How many people hike Kilimanjaro each year?
Approx. 35,000 people attempt to hike Kilimanjaro every year.
What is Kilimanjaro summit success rate?
Kilimanjaro's summit success rate varies from 45% to over 85%, depending on the route chosen. The chances of reaching the summit of Kilimanjaro are highly dependent on the number of days taken to trek the mountain. The more days the higher the probability of success as your body has more time to adapt and acclimatize.
Insight from the tour operators we work with shows that success rates are over 85% for all the trekkers who take up Mount Kilimanjaro or Mount Meru.
See detailed information on Kilimanjaro summit success rates.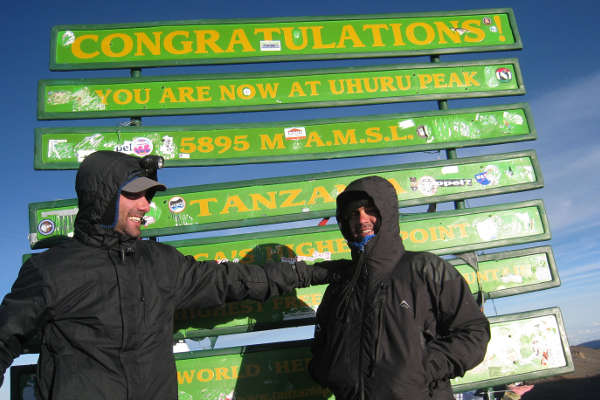 ---
Get connected with the Best Kilimanjaro Operator
We do not sell tours, we simply provide impartial advice. Get a quote from our recommended local tour operator.
---
What insurance do I need for Kilimanjaro?
Climbing Kilimanjaro comes with obvious risks. It is important that you get adequate insurance for your Kilimanjaro climb. Most standard travel insurance policies will not cover high altitude treks.
In our article – Kilimanjaro Travel Insurance: Better Safe than Sorry – we provide detailed advice on the type of insurance cover you need.
Alternatively, use the quote calculator from our partner, World Nomads. World Nomads provide specific coverage for hiking up to 6000m, which is perfect for Kilimanjaro.
What gear do I need to pack for Kilimanjaro?
The packing list for a Kilimanjaro trek includes a number of critical items. Some of these can be rented or bought in Moshi or Arusha before your trek, but there are a few very important pieces of gear that we recommend you bring with you to Kilimanjaro.
This detailed Kilimanjaro kit packing list provides a comprehensive overview on the gear you need as well as recommendations and links to specific gear outfitters.
Here are links to specific sections within the packing list: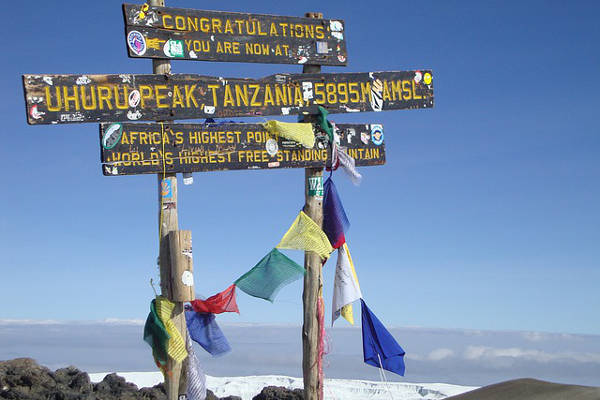 What's the best training for Kilimanjaro plan?
You should do at least 6-8 weeks of training before embarking on your Kilimanjaro trek. The best type of training is in fact long distance mountain trail walking. If you can't get out into the mountains though, then aerobic gym workouts (running, cross training, swimming etc.), that combine some strength work (especially leg workouts) are a good bet.
See our detailed Kilimanjaro training guide.
What is the minimum age to climb Kilimanjaro?
The minimum age to climb Kilimanjaro is 10 years or older, however, it is possible to get special permission from the Tanzanian government to take children younger than 10 years old on a Kilimanjaro expedition.
Do you recommend going on safari before or after hiking Kilimanjaro?
I recommend arranging a safari for after your Kilimanjaro hike. This removes any stress associated with thinking about the climb whilst on safari, and you can relax and enjoy the wildlife. Here's our complete guide on Tanzania safaris.
What Kilimanjaro guidebooks do you recommend?
There are a number of very interesting and useful books and guidebooks that have been written on Mount Kilimanjaro. We recommend having a look at our Kilimanjaro library where we review some of our favourite Kilimanjaro literature.
The most comprehensive and authoritative guidebook, Kilimanjaro: The Trekking Guide to Africa's Highest Mountain, written by Trailblazer author and Kilimanjaro expert, Henry Stedman. If you are looking for a very detailed and informative guide, then we recommend you go for this one.
Alternatively, our lead editor has written a short guide called Mount Kilimanjaro: Trekkers Guide to the Summit, which provides all the essential information you need to know at a smaller cost.
In terms of fun and entertaining works of fiction from previous climbers, we suggest either Rick Ridgeway's book, The Shadow of Kilimanjaro, or Tim Ward's Zombies on Kilimanjaro: A Father/Son Journey Above the Clouds.
How many people die annually climbing Kilimanjaro?
We estimate between 3-10 die hiking Kilimanjaro each year. Deaths on the mountain occur due to various reasons including AMS (such as HACE and HAPE), falls, and hypothermia. Sometimes porters die due to the onset of malaria whilst on the trek. Unfortunately, KINAPA doesn't provide official statistics on deaths so you may see many conflicting figures on the internet.
Is climate change affecting Kilimanjaro glaciers?
Yes, climate change is affecting Kilimanjaro glaciers, unfortunately. There is scientific consensus that Mt Kilimanjaro's glaciers have been rapidly receding for the past century, and that human-induced climate is largely to blame. The whole mountain summit was covered by an ice cap at one stage, probably more than 100 meters deep. However, since 1912 Kilimanjaro has lost 82% of its ice cap and since 1962 it has lost 55% of its remaining glaciers. If the present rate of receding continues the majority of the glaciers on Kilimanjaro could vanish altogether.
Here's a detailed article on Kilimanjaro's climate zones.
Other FAQs
The Climb Kilimanjaro Guide has a very active blog. Here are links to some of our most popular content.
Climbing Kilimanjaro With Asthma – Good or Bad Idea?
Climbing Kilimanjaro Without A Guide – Is it Possible?
Tipping on Kilimanjaro – How Much to Tip Guides and Porters
Toilets on Kilimanjaro – What to Expect When Doing Your Business
Cheap Flights To Kilimanjaro – How To Get To Kilimanjaro
---
Summit Safely and Successfully
We do not sell tours, we simply provide impartial advice. Get a quote from our recommended local trek operator.
---
Amazing Kilimanjaro Facts
When was the first ascent of Mt Kilimanjaro?
German geologist, Hans Meyer, Ludwig Purtscheller and a local called Lauwo were the first people to summit Mount Kilimanjaro in October 1889. However, it is possible that Kilimanjaro's summit was reached by locals prior to Hans Meyer, but was never recorded.
What is the fastest ascent speed record on Kilimanjaro?
The fastest ascent and descent of Mount Kilimanjaro is held by Swiss mountain runner, Karl Egloff, who ran to the top of the summit and back in 6 hours and 42 minutes in August 2014.
This incredible feat beat the previous record which was held by Spanish mountain runner, Kilian Jornet and set in September 2010. At the time, the Spaniard was 22 years old. He reached the summit in a record time of 5 hours, 23 minutes and 50 seconds – beating the previous ascent record from Kazakh mountain runner, Andrew Puchinin, by one minute! He then ran back down for a total round-trip time of 7 hours and 14 minutes, beating the previous round-trip record set by local Tanzanian guide Simon Mtuy of 9 hours and 21 minutes!
Check out this awesome video of Kilian Jornet's record ascent of Kilimanjaro.
The fastest Kilimanjaro ascent by a woman was held by German-born Anne-Marie Flammersfeld, who in July 2015 climbed to the top of Mount Kilimanjaro in 8 Hrs 32 Minutes, smashing the previous record held by Becky Shuttleworth by over 3 hours. In total it took Flammersfeld 12 hours 58 minutes to ascend and descend, breaking the ascent and descent record of 18-hour 31-minute record set by Debbie Bachmann. Read more about Anne-Marie's record here.
In 2017, Brazilian Fernanda Maciel smashed Flammersfeld's record by over an hour, recording an ascent time of 7 hours 8 minutes.
Amazingly this was beaten again in February 2018 by Danish ultra-runner, Kristina Schou Madson who set an astounding record at 6 hours 52 minutes and 54 seconds.
Who is the youngest person to hike Kilimanjaro and summit?
The youngest person to reach the summit of Kilimanjaro is Albuquerque resident, Coltan Tanner. He summited Mount Kilimanjaro in October 2018 at the tender age of 6 years and 1 month old. The previous record was held by Keats Boyd, who summited at the age of 7 years old.
The youngest British person ever to trek to Kilimanjaro summit is Zain Akrim at 9 years of age on the 8th of August, 2015. And the youngest female to climb Kilimanjaro is 7-year-old Montannah Kenney, who broke Roxy Getter's record, aged 8, in March 2018.
---
There're over 200 Kilimanjaro Operators (Choose Wisely!)
We do not sell tours, we simply provide impartial advice. Get a quote from our recommended local tour operator.
---
Who is the oldest person to trek Kilimanjaro and summit?
The oldest person to climb Kilimanjaro is Anne Lorimor (aged 89). She summited in 2019 – see details here.
Before Anne achieved her incredible record, there were a number of other octogenarians who held the record:
2017: Dr Fred Distelhorst became the oldest person to climb Kilimanjaro at age 87.
October 2015: Angela Vorobeva (Russia, b. 4 February 1929) became the oldest person and women to reach the summit of Mt. Kilimanjaro, aged 86 years 267 days. Read about Angela's record here.
October 2014: Robert Wheeler became the oldest person to climb Mount Kilimanjaro at age 85 and 201 days. Read about his incredible feat here.
October 2012: Martin Kafer (85) became the oldest person to reach the Roof of Africa. He was joined by his wife Esther (84). Esther's achievement surpassed the previous oldest woman to reach the summit, Bernice Bunn, who climbed to the Roof of Africa at age 83.
October 2010: Richard Byerley reached the summit in October 2010 at the ripe old age of 84 years and 71 days. However, his record was surpassed, incredibly, by
There is some controversy around who is the oldest person to have reached the summit. Frenchman, Valtee Daniel, reached the summit at the age of 87; however, the climb was not independently verified and did not have sufficient documentation to be verified (i.e. logbook notes, photographs and film).
Have any disabled people participated in a Kilimanjaro hike?
Yes, many disabled people have hiked to the summit of Kilimanjaro. Here are two of our favourite stories: Wheelchair-bound South African, Bernard Goosen, scaled Mount Kilimanjaro in 2007, taking six days.
Kyle Maynard, who has no arms and legs, crawled unassisted to the top of Kilimanjaro in 2012. Watch this documentary about Kyle and his Kilimanjaro achievement – it's amazing!!
Other Extraordinary Mount Kilimanjaro Facts
Highest Cricket Match
In September 2014, 30 cricket players and official climbed to the top of Kilimanjaro and then descended to Crater Camp to play the highest game of cricket ever recorded. The previous record was held near Everest Base Camp in 2009.
Read about the highest cricket match here.

Highest Pizza Delivery
In May 2016, Pizza Hut set an official Guinness World Record by delivering the highest altitude pizza to the top of Kilimanjaro. Read more about their trek and record here.
Highest Football Match
In June 2017 a group of 30 female footballers from 20 nations played the highest game of soccer on record. The game was played in Kilimanjaro's volcanic pit and lasted a full 90 minutes. An incredible achievement. Read more about the amazing record click here.
Africa's Tallest Tree Discovered on Mount Kilimanjaro
Measuring 81.5m in height, Africa's tallest tree was discovered on Mount Kilimanjaro in 2016. The tree is of the Entandrophragma Excelsum species and could be up to 600 years old! Read more about the finding here.
Team Building for Tour de France on Kilimanjaro
In October 2014, the Russian-backed Tour de France team, Tinkoff-Saxo, climbed to the top of Kilimanjaro. Cycling stars Alberto Contador and Peter Sagan were part of the team that reached the summit. Read more about their trek here.
New Articles
Tags: Mount Kilimanjaro, Climb Kilimanjaro, Hike Kilimanjaro, Climbing Kilimanjaro, Trek Kilimanjaro, Kilimanjaro Hike, Africa, Tanzania, Mountain