Welcome to the
Climb Kilimanjaro Guide
The Web's No.1 Resource for information on trekking Mount Kilimanjaro
Our aim is to provide free and inspiring advice to help you prepare for an amazing experience on Mount Kilimanjaro, and in Tanzania in general.
Because you are reading this page you are most likely planning to climb Kilimanjaro. You may have already booked a date. If so, congrats! You are one step closer to achieving an incredible goal. Something that you will remember and be proud of for the rest of your life!
The challenge that awaits you is one of preparation.
On this page we have provided summary information on the most frequently asked questions by trekkers, as well as provided links to useful guidance articles within the site.
Please use the quicklinks to navigate to key sections below.
Quicklinks

Climb Kilimanjaro – Overview
"I believe that the ascent of mountains forms an essential chapter in the complete duty of man, and that it is wrong to leave any district without setting foot on its highest peak." – Sir Leslie Stephen
The quote above is from the late 19th century English author and mountaineer, Sir Leslie Stephen. It's likely that your sentiments about the 'complete duty of man' are not as draconian or in this case Victorian; however, there is an element of sense in what Stephens' was saying.
Arriving in Kilimanjaro International Airport and seeing the behemoth geomorphologic structure that is Mount Kilimanjaro rise into the African heavens like one giant pimple on the Tanzanian landscape, it is hard to imagine not wanting to set foot on its highest peak. Leaving, without having done so, would in a way feel 'wrong'!
Or if not wrong, at least a missed opportunity!
The fact that you are reading this page suggests that you are not one for missing opportunities; especially challenging ones like trekking Mount Kilimanjaro. The good news is that you are not alone.
Thousands of trekkers flock to Kilimanjaro every year with the sole aspiration to stand on the Roof of Africa. A number of factors have led to Kilimanjaro's popularity; not least that it is the highest mountain on the African continent and one of the Seven Summits that requires no technical climbing skills.
However, it's seemingly benign reputation for being a 'very long hike' leads many trekkers to underestimate its difficulty and have to leave disappointed and 'summitless' from the slopes of Kibo. In fact, statistics from Kilimanjaro National Park show that on certain routes as little as 50% of trekkers actually reach Uhuru Peak, the summit of Kilimanjaro.
Why such a low success rate?
Well, the summit of Mount Kilimanjaro is 5,895 meters (19,341 feet) above sea level; an altitude that is aptly categorised in climbing parlance as extreme. As you might have guessed the body does not cope well at very high altitude, let alone extreme altitude, unless it has had lots of time to acclimatise. And herein lies the answer to the question above. Kilimanjaro's camp profile makes for what is generally considered a very rapid ascent to extreme altitude.
Over the years, new routes and camps have helped lengthen and flatten the ascent profile, and provided additional opportunities to acclimatise, but as far as high altitude trekking goes, Kilimanjaro is definitely one of the highest ascents that can be completed in such a short period of time.
However, high altitude and low success rates shouldn't deter you. With the right level of preparation we believe Kilimanjaro can be safely conquered by all types of trekkers – old and young, fit and unfit, abled and even disabled!
On this website we have tried to provide a comprehensive overview on everything you need to know to climb Kilimanjaro.
Happy Browsing!

Route Options to the Roof of Africa
There are 7 official routes on Kilimanjaro. We recommend you check out our Kilimanjaro route overview article where we provide a summary on the pros and cons of each route.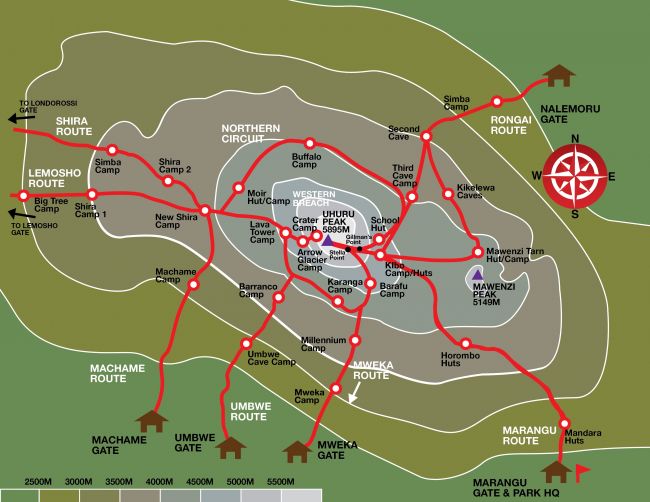 Alternatively if you want to see detailed route itineraries, maps and altitude / distance profiles; please use the individual route links below.
For the more skilled trekker or adventurous spirit, check out the Western Breach.

Best time to climb Kilimanjaro
There are two main trekking seasons on Mount Kilimanjaro – January-March and June-October. The former season is generally colder than the latter but is also often quieter.
June-October is the busiest season on the mountain as it coincides with summer holiday period in Europe and N. America.
April, May and November are the wettest months and not ideal for trekking.
December is fast becoming a popular season, despite being very cold on the summit.
Snow cover on the mountain is highest during November-May (the chart below shows average cm of snow on Kilimanjaro's summit).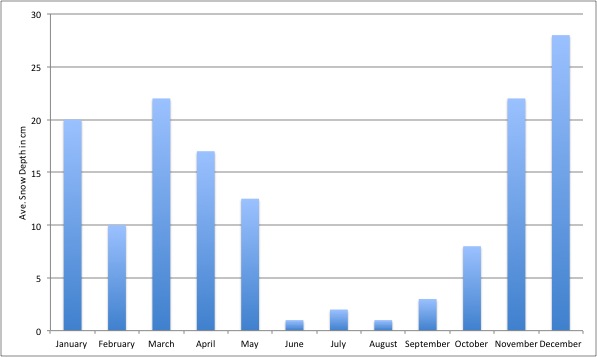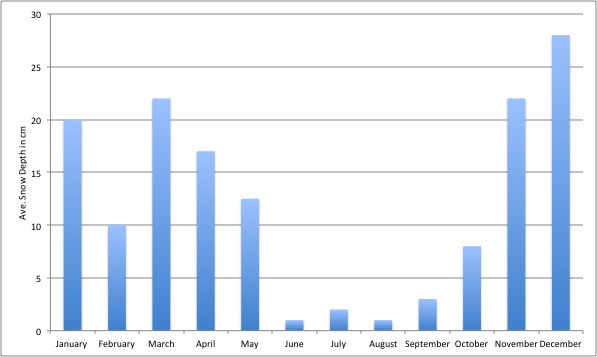 We recommend you read our article on Kilimanjaro weather here. In the article we explain what physical and geographical processes drive weather on Kilimanjaro, and provide up-to-date forecast information.

Altitude Sickness, Acclimatisation and Training
Altitude sickness (aka Acute Mountain Sickness) is a systemic issue on Mount Kilimanjaro (see these academic research studies on the prevalence of altitude sickness on Kilimanjaro). This is partly to do with the fact that Kilimanjaro is a high altitude trek, but more critically because the speed of ascent on most Kilimanjaro routes is relatively rapid.
Before you trek Kilimanjaro it is vital that you understand the risks of high altitude trekking.
We have written a detailed online guide that explains how you can improve your chances of achieving proper acclimatisation on Kilimanjaro, as well as explains what symptoms to look out for in terms of altitude sickness. We also provide information on the severe and dangerous conditions of High Altitude Pulmonary and Cerebral Edema.
Click here to read our guide: Acclimatisation and Altitude Sickness on Kilimanjaro.
We also recommend you read our article on the preventative medication, Diamox.
Finally, to ensure you have the correct level of fitness for Kilimanjaro check out this article: Training for Kilimanjaro: How to be Perfectly Prepared

Costs and Tour Operators
Trekking Kilimanjaro is unfortunately not a very cheap activity. Prior to 1991 you could literally rock up in Moshi with a backpack, some dry food and a spirit for adventure, and be on a trail up to Kilimanjaro's summit unsupported.
Since the early 90s, though, trekkers have had to be accompanied by a registered guide and pay entrance park fees. The latter has got relatively expensive and can cost up to $1,000 depending on the length of a trek.
Today, the standard setup for a trek involves a full support team of a guide, cook and porters, who are instrumental in getting most trekkers to the summit successfully and safely.
The combination of high park fees and full support teams mean that an average Kilimanjaro trek (excl. flights and off-mountain expenses) costs between $2,000-$2,500. It is possible to find treks for as little as $1,500 but these tend to be with operators who have questionable practices, particularly with regard to how much they pay their staff.
We recommend you read this article: Climbing Kilimanjaro Cost: The Financial Stuff to be Aware Of

Trekking Insurance
Climbing Kilimanjaro comes with obvious risks. It is important that you get adequate insurance for your Kilimanjaro trek. Most standard travel insurance policies will not cover high altitude treks.
In our article – Kilimanjaro Travel Insurance: Better Safe than Sorry – we provide detailed advice on the type of insurance cover you need as well as provide a useful insurance calculator so you can get an immediate quote.

Packing Lists
The packing list for a Kilimanjaro trek includes a number of critical items. Some of these can be rented or bought in Moshi or Arusha before your trek, but there are a few very important pieces of gear that we recommend you bring with you to Kilimanjaro.
This detailed Kilimanjaro kit packing list provides a comprehensive overview on the gear you need as well as recommendations and links to specific gear outfitters.
Here are links to specific sections within the packing list:

Books and Guides
There are a number of very interesting and useful books and guidebooks that have been written on Mount Kilimanjaro.
We recommend having a look at our Kilimanjaro library where we review some of our favourite Kilimanjaro literature.
The most comprehensive and authoritative guidebook, Kilimanjaro: The Trekking Guide to Africa's Highest Mountain, which is written by Trailblazer author and Kilimanjaro expert, Henry Stedman. If you are looking for a very detailed and informative guide, then we recommend you go for this one.
Alternatively, our lead editor has written a short guide called Mount Kilimanjaro: Trekkers Guide to the Summit, which provides all the essential information you need to know at a smaller cost.
In terms of fun and entertaining works of fiction from previous trekkers, we recommend either Rick Ridgeway's book, The Shadow of Kilimanjaro: On Foot Across East Africa, or Tim Ward's Zombies on Kilimanjaro: A Father/Son Journey Above the Clouds.

Most Popular Content
The Climb Kilimanjaro Guide has a very active blog.
Here are links to some of our most popular content.

Other FAQ
Do you still have burning questions about climbing Kilimanjaro? Feel free to contact us and we will respond to your query within 24hours.
Tags: Climb Kilimanjaro, Hike Kilimanjaro, Climbing Kilimanjaro, Trek Kilimanjaro, Kilimanjaro Hike
References: This site is maintained by a group of passionate trekkers and guides, all of whom have climbed Kilimanjaro and are experts on the trekking trails to Africa's highest summit. Much of the site is based off personal experiences which are then cross-referenced with secondary sources like trail and travel guides (i.e. Trailblazer, Lonely Planet), and third party websites (i.e. Kilimanjaro National Parks Website). If you find any inaccuracies on the site please contact us. Many people who climb Kilimanjaro do not reach the summit. The information on this site in no way guarantees that you will have a successful summit experience. To climb Kilimanjaro comes with obvious risks to your safety. The information on the site is provided as an information resource only, and is not to be used or relied on for any diagnostic or treatment purposes. This information is not intended to be patient education, does not create any patient-physician relationship, and should not be used as a substitute for professional diagnosis and treatment. All information on this site is copyright protection. All rights reserved. No part of this website may be reproduced or transmitted in any form or by any means, electronic or mechanical, including photocopy, recording, or any information storage and retrieval system, without permission in writing from the author.