A warm sleeping bag is an absolute must for Mount Kilimanjaro, regardless of the season you plan to trek.
You can guarantee freezing nights on the upper reaches of Kili (>3,000m) and without a warm sleeping bag you will be uncomfortable and cold.
Below we have set out the key characteristics to look for in the best Kilimanjaro sleeping bags, as well as provided three recommendations based on price and performance.
It is possible to rent sleeping bags in Moshi or Arusa, or from your tour operator, but in general we recommend you bring your own as reusing a sleeping bag that has been previously used by lots of smelly trekkers before you can be rather unpleasant and unhygienic experience. Of course, if you only plan to use your sleeping bag once then renting, or borrowing from a friend, is the preferable option.
If you are set on renting a sleeping bag then it is still worthwhile looking for one with similar characteristics as those set out below, and a good idea to bring a sleeping bag liner (here are some good examples) to provide a slightly more hygienic sleeping environment and additional insulation.
Quicklinks
Sleeping Bags – Key Characteristics
Down vs. Synthetic
There are two types of sleeping bags – goose or duck down, and synthetic. In general down sleeping bags are better quality, lighter and more comfortable. They are however more expensive than synthetic sleeping bags.
To decide between down and synthetic the two key considerations are weight and cost.
The cost calculation is really dependent on your personal budget and more importantly, frequency of camping and trekking.
We recommend going with a down sleeping bag is you plan to do frequent unsupported camping and trekking adventures (2-4 a year), and want a product that is reliable and a long-term investment. If you are trekking Mount Kilimanjaro as a one off and might only use the sleeping bag again in a few years for another trek, then it might make sense to go for a cheaper synthetic option, or indeed rent a bag.
Warmth
As we mentioned above, the nights on Kilimanjaro, or indeed on any high altitude trekking expedition, get very cold. Hence your sleeping bag needs to be able to cope with extremely cold temperatures. We recommend sleeping bags that have a rating at a minimum of -10 degrees Celsius (14 Fahrenheit).
It is however better to have a warmer sleeping bag than a colder one – you would rather be too warm than too cold.
Shape and Design
The best hiking sleeping bag design is the mummy-shape as it is crafted to fit the contours of the human body, and hence provides better insulation that standard rectangular-shaped sleeping bags.
Most adult body-types fit into a mummy-shaped sleeping bag, but if you have a uniquely short, tall or wide-body shaped than make sure you pick a size of sleeping bag that will fit your body contours snuggly.
The other two design features to look out for are an insulated hood that can be pulled around your head with a draw chord, and a two-way zipping system which improves insulation and allows for unzipping at both ends of the sleeping bag.
Kilimanjaro Sleeping Bags Recommendations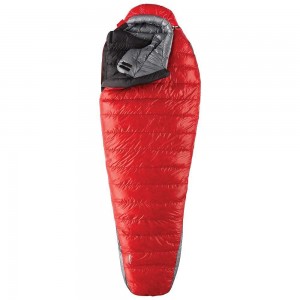 1. Mountain Hardwear Phantom (men) / Phantasia (women) (Down | Super Light | Best Quality | Expensive)
Mountain Hardwear make great sleeping bags, and the Phantom range is there leading down sleeping bag for men (the Mountain Hardwear Phantasia provides the same variants and performance for ladies). It is probably one of the lightest sleeping bags on the market and amazing quality.
The Phantom / Phantasia comes in three styles, here we recommend two as the third is not warm enough:
Mountain Hardwear Phantom 0: Temp rating: 0F/-18C | Weight: 2LB.9Oz / 1.17kg | Cost: ~$600.00 / ~£400
Mountain Hardwear Phantom 15: Temp rating: 15F/-9C | Weight: 2LB.1Oz / 0.95kg | Cost: ~$500.00 / ~£300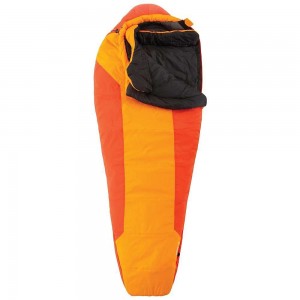 2. Mountain Hardwear Lamina (Unisex) (Synthetic | Moderate Weight | Warm | Good Price)
Mountain Hardwear also manufacture a brilliant synthetic sleeping bag called the Lamina. As far as synthetic bags go the Lamina provides excellent performance for an affordable price. The welded lamina construction reduces cold spots and the nylon shell repels water. There are six variations in temperature rating but we only recommend two for Kilimanjaro:
Mountain Hardwear Lamina -30: Temp rating: -30F/-34C | Weight: 5LB.1Oz / 2.29kg | Cost: ~$300.00 / ~£185
Mountain Hardwear Lamina -15: Temp rating: -15F/-26C | Weight: 4LB.9Oz / 2.05kg | Cost: ~$280.00 / ~£170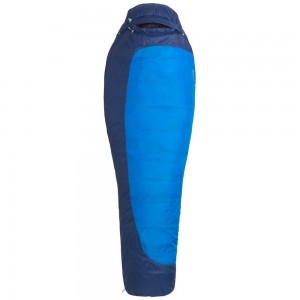 3. Marmot Trestles 15 (Synthetic | Moderate Weight | Warm | Great Price | Adequate Quality)
For an affordable all-purpose synthetic sleeping bag we recommend the Marmot Trestles 15 (unisex).
As far as synthetic bags go the Marmot is one of the lighter options on the market, making it an affordable bag for self-supported trekkers. Reviews are always good with Marmot products and the quality of their bags align well to their pricing.
Downsides are that its rating to 15F/-9C can feel a little optimistic when temperatures drop.
Marmot Trestles 15: Temp rating: 15F/-9C | Weight: 3LB.14Oz / 1.725kg | Cost: ~$120.00 / ~£90
Other Good Sleeping Bags
Other good sleeping bags include the Kelty Cosmic Down, either rated at 20F/-7C or 0F/-18C (expect to pay between $150-$200), the North Face Blue Kazoo (Synthetic) (expect to pay $300), or for a very affordable, but heavy sleeping bag the Coleman North Rim, rated to 15F/-9C, will only set you back (~$60)
Other Sleeping Accessories
Inflatable pillow (optional)
An inflatable pillow that can quickly be inflated and deflated for storage is useful. Equally you could just use a pile of clothes.
Thermal mat (optional)
Your tour company should provide a thin mattress on which you can set your sleeping bag. If you are concerned about the cold and want additional cushioning we suggest bringing a thermal mat that can be stored as a small roll in your duffle bag. You can pick up a thermal camping pad on Amazon for $3 (£2).
Kilimanjaro Kit List Continued
Kilimanjaro Clothing – Overview on all Kilimanjaro clothing requirements, including layered clothing recommendations
Kilimanjaro Footwear – From hiking boots to socks and gaiters
Headgear – Stuff to keep your head out of the sun and warm on summit night, as well as recommendations on Kilimanjaro headlamps
Bags – From the Kilimanjaro kit bag to your day-pack
Hands and walking – Gloves and walking pole requirements
Other accessories – Useful other Kilimanjaro accessories
FAQ
Still have questions about Kilimanjaro sleeping bags and accessories? Leave a comment below and we will respond within 24hours.