The Western Breach is the most technically challenging route to Kilimanjaro's Summit.
As the name suggests, the Western Breach sits on the western side of Kibo and was formed hundreds of thousands of years ago by volcanic eruptions and lava flows from Kibo's Crater.
Due to its steep and rocky slopes, the Western Breach is considered a risky and dangerous route. In fact, in 2006 a tragic accident occurred when a rock-fall killed three trekkers on the route. Kilimanjaro authorities closed the route briefly but it re-opened in late 2007. Due to its high risk profile most tour operators do not offer treks using the Western Breach to the summit.
The Western Breach can be approached from many of Kilimanjaro's routes, including the Lemosho and Shira Route in the West, and the Machame and Umbwe Route in the South. The Umbwe Route is the most popular and demanding approach.
Western Breach Route
Map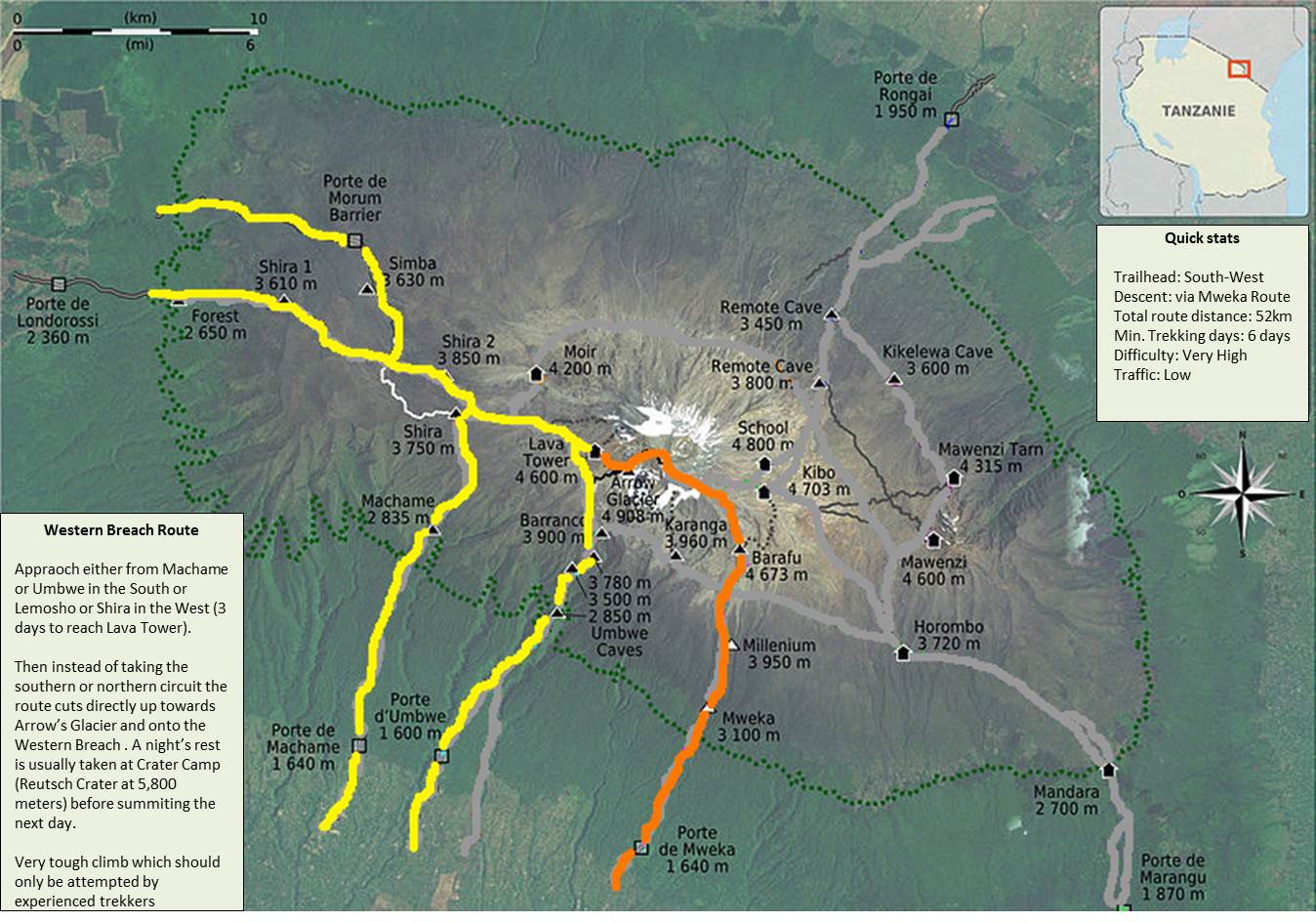 The Western Breach approach usually starts from Umbwe Gate at 1,600 meters and rapidly ascends to Barranco Camp at 3,900 meters, via Umbwe Camp (2,850 meters).
From here most trekkers would usually take the Southern Circuit to Karanga and then onto Barafu to approach Kilimanjaro's summit from the South East.
Instead, the Western Breach route continues north up to Lava Tower for the night and then onto Arrow's Glacier to join the Western Breach approach (see Western Breach map above).
The fourth day is a steep scramble up to the Reutsch Crater (5,800 meters) where trekkers spend the night near one of Kilimanjaro's last remaining glaciers, Furtwangler Glacier.
Day five is a short trek from the Reutsch Crater to the summit of Kilimanjaro, Uhuru Peak (5,895 meters). Trekkers typically return down the southern slopes of Kibo to Barafu Camp (4,680 meters) and then onto Mweka Camp (3,100 meters) for their last night on Kilimanjaro.
The route is usually completed in six days and does not provide much time for trekkers to acclimatise. For this reason, the Western Breach should only be considered by trekkers with high altitude trekking experience.
In 2015, the Western Breach wall was used as the launchpad for Valery Rozov's successful Kilimanjaro base jump.
---
Summit Safely and Successfully
We do not sell tours, we share our knowledge. Get a quote from our recommended local trek operator.
---
Western Breach Altitude Profile

Trekking Insurance
Climbing Kilimanjaro comes with obvious risks. It is important that you get adequate insurance for your Kilimanjaro trek. Use the quote calculator from our recommended partner, World Nomads. World Nomads provide specific coverage for hiking up to 6000m, which is perfect for Kilimanjaro.
Western Breach FAQ
Still have questions about the Western Breach. Leave a comment below and we will respond with an answer within 24 hours.