It goes without saying that trekking Kilimanjaro comes with obvious risks.
To ensure you are covered for all risks we have set out the main Kilimanjaro Travel Insurance considerations below and provided a nifty travel insurance calculator from adventure travel insurance experts, World Nomads, which you can use to get a quote for your Kilimanjaro trek.
Please note: We are not insurance experts. The considerations below are based on our personal experiences and research, and should not be construed as professional advice or recommendations. Please consult an insurance professional to decide which product is right for your travel needs and make sure you read the terms and conditions of the policy wording/description of coverage. It is ultimately your responsibility to decide if the policy you choose is right for you.
Quicklinks
Kilimanjaro Travel Insurance – Considerations
High altitude
First and foremost is the risk of high altitude trekking.
Acute Mountain Sickness (AMS) and it's severe forms, High Altitude Pulmonary Edema (HACE) and High Altitude Cerebral Edema (HAPE) are very real issues on Kilimanjaro. See this article for full details.
You need to ensure that you are covered for high altitude trekking up to 6,000 meters. Most travel insurance providers do not include this under their standard packages and therefore it needs to be selected separately.
Below we have provided a detailed example of how you can do this using the World Nomads insurance calculator.
Important: most routes on Kilimanjaro are pure hiking paths. If you plan to do mountaineering with ropes etc, you will need to inform your insurance provider and this will likely double your premium. In the case of World Nomads, you would need to add 'mountaineering' to your cover.
Trekking accidents
Like AMS, general trekking accidents, like falls, rock slides and complications related to your health (i.e. heart conditions) whilst trekking are also a real concern on Kilimanjaro.
You need to ensure your policy covers accidents that can occur on the mountain, including the costs of evacuation and hospital coverage in Tanzania.
Off mountain illnesses and accidents
Tanzania is a developing country where illnesses like yellow fever and malaria are concerns.
Cover for any illnesses and accidents that can happen off the mountain should be included in your Kilimanjaro travel insurance coverage. See above for the wording provided from World Nomads which shows how you are covered for off mountain illnesses and accidents as well.
As a side note, you will need to have a yellow fever vaccination before arriving in Tanzania. In terms of malaria you will not be at risk whilst on the mountain (there are no mosquitoes above 1,800 meters) but you are at risk before and after your climb. You can take anti-malarial medication and we recommend you do so if you plan to travel Tanzania before or after your trek.
Theft
Theft is also a concern. You will likely be carrying valuable items with you, including things like trekking poles, a sleeping bag, expensive trekking clothing and cameras. Your Kilimanjaro travel insurance needs to cover theft as well.
As a precaution we recommend using a small lock to secure your luggage.
Other considerations
Your coverage should also include insurance for trip interruption, cancellation and delay; lost, stolen and damaged baggage and financial tour operator default.
Kilimanjaro Travel Insurance – World Nomads
Below is a nifty calculator from World Nomads which you can use to get a Kilimanjaro travel insurance quote.
The quote provided will be for their 'standard' and/or 'explorer' travel insurance policy (depending on your country of origin).
To ensure you are covered for trekking activities up to 6,000 meters, here are the two steps you need to follow:
Step 1: Complete the fields in the calculator and click 'Get a Price'
Step 2: Upgrade quote to cover high altitude trekking
After you have clicked 'Get Quote' you will be provided with a detailed quote for your country of origin. It will look something like the screen shots below depending on your country of origin. Here is an example for the UK and Australia. Kilimanjaro Travel Insurance UK Example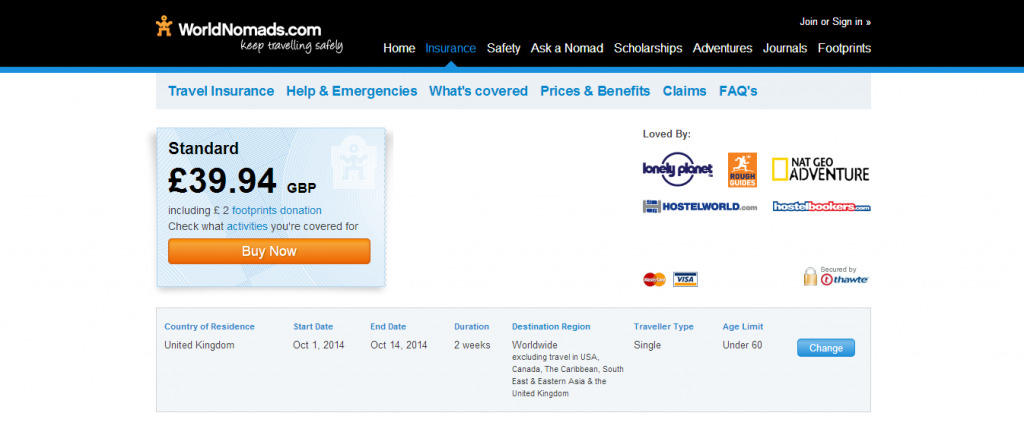 Kilimanjaro Travel Insurance Australia Example (World Nomads have an Explorer option for many countries)

Towards the bottom of the page you will see a section called, Options: Upgrade your cover. Click the link called 'View Adventure Sports Benefits'.

A blue pop up screen will open. Look for the level of cover required for 'trekking to 6,000 meters' or 'hiking to 6,000 meters'. Depending on your country it is usually a level 1 or 2.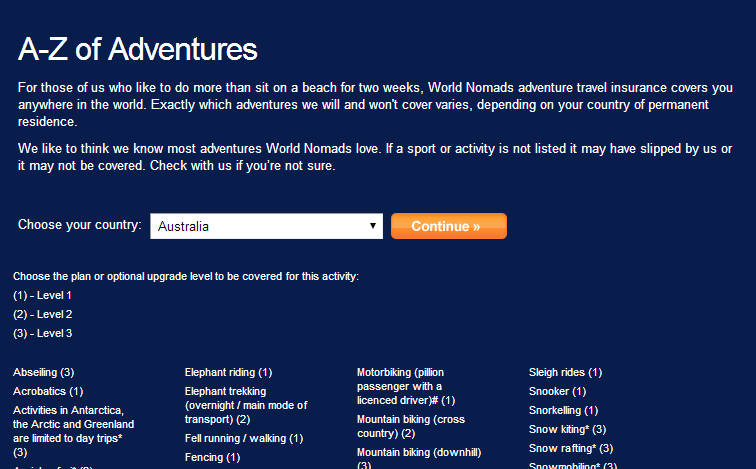 Once you have identified the level, close the pop-up screen and change the level for 'Adventure sports, work, study & volunteer coverage' as appropriate.

Try It Now
Visit World Nomads to get a travel insurance price now.