A cursory search for a Kilimanjaro kit list on the web returns a number of unsatisfactory results that admittedly go some way in providing an overview of the key gear requirements, but fall woefully short in terms of explaining why and what is needed in detail.
We know that for our readers the devil is in the detail, so a few years ago we set out to produce a complete and reliable Kilimanjaro packing list. This page is the culmination of that pursuit.
It is important to note, that our Kilimanjaro kit list continues to evolve as new and better gear comes onto the market, and we encourage you to contact us after your trek to add any suggestions that you think will benefit future readers.
In browsing this Kilimanjaro packing list we recommend using the quicklinks on each page to jump to key sections, and bookmarking this page so that you can return to it as your preparations unfold.
Please also share our list with fellow trekking parters, or link to it from your blog or social networks as a resource for future trekkers.
Quicklinks

Two types of trekkers
Typically you get two types of trekkers on Kilimanjaro. Those who are unprepared and under-equipped, and those who have spent an arm and leg on equipment that they will unlikely use during their hike.
In this Kilimanjaro packing list we hope to provide a happy medium between the two that covers all mandatory equipment that we recommend you should purchase in preparation for your adventure.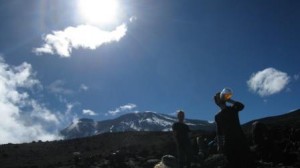 If you happen to forget a few things you can usually hire from your tour company or buy equipment from the various hawkers who loiter outside the route gates trying to sell you everything under the sun. Remember if you decide to buy from these guys they will always try to overcharge. Bartering is just the way it is done in Tanzania.

Kilimanjaro Kit List – sections
Follow the links below to explore the complete Kilimanjaro kit list and get personal recommendations on kit that we use.
Kilimanjaro Clothing – Overview on all Kilimanjaro clothing requirements, including layered clothing recommendations and the all important outer layer (i.e. jacket). Click here for important information on clothing requirements for Kilimanjaro.
Kilimanjaro Footwear – From hiking boots to socks and gaiters. Your feet are what get you up Mount Kilimanjaro. Don't fall victim to purchasing bad boots or socks that will give you blisters! Click here for important information on footwear requirements for Kilimanjaro.
Headgear – Here we cover useful gear to keep your head out of the sun during the hot and high solar radiation days that you will experience on Kilimanjaro, as well as keep your head warm and cosy on summit night. See our recommendations on Kilimanjaro headlamps and headgear – you will need a headlamp as you summit overnight
Hands and walking – Gloves and walking / trekking pole requirements. Both are critical. The former is very important as your hands are the first to start freezing on summit night. The latter can reduce the impact on your knees by up to 20%, which is a major win when you are descending from the slopes of Kibo. Click here for important information on glove and trekking pole requirements for Kilimanjaro.
Bags – From the Kilimanjaro kit bag to your day-pack. Getting the right type of duffel bag is really important as it will carry all your gear and needs to be of a type that is comfortable for a porter to schlep up Kilimanjaro. Your day-pack will be carried by you so it is key that you get something that is light and versatile – in this section we have provided useful recommendations on bag requirements for Kilimanjaro.
Sleeping – Kilimanjaro sleeping bag recommendations and other useful sleeping accessories, like an inflatable pillow. The sleeping bag you choose is important as the nights on Kilimanjaro can get below freezing. Here are our detailed recommendations.
Other accessories – Kilimanjaro accessories including water bottles and medications. You can also find detailed information on Diamox (the high altitude sickness prophylatic medication) here.

Kilimanjaro Packing List – Guide
We often receive emails from readers asking for a Kilimanjaro kit list or checklist.
Our guidebook, Mount Kilimanjaro: Trekkers Guide to the Summit, provides a complete Kilimanjaro packing list which makes it super easy to methodically tick off each piece of kit when shopping or packing your kit bag. If you would like to download the guide and kit list, go here.

Kilimanjaro Kit List for the Western Breach
The Western Breach is the most technically challenging approach to Kilimanjaro. It was closed for a short period in early 2006 after a fatal rockfall claimed the lives of three trekkers. It has however re-opened with a new and safer route configuration, and is steadily growing in popularity.
For trekkers interested in the Western Breach we recommend reading our route description here.
There are some specific Kilimanjaro kit requirements for the Western Breach that you should be aware of. Many of these items are not mandatory, however should conditions on the Western Breach be adverse you may need the following:
Climbing helmet to protect your head from the potential risk of falling rocks
An ice axe and point crampons – it is unlikely that you will need these items, however if you are climbing during the wet season it is likely you will encounter sub-surface ice from refrozen meltwater and deep snow. Usually your guides will have the correct gear to cut steps on these sections (we recommend you confirm with your tour operator exactly what gear you will need for the Western Breach)
It is very unusual to need rope or a climbing harness. Again we recommend you confirm with your tour operator which Kilimanjaro kit list they recommend you bring should you decided to climb the Western Breach.
Haven't booked your Kilimanjaro hike? We can put you in contact with the best and most affordable on-the-ground Kilimanjaro Tour Operators – click here for our recommendations.
The Ultimate accessory to document your Kilimanjaro Adventure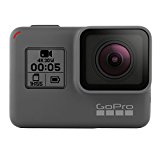 There is literally no better camera to capture your Kilimanajaro experience than the GoPro. The footage you can capture with a GoPro on Kilimanjaro is simply amazing – see here for examples.
Capture your Kilimanjaro experience like a Pro! Review bargain prices for the GoPro on Amazon now!
Tags: Kilimanjaro kit list, Kilimanjaro packing list, Kilimanjaro gear list, Kilimanjaro equipment list, Kilimanjaro gear, Kilimanjaro equipment