A great idea when taking on a new challenge, or indeed visiting a new country, is immersing yourself in the relevant literature. You will find that it allows you to experience new environments at a much deeper level.
In this list of best climbing books on Mount Kilimanjaro, we have tried to select a wide array of perspectives from experienced climbers to amateurs.
In the list, we have included the best Kilimanjaro guidebooks, fantastic personal accounts and memoirs from trekkers, the best Kilimanjaro photography book, as well as a list of our favourite true-story climbing books.
We are confident that you will find a book here that is just right for you.
Best Kilimanjaro Books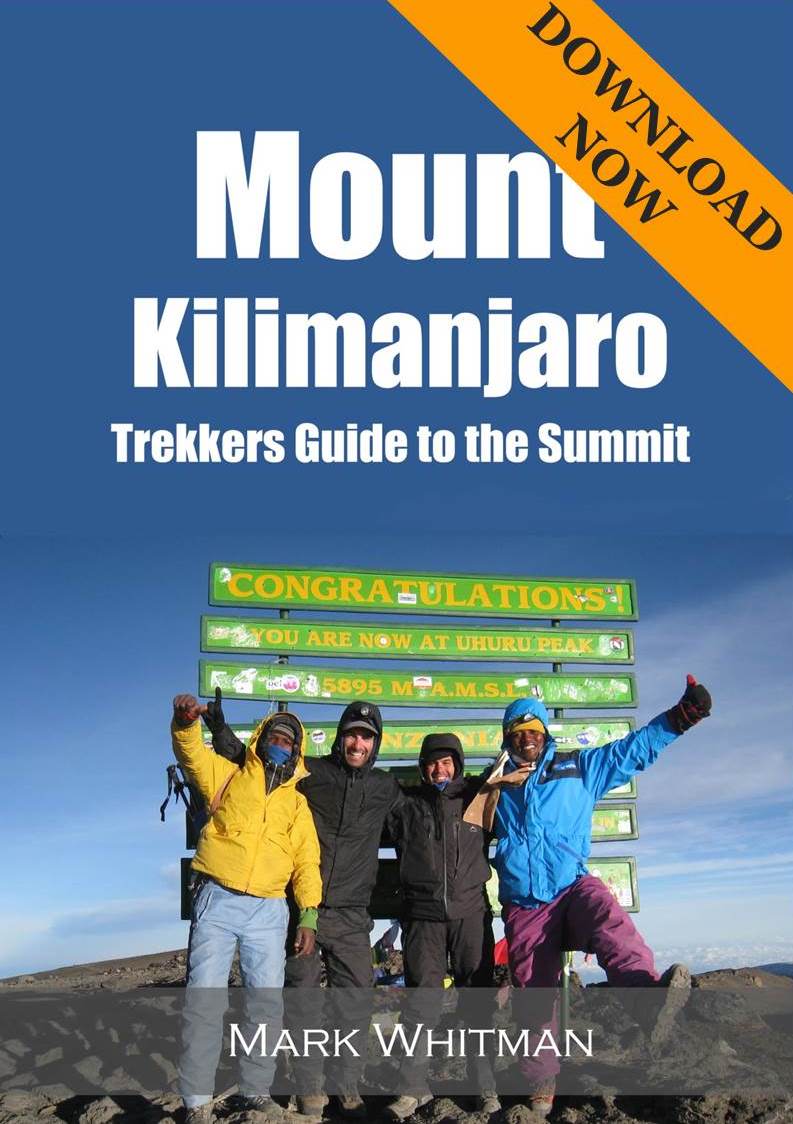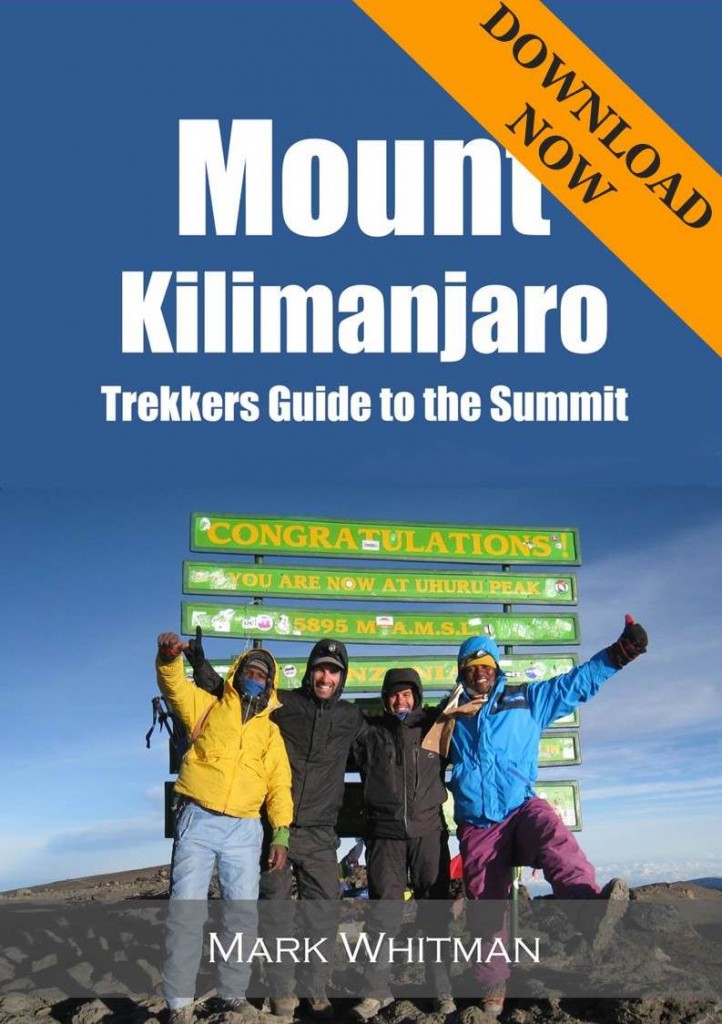 A short and focused guide on trekking Mount Kilimanjaro. Written by the lead editor of this website and available for £5.99 direct from this site (click here) or on Amazon Kindle.
Best Kilimanjaro Stories
Definitely our favourite book about Kilimanjaro and the wild Tanzanian landscape. If we had to pick one book for you to read it would be The Shadow of Kilimanjaro. Written by explorer extraordinaire, Rick Ridgeway (the first climber to reach the summit of K2 without bottled oxygen), the book will leave you so inspired to get to Africa and conquer Kili.
---
An intensely personal journey of a father (Tim Ward) and his 20-year-old son's expedition up the slopes of Kilimanjaro. During the climb, their relationship develops a touching authenticity as topics of fatherhood, divorce and kept secrets are dealt with. We thoroughly enjoyed this book and know you will too. Highly recommended!
---
Mother, home keeper and blogger, Eva Melusine, shares her funny and heart-warming story of climbing Kilimanjaro. If the reviews on Amazon are anything to go by, this book gets two thumbs up for its honest and entertaining dialogue that is scattered with insightful nuggets of what to expect when climbing Africa's highest mountain.
---
We haven't read this book but the reviews on Amazon are great. Here's one we like: "I felt like I was on the journey with Sue. The book might be short & a quick read, but it holds so much valuable information & delivered with such a keen sense of humour. It encourages you to meet your next challenge with gusto & wit." Most of the reviews are admittedly from ladies so perhaps the book is best read by the finer sex.
---
Another epic father and son tale of climbing Kilimanjaro. This time both father and son are on a journey to raise funds for children in Africa whilst conquering the slopes of Kibo. The story that unfolds is one of true determination to make personal dreams and other people's dreams come true.
---
Here is an Amazon review: "I was in the mood for a good outdoor adventure book that was not far out fiction when someone suggested this book to me. I was not disappointed. The story is well written, the characters were so real they reminded me of several people I know. The descriptions of the scenery were explicit and moving and the occasional humour throughout made this book a great read. The only problem is that now I have to find some money to take my own trip up Kilimanjaro!:-)"
---
This book caught our eyes as many of the tour operators punt the Marangu Route as the 'Tourist Route'. Of course, there is no such thing and at the end of the day getting your ass up Kili is no easy feat. Described as toilet humour in Amazon we suspect this book is perfect for those who want a really quick read and some fun laughs.
---
Here is what Amazon has to say:
"A Table on Kilimanjaro is a coming of age story about the nature of success, the realization that every mountain can't be conquered and every person, even those closest to us, can be a stranger."
---
A fun, informative and inspiring story that follows Alex's journey to the summit of Kilimanjaro on the little known and underappreciated Northern Circuit. Although not a guide, Kilimanjaro Uncovered is full of brilliant little nuggets of information that will help you prepare for the Roof of Africa!
Best Kilimanjaro Photography Book
The perfect coffee table photographic journal which has over 200 amazing pictures set to a wonderful narrative about Mount Kilimanjaro. A perfect gift to yourself as a reminder of your time on Kili.
Best Climbing Books
A true and devastating story of the most tragic and deadliest 24 hour period in Everest's history. The story is told by climber, journalist and author Jon Krauker who was on one of the teams climbing for the summit that tragic day. Krauker's account is gripping and intensely moving. You won't be able to put this book down.
---
The story of Joe Simpson and his climbing partner, Simon Yates, who find themselves trapped high up on an Andean mountain. Joe has broken his leg. As Simon tries to shimmy him down the mountain face. Joe goes over a precipice and is dangling in free space. What happens next is incredible. One of the most astonishing climbing survival stories to have ever occurred!
---
Another classic by Jon Krauker, an author who has an incredible skill for telling the heart-wrenching stories of daredevil climbers. In Eiger Dreams he winds together a series of incredible climbing stories from Alaska's Notorious Devil's Thumb to Pakistan's Fearsome K2, this book of climbing essays is nothing short of epic!
---
Zuckerman's book tells the story of two Sherpas who survived the deadliest summit attempt on K2 in 2008. The events that unfolded on K2 that day is one of mountaineering legend and will have you white-knuckled and sweating throughout.
---
Ed Viesturs is a high altitude mountaineering legend. No Shortcuts to the Top is a memoir of mammoth proportions that will leave you in awe of one of the greatest climbers of all time.
---
White plunges the reader into a land of subzero temperatures, asphyxiating air, and ever-increasing danger. Everest Base Camp and the world above it come to life in this riveting, true novel. The inner workings of an Everest expedition team and what it takes to climb the world's highest mountain are laid bare. Some return from the death zone injured. Some do not return at all.
Success and failure vie for supremacy throughout. A must for climbing enthusiasts, lovers of adventure, and adrenaline junkies; the closing chapters will leave you breathless!
---
Feel we have missed a book? Leave us a comment or suggesting below and we will respond within 24hours.
Haven't booked your Kilimanjaro hike yet and looking for the best and most affordable Kilimanjaro Tours – click here for recommendations.
You can also find a complete Kilimanjaro gear packing list here.