There are two types of bags that you need to have on your Kilimanjaro trek – a Kilimanjaro duffle bag and a daypack.
Quicklinks
Kilimanjaro Duffle Bag
The type of Kilimanjaro duffle bag you choose is important as it will hold all of your gear, including your sleeping bag.
Your Kilimanjaro duffle bag will be carried by your porter who will transport your gear from one camp to the next. Porters carry bags on their head so it is important that the bag is soft and weighs no more than 20kg when fully loaded (some operators limit the weight to 15kg fully-loaded).
Key characteristics to look for in a duffle bag:
Greater than 80 litre capacity
Constructed from waterproof laminate material to ensure your gear stays dry. We recommend packing your gear into separate plastic bags or packing units (see below) to provide extra waterproofing and easy access to sorted gear
A strong zipper system that is not susceptible to breaking and can be easily locked. Take a small lock to secure your bag
A hand and shoulder strapping system to provide extra versatility
Kilimanjaro Duffle Bag Recommendations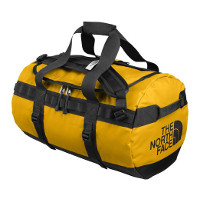 1. North Face Duffel
The undisputed leader in duffle bags (or as North Face like to call them Duffels). This bag is super-durable and totally waterproof. It will last you years, even if you and every airport baggage operative treats it badly.
Available in five sizes – XS: 25 liters; S: 42 liters; M: 72 liters; L: 90 liters; XL: 155 liters. Approximative weight: XS: 1050 g; S: 1250 g; M: 1600 g; L: 1820 g; XL: 2240 g
We recommend the Large version. Click here to review colour variants on the North Face Duffle.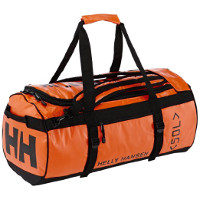 2. Helly Hansen Duffle
Another great duffle bag is made by Helly Hansen. Priced at slightly cheaper than the North Face duffle, the Helly Hansen is constructed from 100% nylon tarpaulin.
Available in four sizes: 30L, 50L, 90L and 120L
We recommend the standard 90L bag. Click here to review colour variants on the Helly Hansen Duffle.
Daypack
In addition to your duffle bag (which is carried by your porter) you will be carrying your own daypack. In your daypack you should keep all important (suncream, sunglasses, snacks, water), personal (money, passport etc.) or small breakable items (camera, phone etc.).
Your daypack should be small and lightweight. The lighter the better.
Key characteristics to look for in a daypack:
Compression straps to reduce weight stress on your back
Side mesh pockets for easy access to your water bottle and other useful stuff
Ensure your backpack has a rain cover
Recommended Kilimanjaro daypacks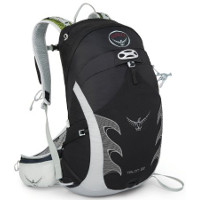 1. Osprey Talon 22
The Osprey Talon 22 is a brilliant day pack that will easily fit all your essentials in a comfortable and well-supported bag.
The Talon is definitely a leader in the lightweight market, providing versatility, high performance and quality design in a neat multi-purpose pack. The daypack also features a special compartment to put your hydration bladder.
Two sizes are available: S/M (20L) and M/L (22L) and the bag retails for ~$100/£70. Both sizes are fine for Kilimanjaro.
Remember to grab a Osprey Raincover and Osprey Hydration Bladder as well if you decide to get this day pack.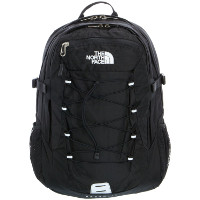 2. North Face Borealis
The North Face Borealis is a multi-purpose day pack. It includes all the key features that are required for climbing Kilimanjaro (including a hydration bladder compartment), as well as useful non-trekking features, such as a laptop compartment.
The Borealis has a 29L capacity and comes in at a cheaper price than the Osprey Talon.
Available in both men and women variants.
Check out the North Face Borealis
Important Bag Accessories
Raincover
Depending on what time of the year you are hiking, there is a possibility that you will encounter rain on the mountain. You want to avoid getting your daypack wet. A good rain cover is a worthy piece of kit to have as a precaution. If you are going with the Osprey Talon Backpack we would also get the Osprey Daypack Raincover which retails for the standard backpack rain cover price and is super reliable. NB: select the right size cover (i.e. 19-30 litres)
Hydration Bladder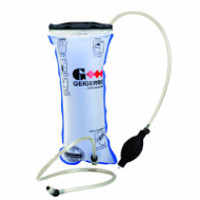 If you decide to go with a daypack which can hold a hydration bladder, then we suggest you purchase the best hydration bladder on the market. There is nothing worse than a leaky bladder!
The Platypus Hydration Bladder is undoubtedly the best product, hands down!. Where Osprey are strong in backpacks, Platypus rock the CamelBak. The Platypus comes in a 2L and 3L version, the latter is ideal for Kilimanjaro.
Travel Bag Organisers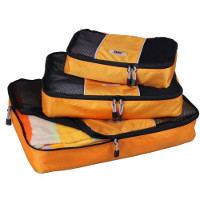 A pro tip that we have used to great effect on Kilimanjaro are travel bag organisers, which can be used to source separate your gear for better backing and access. They also provide a great way to separate wet or dirty gear.
There are two main suppliers – Eagle Creek with their Pack-it system cater for the premium market, or you could go with the equally good but a lot cheaper Ecosusi Travel Bag system.
Alternatively, if you want to go completely cheapo then use clear plastic bags to separate your gear.
Small bag lock for your Kilimanjaro duffle bag
For obvious safety purposes you should be locking your Kilimanjaro duffle bag. Here are some sturdy bag locks.
Kilimanjaro Kit List Continued
Kilimanjaro Clothing – Overview on all Kilimanjaro clothing requirements, including layered clothing recommendations
Kilimanjaro Footwear – From hiking boots to socks and gaiters
Headgear – Stuff to keep your head out of the sun and warm on summit night, as well as recommendations on Kilimanjaro headlamps
Hands and walking – Gloves and walking poll requirements
Sleeping – Kilimanjaro sleeping bag recommendations and other useful sleeping accessories
Other accessories – Useful other Kilimanjaro accessories
FAQ
Still have questions about the type of Kilimanjaro bags you need? Feel free to leave a question in the comments below and we will respond within 24 hours.