You should tip your Kilimanjaro crew between $300 and $400, depending on the number of people in your group. Below you'll see our breakdown of how much to tip, based on the number of trekkers in your group.
Please read this article in full and watch the videos to understand why tipping on Kilimanjaro is so important.
Due to the growing popularity of trekking Mount Kilimanjaro, the mountain has in effect become a significant component of the local economies in Moshi and Arusha.
With this growing interest in trekking Kilimanjaro, local and international tour companies have proliferated and local residents in these towns have flocked to the mountain in desperate need of work. Unemployment is high in Tanzania and hence there is no shortage of people willing to do literally anything to earn a wage, albeit tiny.
Over the past few years the Kilimanjaro National Parks Authority (KINAPA) have implemented regulations to improve the management of the mountain and conduct of tour operators; however, the market for porters and guides is still poorly regulated and open to exploitation.
Because of this the minimum wage set by Kinapa is often not met by many of the local operators. Some pay as little as $2-$3 a day to their porters. Take a second to let that settle in. That's less than the price of a Big Mac to carry around 20kg of your gear up a very high and rather dangerous mountain!
In a perfect world porters and guides should be paid a mandatory wage that is strictly enforced and regulated.
However this is not the case and therefore tipping on Kilimanjaro is customary and standard, but often very confusing in terms of working out how much to give each support team member.
Tipping on Kilimanjaro
The Details
Before we get into the detail we encourage you to take 10 minutes and watch this video.
In this section, we have provided a guideline and worked example for calculating how much you should set aside for tips. I encourage using this as a guideline only.
We will say now that our numbers are 10-20% more than many of the other tipping numbers you might find online. This is because we believe that anyone who can afford to trek Kilimanjaro as a leisure activity, can also afford to pay that little bit more to their support crew
Before you begin your climb you will meet your guide and porters. Typically guides can speak good English, porters less so.
Porters carry all your gear (excluding your daypack) and all the equipment you need on your climb (tents, cooking equipment, food, water etc.). Each porter carries up to 20kg on their back or head! Yes, 20kg.
Some tour operators limit the weight that porters carry to 15kg.
Note: new regulations mean that guides and cooks are not allowed to carry any weight apart from their own gear.
Porters race ahead of you and your guide to make sure they get to camp sites before you and have everything setup for your arrival (tent assembled, food ready etc.).
The average ratio of support staff is 3 porters for every climber, 2 guides for every 4 climbers, cook and assistant guides vary depending on numbers.
Tipping on Kilimanjaro – the breakdown looks like this.
1 climber – 1 guide / 2-3 porters / 1 cook
2 climbers – 1 guide / 5-6 porters / 1 cook / 1 assistant guide
3 climbers – 2 guides / 8-9 porters / 2 cook / 1 assistant guide
4 climbers – 2 guides / 11-12 porters / 2 cook / 2 assistant guides
5 climbers – 3 guides / 14-15 porters / 2-3 cook / 2-3 assistant guides
6 climbers – 3-4 guides / 17-18 porters / 2-3 cook / 2-3 assistant guides
Note: numbers vary depending on the tour company you use. The best companies have a high guide to client ratio.
Tipping on Kilimanjaro – when and who do you pay your tip to?
Tips are usually paid at the end of your hike after you have reached your final checkpoint and signed out with the authorities.
It is customary to pay tips individually in separate envelopes unless advised otherwise (some tour companies suggest you pay your lead guide who then re-distributes the money). Please check with your trek operator what their preferred practice is.
Also, some operators suggest that you give your tips at the last meal on the mountain. Unless expressly asked to do this by your tour operator we suggest waiting to distribute tips at the end of your trek.
Tipping amounts are as follows. These numbers are per group, not per climber.
Per main guide – US$20-25 per day
Per assistant guide – US$15-20 per day
Per cook – US$15 per day
Per porter – US$10 per day
Tipping on Kilimanjaro example
For a 6 day trek the total tipping value per group and climber would look as follows.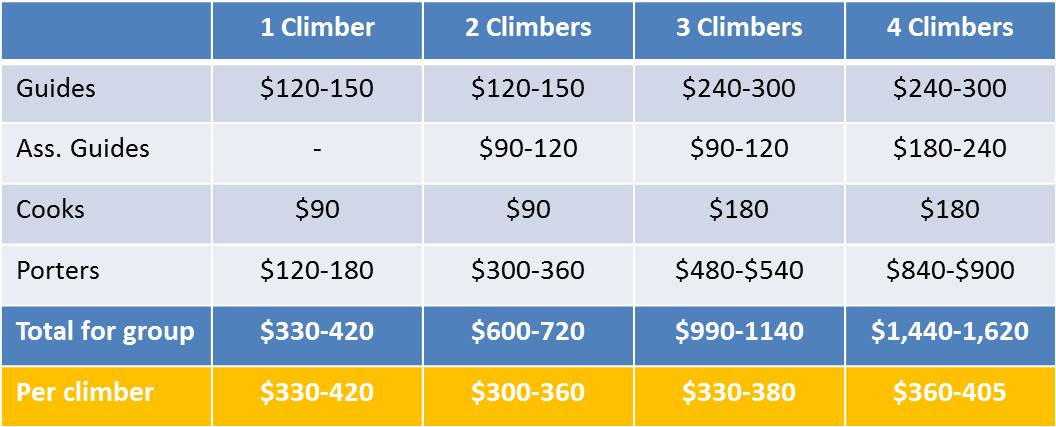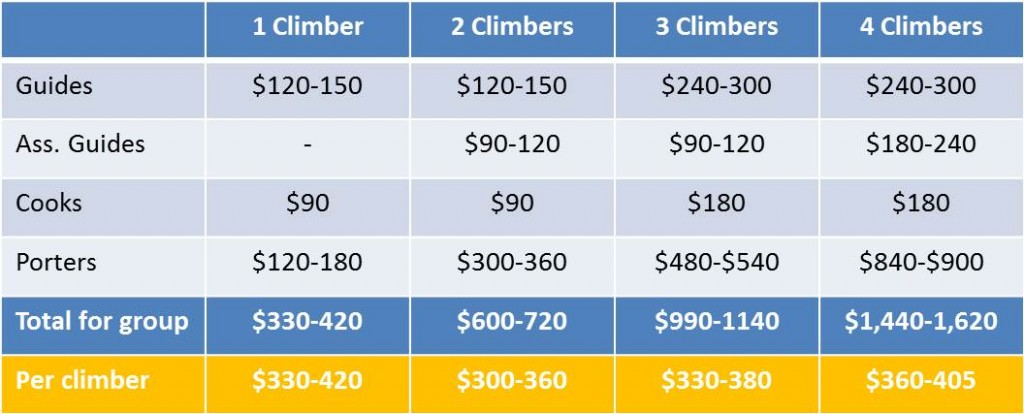 We hope you now have more clarity about tipping on Kilimanjaro.
Feel free to leave a comment below if you have any questions. We will respond within 24hours.
The NGO, Kilimanjaro Porters Assistance Project run by Karen Valenti (who does an incredible job) provides loads of useful information on the health and welfare of porters.
After your climb Kili, and after you reflect on the arduous life of the guides, assistant guides, porters, and cooks, you may want to help someone you met. Kilimanjaro Guide Scholarship Foundation can assist you in arranging a scholarship. These scholarships range from 8 week "rainy season" courses to full year courses.
Click here to find a full Kilimanjaro equipment packing list.
---
Summit Safely and Successfully
We do not sell tours, we share our knowledge. Get a quote from our recommended local trek operator.
---