From the fastest ascent to the highest pizza delivery and even a football match – our Mt Kilimanjaro Facts won't disappoint!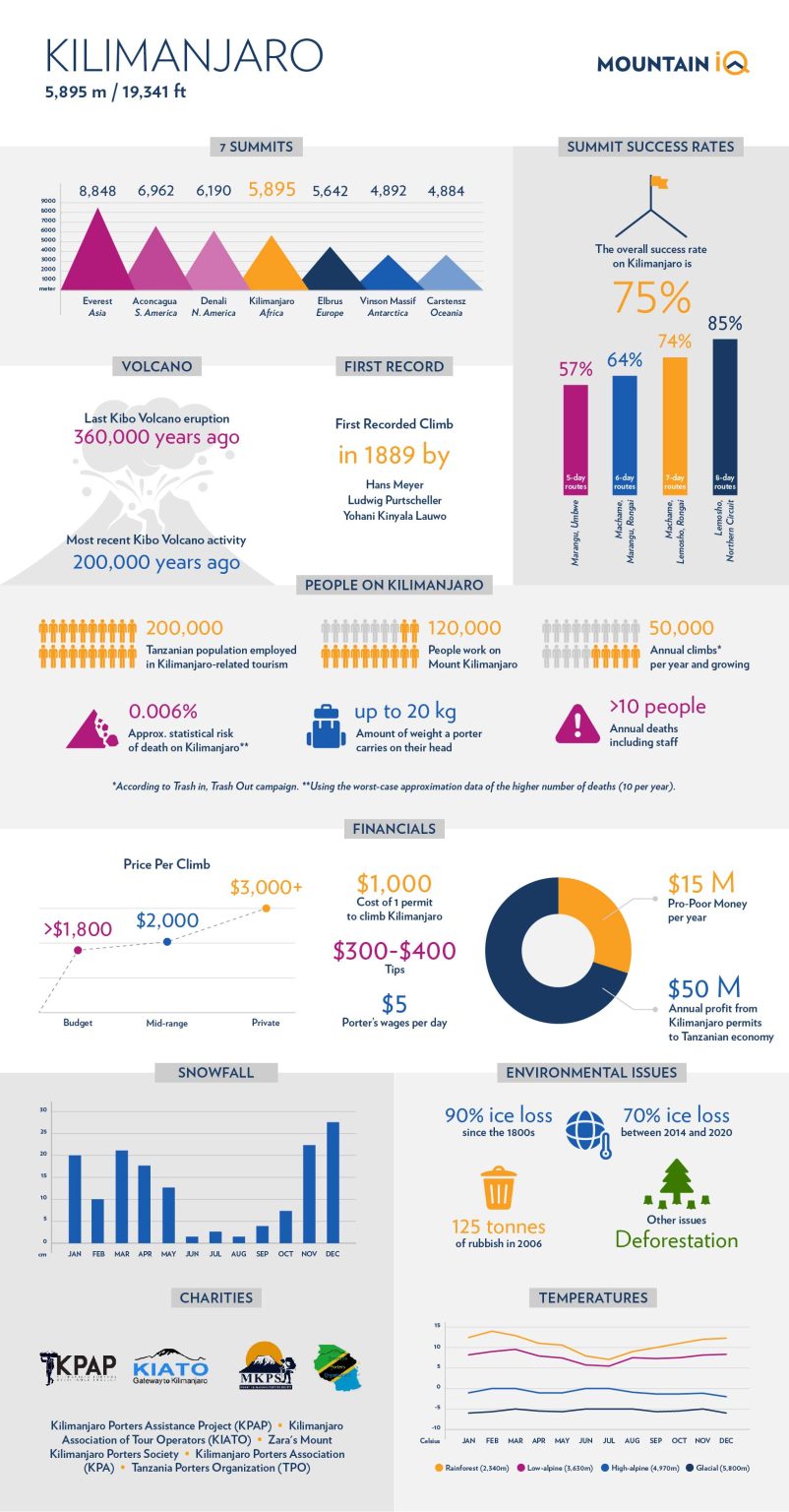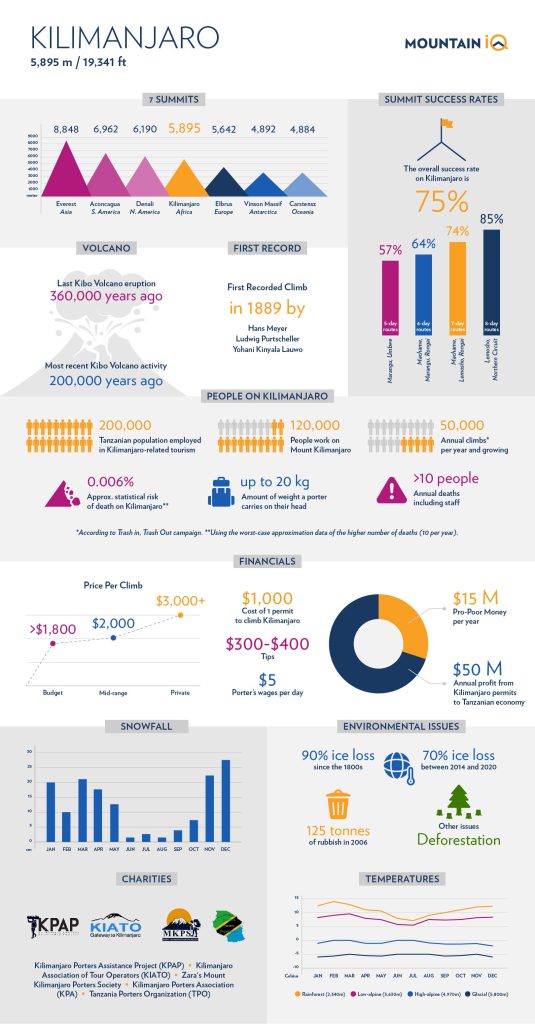 When was the first ascent of Mt Kilimanjaro?
German geologist, Hans Meyer, Ludwig Purtscheller and a local called Lauwo were the first people to summit Mount Kilimanjaro in October 1889. However, it is possible that Kilimanjaro's summit was reached by locals prior to Hans Meyer, but was never recorded.
What is the fastest ascent speed record on Kilimanjaro?
The fastest ascent and descent of Mount Kilimanjaro is held by Swiss mountain runner, Karl Egloff, who ran to the top of the summit and back in 6 hours and 42 minutes in August 2014.
This incredible feat beat the previous record which was held by Spanish mountain runner, Kilian Jornet and set in September 2010. At the time, the Spaniard was 22 years old. He reached the summit in a record time of 5 hours, 23 minutes and 50 seconds – beating the previous ascent record from Kazakh mountain runner, Andrew Puchinin, by one minute! He then ran back down for a total round-trip time of 7 hours and 14 minutes, beating the previous round-trip record set by local Tanzanian guide Simon Mtuy of 9 hours and 21 minutes!
Check out this awesome video of Kilian Jornet's record ascent of Kilimanjaro.
The fastest Kilimanjaro ascent by a woman was held by German-born Anne-Marie Flammersfeld, who in July 2015 climbed to the top of Mount Kilimanjaro in 8 Hrs 32 Minutes, smashing the previous record held by Becky Shuttleworth by over 3 hours. In total it took Flammersfeld 12 hours 58 minutes to ascend and descend, breaking the ascent and descent record of 18-hour 31-minute record set by Debbie Bachmann. Read more about Anne-Marie's record here.
In 2017, Brazilian Fernanda Maciel smashed Flammersfeld's record by over an hour, recording an ascent time of 7 hours 8 minutes.
Amazingly this was beaten again in February 2018 by Danish ultra-runner, Kristina Schou Madson who set an astounding record at 6 hours 52 minutes and 54 seconds.
Who is the youngest person to hike Kilimanjaro and summit?
The youngest person to reach the summit of Kilimanjaro is Albuquerque resident, Coltan Tanner. He summited Mount Kilimanjaro in October 2018 at the tender age of 6 years and 1 month old. The previous record was held by Keats Boyd, who summited at the age of 7 years old.
The youngest British person ever to trek to Kilimanjaro summit is Zain Akrim at 9 years of age on the 8th of August, 2015. And the youngest female to climb Kilimanjaro is 7-year-old Montannah Kenney, who broke Roxy Getter's record, aged 8, in March 2018.
Who is the oldest person to trek Kilimanjaro and summit?
The oldest person to climb Kilimanjaro is Anne Lorimor (aged 89). She summited in 2019 – see details here.
Before Anne achieved her incredible record, there were a number of other octogenarians who held the record:
2017: Dr Fred Distelhorst became the oldest person to climb Kilimanjaro at age 87.
October 2015: Angela Vorobeva (Russia, b. 4 February 1929) became the oldest person and women to reach the summit of Mt. Kilimanjaro, aged 86 years 267 days. Read about Angela's record here.
October 2014: Robert Wheeler became the oldest person to climb Mount Kilimanjaro at age 85 and 201 days. Read about his incredible feat here.
October 2012: Martin Kafer (85) became the oldest person to reach the Roof of Africa. He was joined by his wife Esther (84). Esther's achievement surpassed the previous oldest woman to reach the summit, Bernice Bunn, who climbed to the Roof of Africa at age 83.
October 2010: Richard Byerley reached the summit in October 2010 at the ripe old age of 84 years and 71 days. However, his record was surpassed, incredibly, by
There is some controversy around who is the oldest person to have reached the summit. Frenchman, Valtee Daniel, reached the summit at the age of 87; however, the climb was not independently verified and did not have sufficient documentation to be verified (i.e. logbook notes, photographs and film).
Have any disabled people participated in a Kilimanjaro hike?
Yes, many disabled people have hiked to the summit of Kilimanjaro. Here are two of our favourite stories: Wheelchair-bound South African, Bernard Goosen, scaled Mount Kilimanjaro in 2007, taking six days.
Kyle Maynard, who has no arms and legs, crawled unassisted to the top of Kilimanjaro in 2012. Watch this documentary about Kyle and his Kilimanjaro achievement – it's amazing!!
Other Extraordinary Mount Kilimanjaro Facts
Highest Cricket Match
In September 2014, 30 cricket players and officials climbed to the top of Kilimanjaro and then descended to Crater Camp to play the highest game of cricket ever recorded. The previous record was held near Everest Base Camp in 2009.
Read about the highest cricket match here.

Highest Pizza Delivery
In May 2016, Pizza Hut set an official Guinness World Record by delivering the highest altitude pizza to the top of Kilimanjaro. Read more about their trek and record here.
Highest Football Match
In June 2017 a group of 30 female footballers from 20 nations played the highest game of soccer on record. The game was played in Kilimanjaro's volcanic pit and lasted a full 90 minutes. An incredible achievement. To read more about the amazing record click here.
Africa's Tallest Tree Discovered on Mount Kilimanjaro
Measuring 81.5m in height, Africa's tallest tree was discovered on Mount Kilimanjaro in 2016. The tree is of the Entandrophragma Excelsum species and could be up to 600 years old! Read more about the finding here.
Team Building for Tour de France on Kilimanjaro
In October 2014, the Russian-backed Tour de France team, Tinkoff-Saxo, climbed to the top of Kilimanjaro. Cycling stars Alberto Contador and Peter Sagan were part of the team that reached the summit. Read more about their trek here.