7 year old Montannah Kenney from Austin, Texas has set a new world record as the youngest female to summit Mt. Kilimanjaro, breaking 8 year old Roxy Getter's record which was set in July 2017.
Despite walking away with a world record, Montannah told CBS News that her real motivation for summiting the 5,895m Uhuru Peak was to honour the memory of her Dad who passed away shortly after she turned three years old.
"I wanted to be closer with my dad," Montannah told CBS News. "I wanted to do fun adventures with my mom and learn about Mt. Kilimanjaro."
Montannah reached the Uhuru Peak summit on the 16th March 2018 accompanied by her Mom Hollie Kenney, an experienced guide and a support group of about twenty people. Though it is not clear which route they took up, we know that they had a relatively easy first day on the trek followed by a difficult few days of trekking through rain and snow which made for poor visibility and freezing conditions.
"It was way steeper than we thought." Hollie said. "We didn't know what was a cliff and what was a cloud. That was big eye opener."
The trip had originally been planned for October 2018 but once they discovered that 8-year-old Roxy Getter held the record Montannah decided she would attempt to break the record, and they moved their trip up. Montannah's birthday is in May, so the pair set the trip up for March before she turns 8yrs old. They also had to obtain a special permit for Montannah to make the climb up Mt. Kilimanjaro as she is younger than the legal age limit of 10 years old.
As a former professional triathlete, Hollie was already in good shape and Montannah's participation in running, swimming and basketball meant that she was also ready to tackle the climb. They put in long training hikes around their home in Texas but only got to experience altitude and oxygen deprivation upon their arrival in Tanzania.
When Montannah reached the summit she had a special moment to commemorate her dad.
"It was beautiful," Kenney said. "She knew she wanted to blow kisses to him and wave and hopefully he would see her."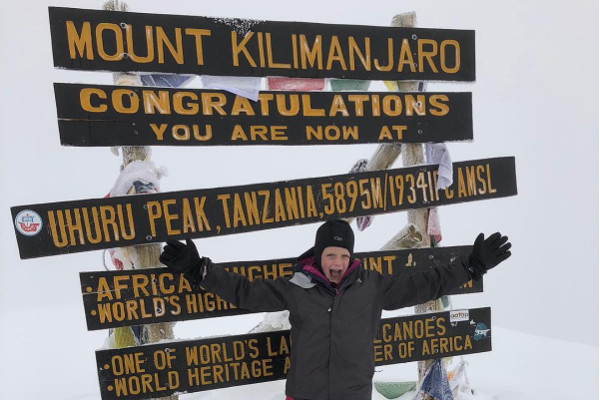 "She knows she has an angel looking after her and he lives in heaven," Hollie told InsideEdition.com. "She knew that this mountain is above the clouds so she associated that she was going to be closer to her dad in heaven."
Before starting their trek, Hollie and Montannah set up a Go Fund Me page to raise money for EMDR research and funding for people who cannot afford the therapy. The write up on the page says that Montannah's father battled PTSD and was starting EMDR therapy (eye movement desensitization and reprocessing) before he died.
The pair celebrated their successful summit with a couple of extra days in Tanzania on safari and on the beach.
---
Summit Safely and Successfully
We do not sell tours, we share our knowledge. Get a quote from our recommended local trek operator.
---