The Barranco Wall on Mount Kilimanjaro forms part of your early morning exercise on day 4 for climbers on the Machame, Shira, Umbwe and Lemosho Route.
The Barranco Wall looks a lot more ominous than it actually is. You need no technical climbing skills to be able to scale the Barranco wall.
Barranco Wall Elevation and Overview
Most trekkers on Kilimanjaro, excluding those on the Marangu Route, Northern Circuit and Rongai Route, need to contend with the Barranco Wall.
The climb is often called the Barranco Breakfast Wall as it is the first thing that you need to do on day four of your trek.
The Barranco Wall elevation is 257 meters – it seems higher but it is not!
The trick is to go slowly and make sure of each footing you take. Be deliberate and use all four limbs to scramble up the wall. It is best not to use your trekking poles for this part of your hike as they can often get in your way as you manoeuvre your way up the Barranco Wall.
The climb up the Barranco wall takes between 1-2 hours – depending on your fitness level.
At the top of the Barranco Wall, the trail continues to Karanga Camp which sits in the Karanga Valley. Here you will finally get a chance to rest and enjoy some lunch. Some people sleep at Karanga Camp and only carry on to the next camp, Barafu, on day five. If you stop for the night at Karanga you are on a seven-day route.
If you are on a six-day route, you will still have a three-hour climb ahead of you to base camp Barafu. It is therefore important not to expend all your energy on scaling the Barranco Wall and remain cognizant that you still have a lot more trekking ahead of you.
Trekkers on the six-day route typically get to Barafu around mid-afternoon. You will be served something to eat and then it is important to get some shut-eye as you will be woken at ~12pm to start your ascent for the summit.
"After climbing a great hill, one only finds that there are many more hills to climb."
Nelson Mandela
Barranco Wall Pictures
Scrambling up Barranco Wall. Have a look at the porters in the background with 20kg packs on their head, no hands and a 40% slope!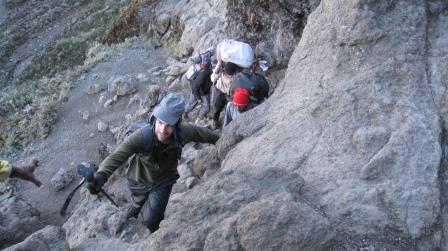 Here is a picture from the lower stretch of the Barranco Wall. It looks steeper than what it actually is!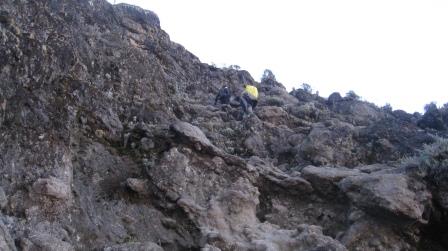 Barranco Wall Quick Facts
Only climbers on the Machame, Shira, Lemosho and Umbwe Routes climb the Barranco Wall
It is typically climbed on day four of your hike
The Barranco wall elevation is 257 meters
You do not need technical climbing skills to scale the Barranco Wall
In climbing terms, the Barranco Wall is considered a 'scramble'
It is best not to use your trekking poles on the Barranco Wall
"It's like climbing a staircase. I'm on the top of the staircase, I look behind me and I see the steps. That's where I was."
Jeanne Moreau
Haven't booked your Kilimanjaro hike yet and looking for the best and most affordable Kilimanjaro Tours – click here for recommendations.
See here for a complete Kilimanjaro gear and kit packing list.