Looking at the Kilimanjaro map below you can see that there are 7 routes to reach the summit of Mount Kilimanjaro. Mweka is for descent only.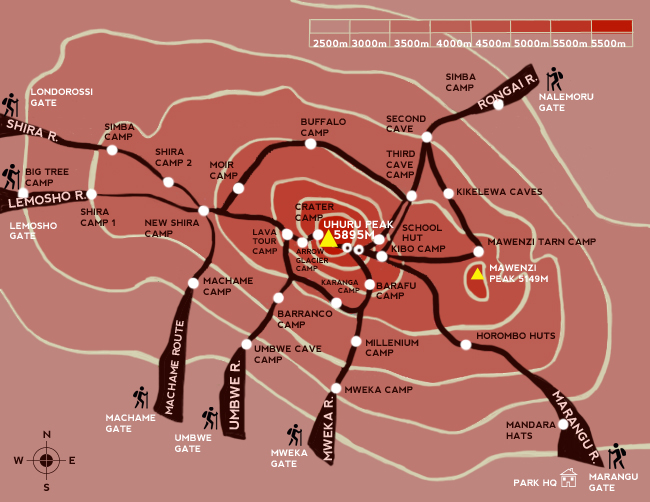 The route that one chooses is important as it impacts the cost, duration and potentially your chance of summit success.
As you can see on the map, three routes begin on the south side of the mountain at just under 2,000m. The Rongai Route provides a more remote passage, which begins on the North East side of the mountain. The Shira, Lemosho and Northern Circuit routes begin on the west side of the mountain.
Kilimanjaro map and routes
Study the map to have a look at the various camps that you will be staying at on your chosen route.
Note: the Marangu Route is the only one that has huts for the full duration of your trek.
See this Kilimanjaro routes article to get a full overview of each trail, including detailed information on the camps and pros and cons for each route. You will also find useful altitude profiles for each of the routes. The better you understand your route and the distances between camp sites the more likely you are to pace yourself correctly on each trekking day.
Kilimanjaro Map – Cross section
The cross-section map below gives a good sense of elevation from each of the Kilimanjaro route starting points.


Kilimanjaro Map – Route summary
There are seven main routes on Kilimanjaro. Three approaches from the south – Machame, Umbwe, Marangu (note: Mweka is used for descent only), three approaches from the West – Shira, Northern Circuit and Lemosho (the latter is relatively new and far superior to that of Shira which starts at a high elevation and therefore makes the acclimatization process much more challenging).
A popular route, the Rongai, approaches from the drier North East.
As you climb Kilimanjaro you will pass through four climatic zones. The first zone is characterized by tropical rain forest. At about 3,000 meters this gives way to a moorland setting. At 4,200 meters the landscape becomes desert-like until reaching the uppermost reaches of the mountain which are glacial.
You can also find a complete Kilimanjaro gear packing list here.