On Kilimanjaro you are going to walk through four climatic zones, each with its own distinct fauna and flora.
Climate Zones
This awesome video by Laurence Hills shows the four distinct climate zone. Read below to discover more about Kilimanjaro's scenic beauty.
Rain forest zone (~800 meters – 3,000 meters)
From the earliest part of your trek you are going to be confronted with tropical rain forest. Humidity is high and light mist or sometimes drizzle is common. Various flora such as orchids, ferns, fig and olive trees cover this area of Mount Kilimanjaro.
You will likely see Blue and Colobus monkeys, and if you are trekking from the North-East Rongai route or Western Lemosho, Shira or Northern Circuit you may even see elephant, buffalo and large antelope.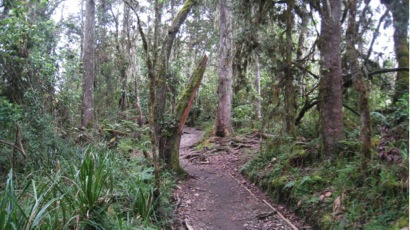 Low alpine zone (~3,000 meters – 4,200 meters)
At approximately.3,000 metres the rainforest rapidly gives way to semi-arid grasslands and moorlands, this area is known as the low alpine zone.
Heather and small shrubs cover the landscape, the weather is significantly less humid and temperatures can get to sub-zero in the evening.
The most prominent flora features in this zone are the Senecios and Giant Lobelias, which look like deformed palm trees. Fauna is sparse; however you will likely see crows overhead foraging for food.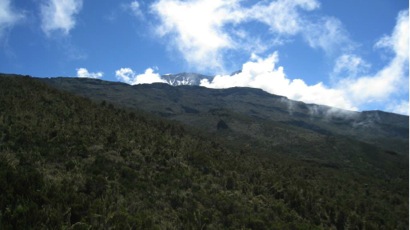 High alpine zone (~4,200 meters – 5,000 meters)
This zone is characterised by an arid desert environment that is rather inhospitable. During the day temperatures are hot and solar radiation is high (make sure to apply lots of sun-cream).
At night temperatures plummet to below freezing. From this zone the slopes of Kibo and Kilimanjaro's summit come into perfect view.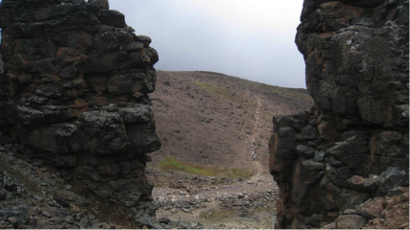 Glacial zone (~5,000 meters to 5,895 meters)
The final zone houses the upper reaches of Kibo and Mawenzi and consists of high altitude artic conditions. Life is very scarce in this zone as oxygen levels are near half what they were on the lower reaches of the mountain.
Fine glacial silt covers the slopes that reach up to Kilimanjaro's summit and large glaciers are visible from Kilimanjaro's crater rim.
Due to the high solar radiation during the day, freezing temperatures at night, gale force winds and low oxygen levels, this zone is not one where you want to stay too long!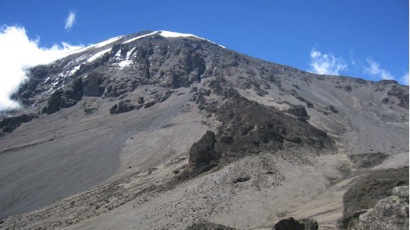 Altitude zones
Mount Kilimanjaro can be classified into three altitude zones.
High altitude (2,500 – 3,500 metres) is the first zone you will experience. You will spend approximately 2-3 days in this zone. The onset of acute mountain sickness in this zone is low but increases as you breach the 3,000 meter mark.
Very high altitude (3,500 – 5,500 metres) is the second zone. Typically you will spend 2-3 days in this zone as well. It is recommended you have an acclimatization day in this zone where you climb high and sleep low. Most people experience some degree of altitude sickness in this zone.
Extreme altitude (above 5,500 metres) is the zone you experience when you approach Kilimanjaro's summit. You will likely only spend a few hours in this zone as you trek from the upper reaches of Kibo to Uhuru peak and back.
The onset of AMS in this zone is high, particularly if you have not given your body enough time to acclimatize in the lower zones. Many people trekking Kilimanjaro experience mild to moderate AMS in this zone, but begin their descent before conditions escalate.
Any questions about Kilimanjaro climate zones or altitude zones, feel free to leave a comment below and we will respond within 24 hours.