Now that's what we call a PR stunt! Pizza Hut have earned a Guinness World Record for delivering the highest altitude pizza to the top of Mount Kilimanjaro.
The stunt was organised by Pizza Hut Africa and Yum! Brands in the USA to mark the launch of Pizza Hut's first franchise in Tanzania and the 100th country that the Italian food chain now has an operation in.
The challenge began on May, 5th 2016 where a pizza was made in Pizza Hut's new Dar Es Salaam restaurant and then flown to Kilimanjaro. From here it was transported to the trailhead and then carried in an insulated, battery-heated pack, which was especially designed to keep the pizza horizontal and fresh!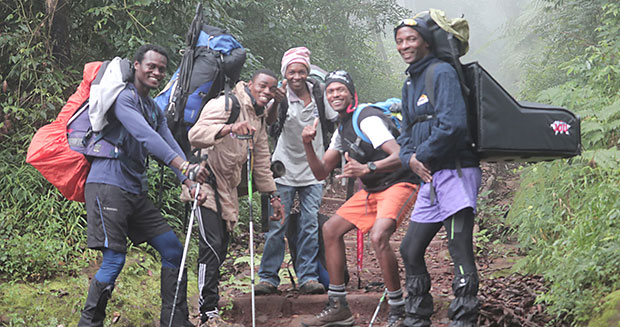 The record culminated with the General Manager of Pizza Hut Africa Randal Blackford, a group of employees and a team of experienced guides celebrating on the summit of Kilimanjaro with a slice of pepperoni pizza on May, 8th 2016.

Blackford was quoted as saying: "Nothing tastes as good as pizza after hiking throughout the night to the highest peak in Africa!"

To adjudicate the record, an official from the Guinness World Records, Pravin Patel, was flown to Tanzania and ensured the record attempt followed all official guidelines.

The original idea for the record attempt was to helicopter the pizza to Base Camp – Barafu at 4,600m – and then walk it up to Uhuru Peak, but due to the thin air the helicopter risk was deemed too high. The team had also thought of using a drone to deliver the pizza but due to high winds this idea was also aborted. Eventually the team settled on the approach that was finally taken.

The President of Pizza Hut International, Milind Pant, had this to say about the achievement: "We are thrilled to bring Pizza Hut to Tanzania and believe there is no better way to celebrate our 100th country milestone than by setting a Guinness World Records title for the highest pizza delivery on land to Mt. Kilimanjaro."

The record was not all about PR though. Pizza Hut used the opportunity to raise money for the Msasani Primary School in Dar Es Salaam, Tanzania – the town where the new Pizza Hut has opened.

Source: Guinness World Records