Rebecca Rusch and Patrick Sweeney have recently mountain biked to the summit of Mount Kilimanjaro, Africa's highest peak (19,341 feet).
The feat of mountain biking up Kilimanjaro began in 1985 when Dick and Nick Crane became the first recorded people to reach the summit of Kili with bikes.
They carried them up themselves and later wrote a book about their experience called Bicycles Up Kilimanjaro.
Rusch and Sweeney began their expedition on the 21st February 2016 using the popular Marangu Route. After 4 days of mountain biking over tough terrain the cyclists reached the summit of Kilimanjaro at 10:20 am local time on 24th of February 2016.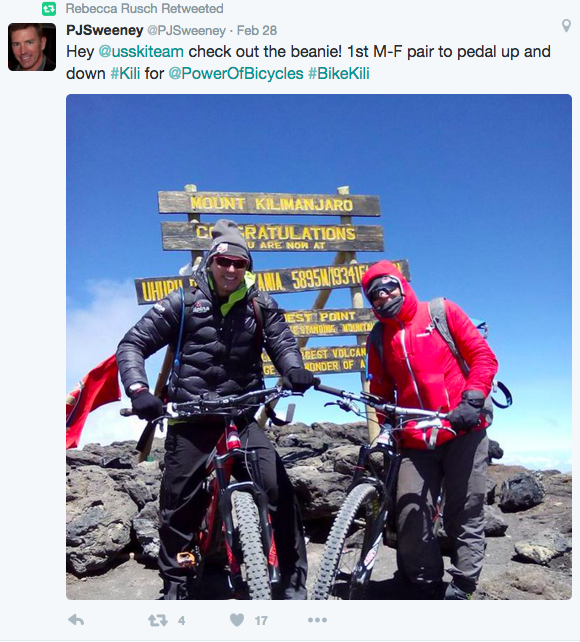 Rebecca is an extraordinary athlete who holds national and world titles in adventure racing, white-river rafting, orienteering, and cross-country skiing. But these accomplishments pale in significance against her mountain biking resume, which includes being the 4-time champion of the Leadville 100. Her amazing world-record titles in mountain biking have earned her the title: Queen of Pain!
Patrick describes himself as an ordinary TV host who does extraordinary adventures to inspire and entertain. That is certainly true: Patrick is the first person to mountain bike to Everest Base Camp, and has now done the same on Kili.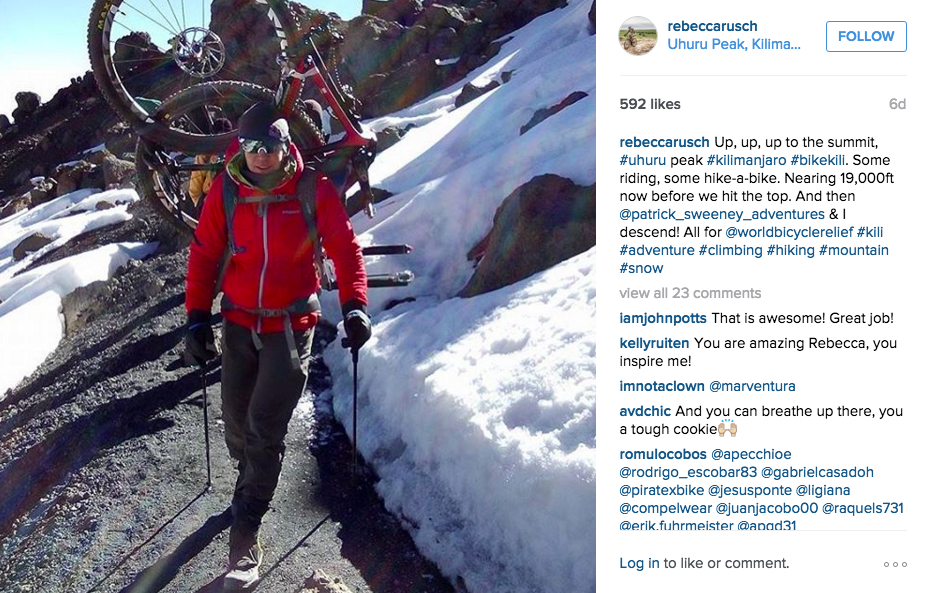 The idea to mountain bike Kilimanjaro was borne out of the work that Rebecca has been doing with World Bicycle Relief since 2003. WBR works relentlessly to assist remote African communities by providing bicycles for personal transportation. Using the gift of bicycles, WBR's unique charity model allows kids to attend school more regularly, entrepreneurs to run their businesses more effectively and health care professional attend to patients more readily.
The cycling duo aimed to use the Kilimanjaro challenge to fundraise $1 for ever foot of elevation on Kilimanjaro – in total 19,341 feet. To date they have raised over $11,000, equivalent to 76 bikes, which along with their amazing cycling feat is a huge accomplishment.
If you would like to donate to the campaign go here.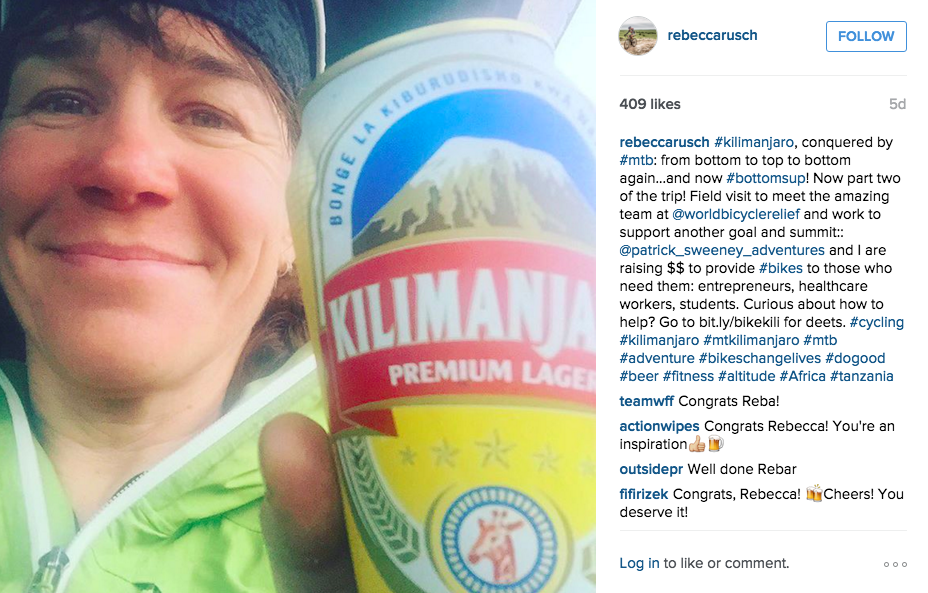 For now, though we would like to pass on our huge congratulations to Rebecca and Patrick!