The short answer to the question: Can anyone climb Mount Kilimanjaro? is obviously no.
If you are super young or ridiculously old you will unlikely be able to cope with what Kilimanjaro throws at you. Equally, if you are obese or severely disabled you can probably write Kilimanjaro off your bucket-list.
For the average person though, being able to successfully climb and summit Kilimanjaro is definitely attainable. You don't need to be particularly fit (indeed being too fit can be detrimental) and you do not need any technical climbing skills.
Children over the age of 10 can legally have a go, as can older generations in their 60s and 70s!
All you need is determination and the will to get to the summit.
The real challenge with climbing Kilimanjaro is the altitude and the rate of ascent.
Standing at 5,895 meters (19,341 feet), Kilimanjaro is firmly classified as an extreme altitude mountain trek. At high altitudes the body is susceptible to a condition called Acute Mountain Sickness (AMS) or altitude sickness.
As many as 50% of people who climb Kilimanjaro suffer from AMS symptoms, often mild and moderate variants. However, more severe complications such as High Altitude Cerebral Edema and High Altitude Pulmonary Edema are also possible on Kilimanjaro, and can be fatal.
The onset of AMS symptoms is not directly correlated to factors of age, gender, fitness level etc.
We do know though, that the rate of ascent is a major contributing factor, particularly on Kilimanjaro where the ascent profile is fast.
To increase your chances of success you should apply these four principles:
Longer routes provide more time to properly acclimatize and therefore success rates are higher. Seven day routes are our preferred option for trekkers
Routes that offer a climb high, sleep low acclimatisation day are preferable – the Machame and Lemosho route provides the best climb high, sleep low opportunity
Go slowly through-out your trek. Do not over-exert yourself. Conserve energy at all times. You will hear your porters say 'Pole Pole', this means Slow, Slow in Swahili. Listen to them
Drink loads of fluids (2.5-4 liters of water a day)
Follow these tips and you should be fine!
Can anyone climb Mount Kilimanjaro?
We said earlier that not everyone can climb Mount Kilimanjaro, which is true; however, there have been some incredible feats over the years that are worth mentioning.
Here are three:
Armless and Legless Kyle Manyard Climbs Kilimanjaro
Kyle Maynard was born with a condition called congenital amputation – he has no arms and legs.
Despite his condition, Kyle has never let his disability stop him. In 2012 he crawled unassisted to the top of Kilimanjaro using the most technically challenging and steep route called the Western Breach.
Watch this Kyle Maynard Kilimanjaro documentary and be amazed. He is an inspiration for all able-bodied people and illustrates that so much of life is dependent on one's attitude. His spirit for life is infectious!
He has also recently announced that he is going to attempt the highest mountain in South America, Mount Aconcagua, next year (2015)! Standing at 22,840 feet this will be an incredible achievement.
Esther and Martin Kafer summit Kilimanjaro, aged 84 and 85 respectively
In late 2012 Canadian couple Esther and Martin Kafer, aged 84 and 85 years respectively became the oldest people to summit Kilimanjaro.
The couple have been married since 1953 and have climbed mountains all over the world.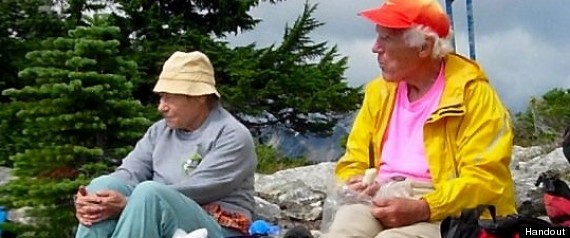 Fastest ascent by mountain speed runner Kilian Jornet
Kilian Jornet, an ultra mountain runner from Spain smashed all speed records on Kilimanjaro when he ran from Umbwe Gate at 5,250 feet all the way to Uhuru Peak at 19,341 feet in 5 hours, 23 minutes; 9 minutes faster than the previous record which was held by Italian runner, Bruno Brunod.
He then ran back down the mountain, descending 13,960 feet to Mweka Gate to complete the round trip in an amazing 7 hours, 14 minutes. This crushed the previous record held by Tanzanian runner Simon Mtuy who had completed the round trip in 8 hours, 27 minutes.
---
Update: Amazingly, Jornet's record was beaten in August 2014 by Swiss mountain runner, Karl Egloff, who ran to the summit and back down in an incredible 6 hours, 42 minutes. Read about his incredible record here – Kilimanjaro Fastest Ascent.
---
Watch this amazing Kilian Jornet Kilimanjaro documentary that shows the runner dealing with the effects of altitude at the top of the mountain and the rapid descent that he manages to achieve! (note: keep in mind that most people take 7 days to ascend and descend, and are usually buggered by the time they get back to the trail-head!)
FAQ
Are you concerned about your ability to climb Kilimanjaro? Leave us a comment below and we will respond within 24hrs. If you found this article useful and interesting please share on Facebook or Twitter using the share buttons below. Or better still if you have a blog where you sharing your Kilimanjaro adventure please link to us.
You can also find a complete Kilimanjaro gear packing list here.
---
Summit Safely and Successfully
We do not sell tours, we share our knowledge. Get a quote from our recommended local trek operator.
---