[one_third_first]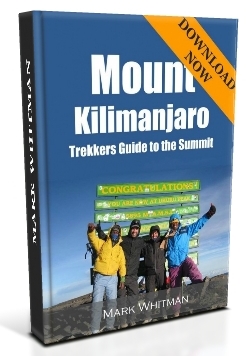 [/one_third_first][two_third_last]Mount Kilimanjaro: Trekkers Guide to the Summit is a practical and insightful Kilimanjaro guidebook that has been used by 1000s of climbers as an authoritative resource to prepare for Mount Kilimanjaro.
The eBook version is available for download on this site for £5.99, or if you have an Amazon Kindle you can download the book here.
To download the eBook now click the Get Your Guide button below.
[thrive_split_button left_color="orange" right_color="blue" left_text="Get eBook" right_text="Get Kindle Version" left_link="https://gum.co/KILIGUIDE" right_link="https://www.amazon.com/Mount-Kilimanjaro-Trekkers-Guide-Summit-ebook/dp/B06XZY8G76/"][/two_third_last]
What Information Is In The Guide?
Eleven jam-packed chapters, as follows
Chapter 1 – Introduction
Chapter 2 – Tanzania: Discover fascinating facts about Tanzania's tumultuous history, it's diverse cultures and incredible fauna and flora
Chapter 3 – Mount Kilimanjaro: Get a real sense of  the environment in which you will be trekking. This chapter covers Kilimanjaro's incredible volcanic geography, it's climatic zones and the impact of climate change on it's snow-capped peaks
Chapter 4 – Kilimanjaro Routes: Undecided on which route to take? Fret not! This chapter provides detailed daily itineraries, route maps, altitude and distance profiles and pros and cons on all 7 Kilimanjaro routes. Half the battle is knowing what awaits you!
Chapter 5 – Visas, Vaccinations and Medications: There are many administrative tasks that you will need to get sorted before departing for Tanzania – from visas to vaccinations (for yellow fever) and medications (for malaria) – this chapter covers it all
Chapter 6 – Fitness and Nutrition: Having the right physical and mental fitness for Kilimanjaro is key to a successful summit. Here are my secrets for optimal fitness and nutrition
Chapter 7 – Equipment and kit list: There is nothing worse than arriving in Kilimanjaro with missing gear or the wrong equipment for the job. This chapter provides kit recommendations and a detailed checklist so that you can rest assured you have all required equipment before departure
Chapter 8 – Acclimatization and Acute Mountain Sickness: Trekking to high altitude comes with some very serious risks to your health and safety. Failing to properly understand those risks can spell disaster. This chapter is a must-read for any Kilimanjaro trekker and includes proven methods to increase your chances of reaching the summit
Chapter 9 – Guides and Porters: Your trekking support team are your greatest asset. This chapter explains how your team will be structured, provides top Swahili phrases you should learn and gives detailed guidance on tipping standards
Chapter 10 – Kilimanjaro Facts: Trekking Kilimanjaro is a long and arduous hike. Dropping in some of these interesting Kilimanjaro facts as you sojourn the slopes of Kibo will impress trekking companions to no end
Chapter 11 – Recommended Kilimanjaro Books: Do you like to immerse myself in relevant literature before going to a new country or undertaking a big adventure? Here are 10 recommended books that will get you ready and fired up for your Kilimanjaro trek

What Trekkers Say About The Kilimanjaro Guide?
 Testimonials from successful climbers have been awesome, and I'm forever surprised by the impact the guide has had on people's journey up Mount Kilimanjaro!
[thrive_testimonial name="George Thomas" company="United Kingdom" image="https://www.climbkilimanjaroguide.com/wp-content/uploads/2013/05/281.jpg"]This guide is an incredible resource. Brilliantly laid out, straightforward to use, and jam-packed with useful information. A must read for any would-be climber. Thanks for your help![/thrive_testimonial]
[thrive_testimonial name="Erika Loseman" company="United States of America" image="https://www.climbkilimanjaroguide.com/wp-content/uploads/2013/04/climb-kilimanjaro.jpg"]Every page in the book is covered with useful and inspiring nuggets of wisdom. The detailed route itinerary came in handy as did all the info on acclimatization. I can't recommend the guide enough. Trust me, just get it![/thrive_testimonial]

How Can You Get The Kilimanjaro Guide?
For a small investment of £5.99 in your safety and preparation for success, download the eBook or get the Kindle version. You will get immediate access!
[one_third_first]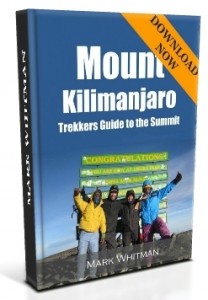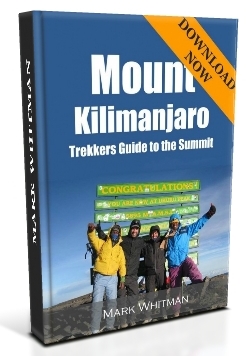 [/one_third_first][two_third_last]We use GumRoad to manage payments as it is extremely secure.
You will be provided with a download link directly after payment and can immediately immerse yourself in everything you need to know to get to the top of Mount Kilimanjaro.
If at any point you are unsatisfied we offer a 60 day 100% money back guarantee.
[thrive_split_button left_color="orange" right_color="blue" left_text="Get eBook" right_text="Get Kindle Version" left_link="https://gum.co/KILIGUIDE" right_link="https://www.amazon.com/Mount-Kilimanjaro-Trekkers-Guide-Summit-ebook/dp/B06XZY8G76/"][/two_third_last]

Questions
If your question isn't answered below feel free to leave a comment below.
Will buying the guide guarantee that I get to the top of Kilimanjaro?
No. There is no guarantee that you will reach Kilimanjaro's summit. However, we know for sure that the more prepared you are the higher the probability of success will be
Which route do you recommend I take?
Each route has its own pros and cons. If you are hiking during the rainy season you might want to consider the drier Rongai Route. If you like a little more comfort you should do the Marangu Route where you sleep in huts instead of tents. The guide provides a complete overview on all 7 routes on Kilimanjaro, including distance and altitude maps for each route, pros and cons on each route, and day by day explanations of the camps you will be trekking to on each route. Reading this Chapter of the guide will allow you to make a really well-informed decision on which route is best for you
How can I prepare for Acute Mountain Sickness?
Acute Mountain Sickness affects people in different ways. If you have never been to high / extreme altitude it is nearly impossible to predict how your body will respond. There are some key principles that you should follow whilst on the mountain to mitigate the affects of AMS. In particular it is important that you don't go too high too fast. Remaining hydrated and going slowly is key. In the guide you will find everything you need to know about acclimatization and Acute Mountain Sickness (AMS), including the 4 things you can do to mitigate the risk of AMS, the symptoms to look out for in mild, moderate and severe AMS, a full overview on High Altitude Pulmonary Edema (HAPE) and High Altitude Cerebral Edema (HACE), and guidelines on medications you can use to properly acclimatize
Does the guide include a kit list?
Yes, the guide includes detailed information on all the kit you will need on the mountain as well as non-kit items such as visas, vaccinations, tipping money, medications, gadgets and other nice to haves
Should I get the guide before or after I have booked my climb?
This is really up to you. The earlier you start preparing the better. The guide provides lots of information that can help you make an informed decision on when to climb and what route to use. Getting this information before you book your tour is beneficial
Is climbing Kilimanjaro safe?
Putting your body at extreme altitude comes with obvious risks. It is important that you understand these risks so that you can have a safe and fun experience on Mount Kilimanjaro. We would not suggest climbing Kilimanjaro without understanding the risks associated with extreme altitude.

Download Now
Start preparing for Kili now!
[thrive_split_button left_color="orange" right_color="blue" left_text="Get eBook" right_text="Get Kindle Version" left_link="https://gum.co/KILIGUIDE" right_link="https://www.amazon.com/Mount-Kilimanjaro-Trekkers-Guide-Summit-ebook/dp/B06XZY8G76/"]