Last week, a team of 38 climbers set a new world record by playing rugby at an altitude of 5,791m (19,000 ft) on Mount Kilimanjaro.
The team, who were climbing for charity, not only played a full rugby match, but also successfully summited the mountain in 6 short days.
The team of 38 climbers included many rugby league legends such as Adrian Morley, Barrie McDermott, Lee Briers, Neil Harmon, Chico Jackson, Mike Wainwright and Alan Hunte. BBC's Beccy Meehan and Sky Sport's Angela Powers also took part and their crew filmed the entire challenge which will be broadcasted across their respective networks.
The team were climbing for the Steve Prescott charity foundation (SPF) and 35 out of the 38 climbers managed to reach Uhuru Peak at 5895m (19341ft). Event Leader Ade Cunliffe and SPF Trustee was recorded on social media saying " 'Made it to the summit. 35 out the 38 made it. Played full 80 mins rugby. In so much pain it's untrue . Cannot wait to get home. I'm in bits. Never ever again. So proud of all the teams achievements! The 3 who did not make it are heroes who gave it their all, most importantly they are safe and well! They have been thru hell and back!"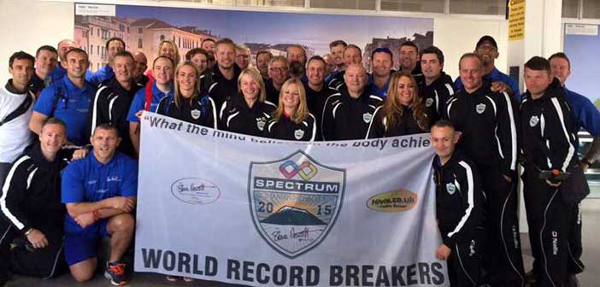 Altitude sickness is said to have been a major issue for most of the team as their bodies were pushed to the limit physically and mentally. Simply climbing Kilimanjaro in 6 days is a tough task alone, but when you combine this with a full rugby match at high altitude, then stamina, fitness and mental determination is tested to the max.
The rugby match was played at the Crater Camp just 200 metres below the official summit. Sponsored by Warrington Wolves and Multiwork and refereed by RFL referee Robert Hicks under Rugby Football League International Federation rules, the 38 strong team split into two groups and played for a full 80 minutes. After a lot of wheezing and long drink breaks, the score finished 10-10.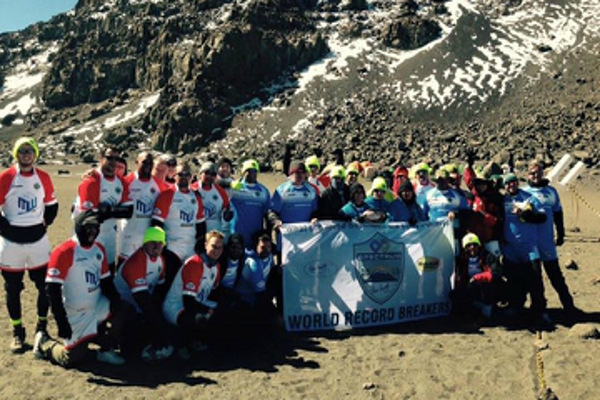 The U19's coach at Warrington Wolves and SPF ambassador Lee Briers tweeted after the match saying "That was the hardest thing I've ever done and quite possibly the hardest thing I'll ever do." Linzi Prescott said after the event "I am incredibly proud of each and every one that took on this challenge. I think it is amazing what they have achieved. They are a fantastic team, who I'm sure have experienced some special, once in a lifetime memories. I cannot thank them enough for continuing Stephen's legacy. He would be so proud! Special thanks must also go to their partners/families for their support. It's been a sleepless week for me so I don't know how they have coped. Hope they enjoy the well-deserved celebrations now it's over. Stay safe!!"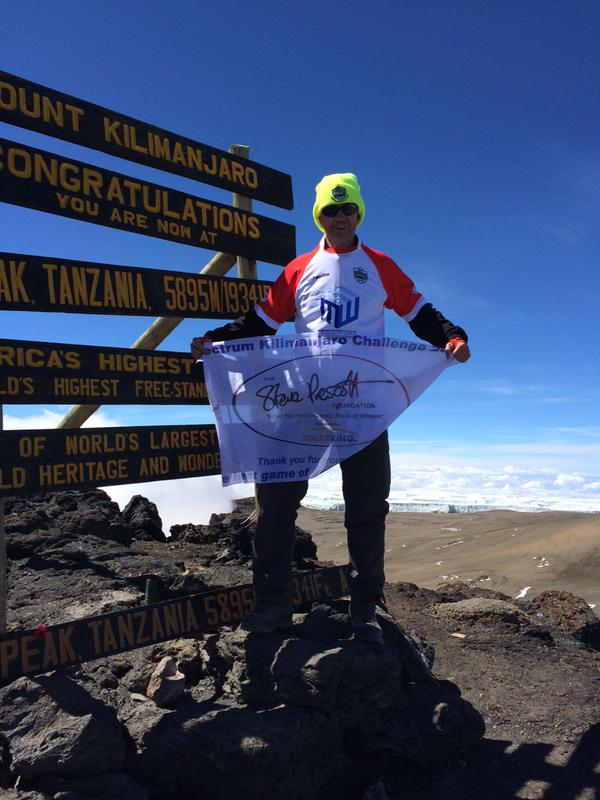 At least £4,000 was raised by each climber for SPF and now the team will patiently wait for the confirmation by Guinness Records. Singing the teams praises was Mike Denning Chairman of the SPF who stated "In true SPF Spirit, people from all walks of life have stepped up to complete this amazing challenge and in doing so set our very own World Record for the highest game of Rugby League ever played. We are all extremely proud of their endeavours and truly grateful for the time and energy they have all put in training and completing this challenge. Massive thanks to all of our Sponsors and once again the SPF family are pushing new boundaries. Thanks to everybody for your continued support."
If you would like to watch a short video of the match then please click here
---
There're over 200 Kilimanjaro Operators (Choose Wisely!)
We do not sell tours, we simply provide impartial advice. Get a quote from our recommended local tour operator.
---