As a place of extremes, East Africa can be as uncomfortably cold in the morning as it can be extremely hot in the afternoons. The icy morning breeze as you set off for your safari can change dramatically by as early as midday.
For that reason, it's a good idea to wear cool clothing as your base layer and then warmer clothing over it that you can remove as the day heats up. But let's make the process of choosing the right safari clothes easier.
Below is a guideline to buying breathable, moisture-wicking clothes that are ideal for safaris and play an essential role in layering.
General Guidelines for Safari Clothes
Layering
Layering is the best way to keep up with the typical cool mornings and evenings yet warm afternoons in East Africa. Each layer only works if it is made from fabric that supports the wicking process, allowing moisture to pass from one layer to the next. Due to its hydrophilicity, avoid cotton, because it traps moisture and stops the wicking process.
Earthy Colours and Comfort
If there are two words you need to keep in mind when packing for a safari, it's comfort and colour. It is highly recommended to wear neutral or earthy colours like tan, khaki, light brown and olive green. This is far more than a safari trend – these colours provide camouflage and are less likely to distract the wildlife. Many animals find bright colours (including white and red) bothersome. 
Neutral colours also offer protection against the infamous tsetse fly, which is attracted to dark colours. Colours like blue, purple and black are a no-go and draw insects that can pose a health risk.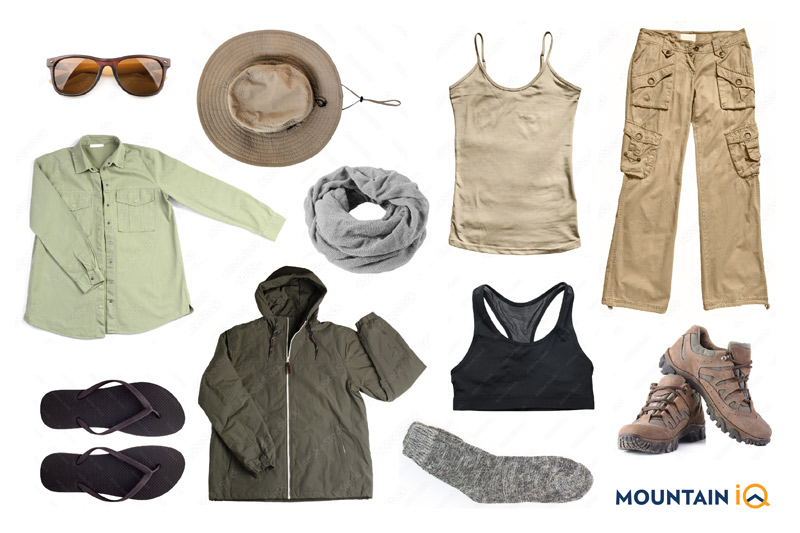 Safari Clothes You'll Need
Underwear
Depending on the length of your trip, you should pack between 7-10 pairs of underwear. If you plan to do a walking safari, then sports underwear made from brands like Jockey or Icebreaker is excellent.
Even if you don't plan on taking on anything strenuous on your safari, women should back a low-impact sports bra for the bouncy safari drives. Investing in some quick-drying underwear is also a good idea, especially because you'll most likely wash this by hand.
Safari Shirts
A general recommendation for layering is to start with a moisture wicking t-shirt or tank top as a base layer, then add a breathable sweater or button safari long-sleeve shirt.
Long-sleeved shirts not only protect from the sun but also help keep the bugs away. Not everyone feels comfortable in long-sleeved shirts, however, and if you prefer less coverage remember to be vigilant about applying insect repellent (more information below) and sunscreen.
At most lodges, there is also rarely a dress code (most people go straight to dinner after their afternoon safari) so packing in smart clothes is a nice-to-have but not a necessity.
Tousers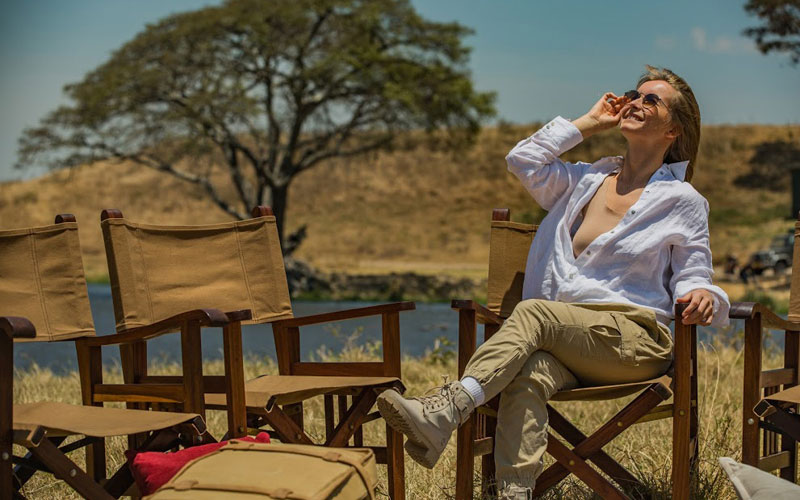 Jeans or uncomfortably tight trousers are unsuitable for safaris – comfort is key when jumping in and out of the safari vehicle. Remember that the safari-friendly colour rule applies to here too, so choose anything that is olive green, tan or khaki.
For the endless hours of sitting and looking for animals, your best bet is cargo trousers. These are lightweight, quick-drying and offer water resistance. The elastic band and pockets make them very useful, and a bonus is that they double up as both lounge and hiking gear.
For safari walks and trekking experiences, you're better off with convertible trousers (for men and women) made by Columbia. These provide sun protection and also offer a breathable, wicking fabric that pulls moisture away to keep you cool and dry.
Safari Shoes
Whilst the type of shoes to pack depends on the kind of safari you're doing, the most sensible ones are simple and lightweight. It might be tempting to order the latest pair of heavy, hard-core hiking boots, but lugging these around will make your bag and feet heavier than they need to be. Only use these if you are going on a safari post your Kilimanjaro trek.
For the most part, you'll spend your day in the safari vehicle and around the campfire, so comfortable boots or high-top trainers are recommended (help cover your ankles).
Another essential pair of shoes to pack is strong-soled flip-flops for showering, the beach or the pool.
If your itinerary includes multi-day treks through the bush, then you'll need a sturdy pair of hiking shoes, ideally, these should be waterproof and easy to clean.
Safari Socks
What's a good pair of safari shoes without a pair of socks to match? Whether you're wearing a comfy pair of trainers or hard-core hiking boots, your socks need to be moisture-wicking.
A good recommendation would be socks made out of merino wool, which can be worn multiple times before requiring a wash.
Jackets
Before heading out for your safari, the layering process is finished off with a fleece, rain or puffer jacket and scarf. The type of jacket you need to pack depends on the time of year you're visiting East Africa.
If you're going in the dry season, then a fleece jacket and windbreaker is all you'll need. If you're braving the wet season, a good quality rain jacket is a must-have.
Fleece Jacket
For the best wildlife sightings, safaris usually take place in the cooler times of the day. Even if you're expecting a sweltering afternoon, don't underestimate how chilly the morning and evening can be. The combination of the open safari vehicle and wind when you're moving makes a fleece jacket something you'll greatly depend on.
Warm Jacket
The best jacket to buy for a safari is one that provides as much versatility as possible. For the best value for money, invest in a warm jacket that can be used for many different activities in as many different environments.
The North Face Aconcagua Insulated Jacket is super lightweight (which makes it easy to travel with), water-resistant and offers wind protection.
Hardshell and Rain Gear
If you've opted to visit Tanzania in the wet season, in addition to fleece and a warm jacket, we recommended packing a hardshell and rain gear.
A synthetic jacket performs better in wet weather than warm/down jackets. The key thing to look for in a jacket is a highly water-resistant outer fabric – nylon is great on synthetic jackets.
Something like the North Face Resolve works perfectly for those typical East African afternoon showers. Here's a women's Resolve. For quick rain cover, you might also consider packing a poncho that covers both your body and your daypack during a downpour.
Safari Hat and Sunglasses
The best hat to pack for a safari should not only provide sun protection but also be able to stay on your head during those breezy safari drives. This moisture-wicking hat from Columbia (it's unisex) blocks out UVA and UVB rays plus has a drawcord and a toggle.
Sunglasses are also an essential safari item that doubles up as both sun protection and a way to keep dust out of your eyes.
Scarf
A correctly-coloured scarf provides some extra warmth when you need it, but also gives you something to cover your face against a dust storm or insects. A lighter silk scarf can be worn around your neck during the day, and a heavier blanket scarf is useful for covering your shoulders when it gets chilly.
For more information, read our safari packing guide.