A safari through Tanzania is always special, but a camping safari arguably provides the most immersive experience into the great East African wilderness. While the experience of being separated from the untamed elements by only a thin sheet of canvas may be daunting for some, others find the thought of being one with nature around them thrilling.
Just like the first explorers to venture into Africa, a camping safari takes guests on an untamed journey through the rugged wilderness. With the thrill of wild animals brushing past your tent with no fences or armed guards in most campsites, pitching up camp is an exhilarating option that is definitely not for the faint-hearted.
If you're an adventure-seeker on a budget, the biggest advantage of a camping safari is without a doubt the cost. Travellers can save hundreds of dollars without compromising in the slightest on realizing their wildest safari dreams.
Guided Camping Safaris – Less Stress, Remote Locations and More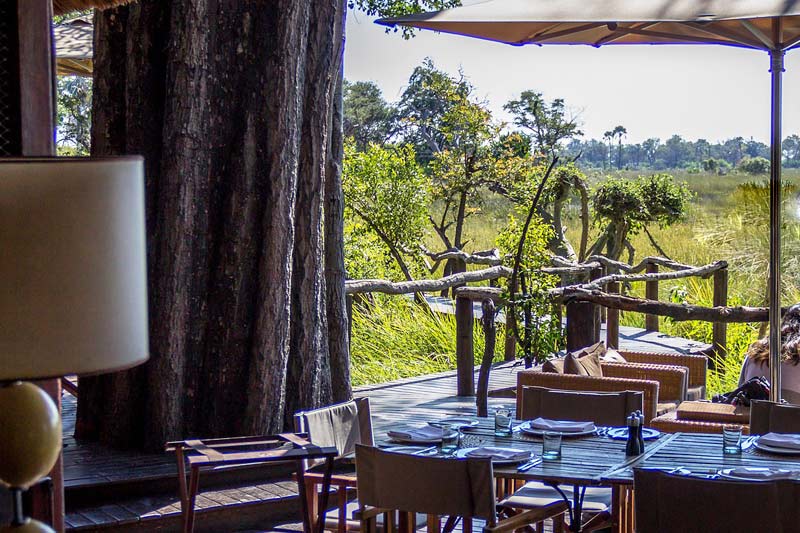 The most intimidating part of a self-navigated camping safari for most travellers is the planning and logistics required, as well as lacking the right equipment. If that's the case, a pre-planned and guided camping tour ticks all the right boxes.
Nothing quite compares to the experience of pitching camp in places you would have never otherwise been able to find on your own. Special campsites are bought on a bidding system by safari companies before the safari season, allowing access to some of the most unique and breathtaking locations on earth.
What's Included
One of the main drawing cards of a guided camping tour is that all your meals will be covered. Safari-goers are transported to the remote wilderness with sufficient food for the journey stored within the vehicle. Many tours also provide a chef so that the quality of food is guaranteed and the stress of having to find a shop in the middle of East Africa is alleviated.
Camping gear is also mostly provided by the safari companies with the exception of more personal items. Safari companies provide tents, sleeping bags, safari chairs and a fold-out table for dinner (even the set-up is taken care of for you by the guides).
Most camping safaris range from 3-11 days. A minimum of five days is suggested to ensure that you maximize your time within each park.
Choosing a Safari Company
It is vital to choose your safari company wisely – taking the time to do research based on reliable reviews is super important. Once you've contacted your safari company, your itinerary will be tailor-made. It is widely recommended, however, to choose the typical safari packages as these are the most tried and tested and are popular for good reason.
Requirements for a Tanzanian Safari
There are a number of vaccinations that you should get before you travel. We recommend you check with your local GP or travel clinic which vaccinations you require.
Certain vaccinations are required to enter Tanzania including Diphtheria-tetanus-pertussis, Measles-mumps-rubella (MMR), Hepatitis A and polio. It is also highly advised to go on a course of anti-malaria medication and to pack some insect repellant.
Read more information in our guide to visas, vaccinations, and medication.
Self-drive safaris
A budget camping safari often appeals to the most adventurous at heart. Your chosen safari company will provide a rental car and vital information to undertake an epic self-drive road trip through Tanzania. This is a great option for those who want to choose their own route through East Africa and perhaps do some spontaneous camping and sightseeing.
The company also provides rental camping gear, giving travellers great flexibility in choosing destinations. Quotes and bookings can be managed through their online reservations.
Fees
Public campsites managed by TANAPA cost roughly US$35 per person per night. When on a self-drive safari these often don't need to be booked and campers will be allocated to a campsite when entering the Park.
Special campsites cost from US$59 per person per night. The best special campsites are often reserved by private safari companies. These sights are very remote and basic but provide a true wilderness experience. If this is something you'd like to experience, head to the TANAPA and NCA head office in Arusha to try to pre-book a special campsite.
Campsites outside of the National Parks are much cheaper and only cost around US$5 to US$15 per tent.
Where to Go
Generally, camping safaris are more popular in Northern Tanzania than in the Southern parts. The Northern Tanzania safari circuit is comprised of the Serengeti, Ngorongoro Crater, Lake Manyara, Tarangire, Arusha and Kilimanjaro National Park. The Southern Circuit is made up of Selous Game Reserve, Ruaha and two lesser-known parks – Mikumi and Udzungwa Mountain National Park.
As the more popular safari destination, the Northern Circuit parks are generally more tourist-friendly and information is easier to come by.
Northern Circuit Campsites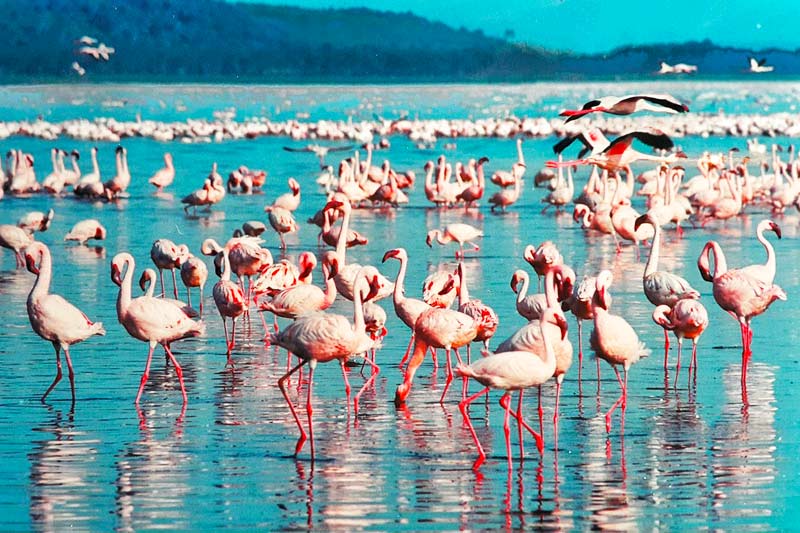 The highly-rated Migombani Campsite is found nestled high up in the Rift Valley, right on the doorstep of Lake Manyara. The site offers world-class facilities and is a haven for safari-goers.
Ngorongoro Simba Campsite is a large site located right on the rim of the crater. The views are impossible to beat and wildlife roams freely amongst the tents.
Tucked in amongst the colossal baobabs of Tarangire National Park is Tarangire Campsite. This hidden gem is home to an abundance of wildlife and is situated in one of the lesser-known Northern Circuit parks.
The best camping options inside the Tanzanian part of the Serengeti include the Angaata Seronera, Ikoma Gate, Ngiri and Pimbi Campsite.
Southern Circuit Campsites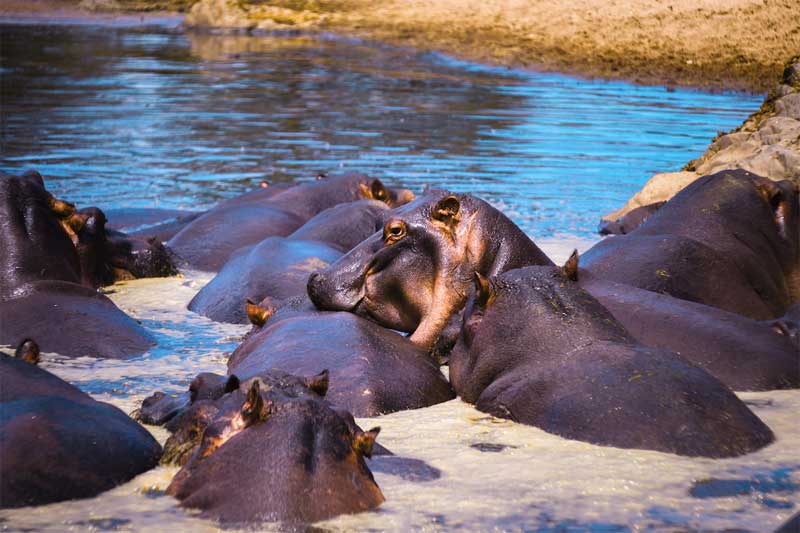 Jongomero Camp offers a secluded, luxurious camping experience in the heart of the Ruaha National Park. If you're looking to experience camping at its finest, the eight beautifully thatched suites are permanently set up on wooden platforms overlooking the river won't disappoint you. 
River Valley Campsite in Iringa lies along the banks of the Little Ruaha River. As an oasis in the Tanzanian landscape, this camp can still be enjoyed on a budget.
With the Selous Riverside Camp being temporarily closed, Kumbu Kumbu Riverside Camp is one of the best choices when camping in the Selous Nature Reserve. Spread along the beautiful Rufiji River, this campsite is intimate and very well maintained.
Simbamwenni Lodge and Campsite is an ideal stopover campsite for travellers passing through the Southern Circuit. Located just outside the town of Morogoro, visitors feel as though they are deep in the bush even though they are close to the main road.
Beach Campsites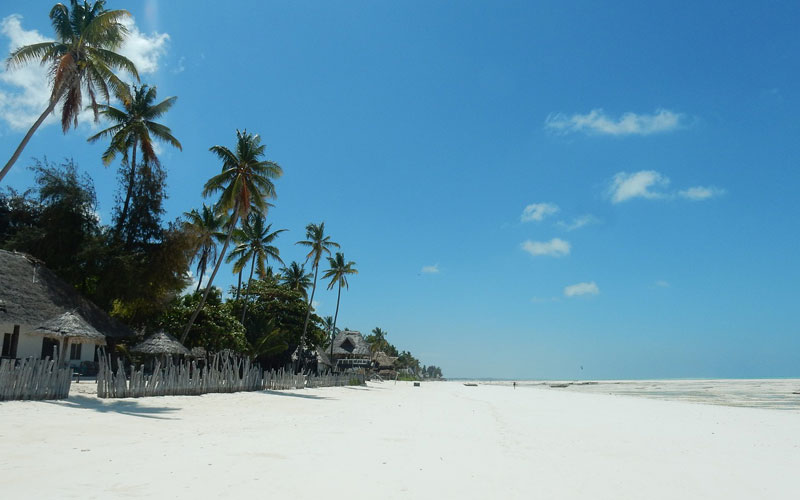 Peponi Beach Resort in Tanga is a mecca for holidaymakers and provides a plethora of adventures and activities for guests to get involved in. Nestled in amongst the palm trees lining the beach, visitors to this well-appointed campsite can revel in snorkelling, kayaking, fishing, hiking, biking and so much more.
The Horizon is another adventure-filled campsite located in Bagamoyo. The idyllic setting offers everything one could ever want on a Tanzanian beach holiday – from boat trips to dining experiences.
Located in the Saadani National Park, a unique nature reserve offering big game viewing with a border on the sea, is Tanganyika Coastal Campsite. The enthralling experience offers the ultimate Tanzanian safari right alongside the beach.
Best Time for a Tanzania Camping Safari
While average temperatures don't change drastically throughout the year, the East African climate is notably marked by a wet and dry season.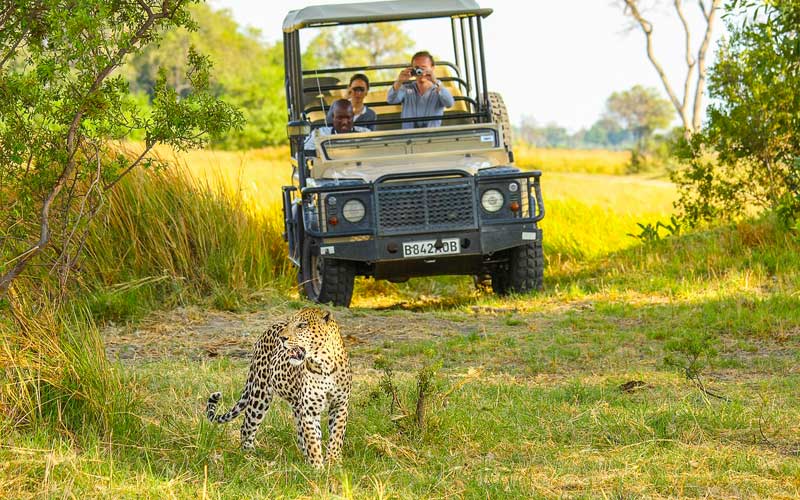 Dry Season
The best and most popular time to visit East Africa is generally from mid-June to October. As East Africa's dry season, this time of year has the most predictable weather and provides ideal safari conditions.
While early mornings and evenings might be cold, the temperature during this season is fairly predictable. Thermometer readings are often around 23°C/73°F, reaching a high of 28°C/82°F in the coastal areas.
Wet Season
The dry landscapes of Tanzania and Kenya are transformed into a lush, green wonderland in the wet season. Temperatures increase during this period and usually range between 24°C/75°F and 27°C/81°F, reaching highs of 30°C/86°F along the coast. There are two types of rainy periods in this season:
Short rains (November-December): Afternoon thunderstorms are often expected to take place.
Long rains (March-April): The long rains usher in the peak of the wet season, which us typically marked by hot and humid conditions.
Although camping in the rain can be magical for a day or two, as most seasoned campers will tell you setting up and down your campsite in the rain is not for the faint-hearted. The rainy season also sees the wildlife scattering across the plains and can make big-game spotting difficult.
Safari Packing List
As a place of extremes, East Africa can be as uncomfortably cold in the morning as it can be hot in the afternoons. If you've opted to camp on a budget or decided to go for the guided camping option, below is a basic list that will give you an idea of how to prepare. No matter the length of your trip, you need only to pack a few of each of the following items: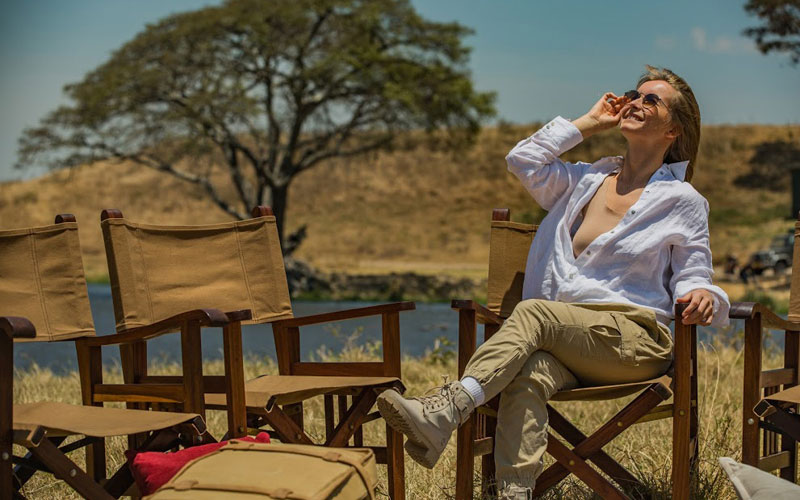 Budget Camping Essentials
Tent
Mattress
Bottled water and food
Warm sleeping bag
Additional blanket for cold nights
Pillow
Dishwash liquid and washing powder
Charcoal/wood and firelighters
Cutlery and crockery
Camping fridge
General Checklist
Head torch and extra batteries
First aid kit
Quick-dry towel
Toilet paper (many campsites don't provide this)
Baby wipes
Sunscreen
Deet insect repellent
General medication (Imodium, Paracetamol)
Reusable water bottle
Technology
Camera
GoPro (optional)
Power bank
Spare batteries and camera memory card
Travel adaptor
Comfortable short sleeved and long-sleeved safari shirts
Long pants that can be rolled up
Shorts
A dress / smart shirt if you feel like dressing up at night
Underwear (including sport bras for women)
Windbreaker / rain jacket
Warm / fleece jacket
Scarf
Swimsuit
Simple, lightweight safari shoes
Hat
Bags and daypack
80-90L duffle bag
20-30L day pack
Travel bag organisers (optional)
Other Bits and Bobs
Ziplock bags for important possessions (passport, money, phone, etc.)
Passport, visa, insurance, yellow fever card (if applicable)
Small lock for your duffle bag
Binoculars
Sunglasses
For more information read our safari packing and safari clothing guide.