Travelling to your dream safari destination often involves long hours in a safari vehicle and catching small chartered flights. Not only are there strict weight limits on these flights, but lugging a heavy suitcase around will quickly become tedious.
As you eagerly plan your trip, our safari packing list for Tanzania below will ensure that you are fully equipped for this once-in-a-lifetime experience.
What to Prepare For – East African Weather
The first thing to consider before you start packing is the time of year you plan to visit Tanzania. While average temperatures don't change drastically throughout the year, the climate is notably marked by a wet and dry season.
Dry Season
The best and most popular time to visit East Africa is generally from mid-June to October. As East Africa's dry season, this time of year has the most predictable weather and provides ideal safari conditions.
While early mornings and evenings might be cold, the temperature during this season is fairly predictable. Thermometer readings are often around 23°C/73°F, reaching a high of 28°C/82°F in the coastal areas.
Wet Season
The dry landscapes of Tanzania and Kenya are transformed into a lush, green wonderland in the wet season. Temperatures increase during this period and usually range between 24°C/75°F and 27°C/81°F, reaching highs of 30°C/86°F along the coast. There are two types of rainy periods in this season:
Short rains (November-December): Afternoon thunderstorms are often expected to take place.
Long rains (March-April): The long rains usher in the peak of the wet season, which is typically marked by hot and humid conditions.
See our guide on the best time to visit Kenya or Tanzania.
General Checklist
No matter the length of your trip, you need only to pack a few of each of the following items (discussed in more detail below). Most accommodation options have laundry facilities available and if you're camping, safari clothes are durable enough to handle a rough hand wash.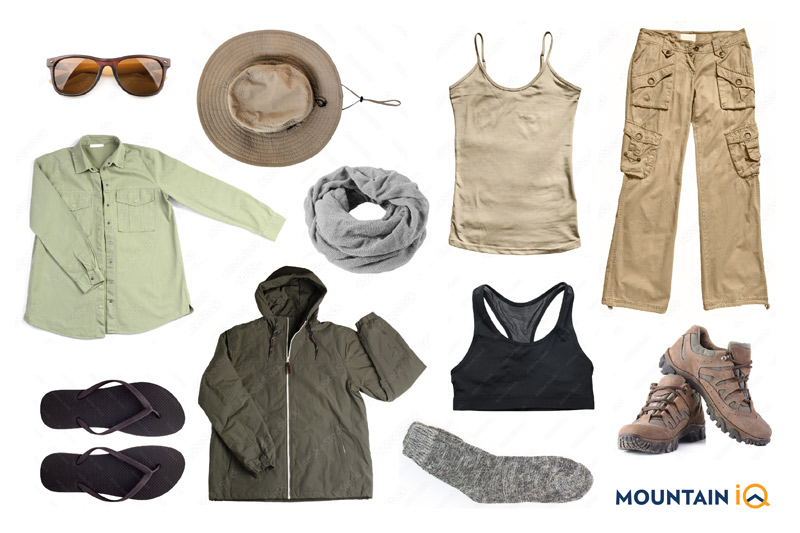 Clothing and Shoes
Bags and Daypack
Travel bag organisers (optional)
General Accessories
Baby wipes
Sunscreen
Insect repellent
General medication (Imodium, Paracetamol)
Reusable water bottle
Technology
Camera
GoPro (optional)
Spare batteries and camera memory card
Travel adaptor
Other Bits and Bobs
Ziplock bags for important possessions (passport, money, phone, etc.)
Passport, visa, insurance, yellow fever card (if applicable)
Small lock for your duffle bag (essential)
Binoculars
Clothing – Comfort, Layering and More
If there are two words you need to keep in mind when packing for a safari, it's comfort and colour. Breathable, moisture-wicking clothes are ideal for safaris and play an essential role in making the process of layering work.
At most lodges, there is also rarely a dress code (most people go straight to dinner after their afternoon safari) so packing in smart clothes is a nice-to-have but not a necessity.
For specific recommendations, see our guide to Safari Clothing.
Bag and Safari Carry On
There are two types of bags you need to have for your safari – a duffel bag and a daypack or safari carry on.
Duffel Bag
When it comes to choosing the right luggage for safari, it is easier to travel with a soft duffel bag than a hard suitcase. As everyone's gear gets piled up in trucks and squeezed into small, chartered flights, duffel bags make the trip easier for everybody.
Generally, a duffel bag that exceeds an 80-litre capacity is the best to opt for. Make sure it has a strong zipper system that is not susceptible to breaking and can be easily locked. Take a small lock to secure your bag. Another thing to look out for is a hand and shoulder strapping system to provide extra versatility.
The REDCAMP Extra Large Duffel is a great quality 96L duffel bag that is perfect for safari trips. It is super durable and decently water-resistant. It comes with loads of storage and is equipped with three outside pockets and an interior pocket that the duffel bag folds into when not in use. In terms of value for money, the REDCAMP Duffel is hard to beat.
The North Face duffel bag is something that will never let you down, but it comes at the hefty cost of paying for the North Face brand. It is available in five sizes, but if you decide to go with the North Face duffel we would recommend the Large version.
Pro Tip: Consider investing in some packing cubes. Not only do these help keep your bag as organised as possible, but are also an excellent space-saving hack.
Safari Daypack
In addition to your duffle bag, you'll need to bring a daypack. In your daypack, you should keep all important (sunscreen, sunglasses, snacks, water), personal (money, passport) or small breakable (camera, phone) items.
If you're looking to invest in a good quality daypack, something like the Osprey Daylite Plus Daypack would be ideal. If you are going with the Osprey option, it's a good idea to also get the Osprey Hi-Visibility Raincover which retails for the standard backpack rain cover price and is super reliable.
Insect Repellent
Besides choosing the right clothing colour, another way to ward off unwanted creepy crawlies is through Insect Shield – clothes that have been treated to bind permethrin into the fabric. Instead of having to worry about applying repellent, your garments act as the insect guard themselves.
If you'd prefer opting for the budget-friendly option, then there are two things you need to add to your packing list: permethrin and a DEET-based repellent.
Permethrin is used to treat your clothing as a spray and can be found at most outdoor stores. A major plus of permethrin is that it lasts through multiple washes – six washes or six weeks to be exact (whichever comes first).
Deet-based repellent is used on directly your skin. Deet wipes make the insect-repelling process effortless and provide easy on-the-go protection.
Adaptors and Chargers
While you can count on international adaptors and outlets being readily available at most new hotels, this is not often the case on safari. A travel adaptor suitable for the country you're travelling to is essential. There are African specific travel adaptors or universal travel adaptors that are worth investing in.
A heavy-duty power bank is also a must-have, especially if you plan on using your phone to take photos and videos during your game drive or if you're camping remotely.
Camera
While many travellers use their phones to capture their safari experience, nothing quite matches the quality produced by a good camera. If you are passionate about photography, then you'll find the experience of capturing the wildlife you encounter thrilling. For the best photos, you'll definitely want to take a zoom lens of 300mm or more.
Binoculars
While binoculars are not a necessity, taking a good pair on your trip will certainly add to your safari experience.
When it comes to binoculars, an 'all or nothing approach is the way to go. The best quality binoculars might add some weight to your suitcase, but cheaper ones will leave you disappointed.
The SkyGenius 10 x 50 Binoculars are easy to focus, reasonably priced and provide 10X magnification.