Tanzania safari cost varies from $200 per day for a basic safari in the Serengeti National Park and the Ngorongoro Crater to $1,500 per person per day for true luxury in the wilderness, with about $500 pp/day for a mid-range safari experience.
With these costs in mind, travel to East Africa may look expensive but a lot of options make it possible to plan the trip of a lifetime and stay within your budget. Read on for a breakdown of how much does a Tanzania safari costs and how to get a more affordable or luxurious holiday.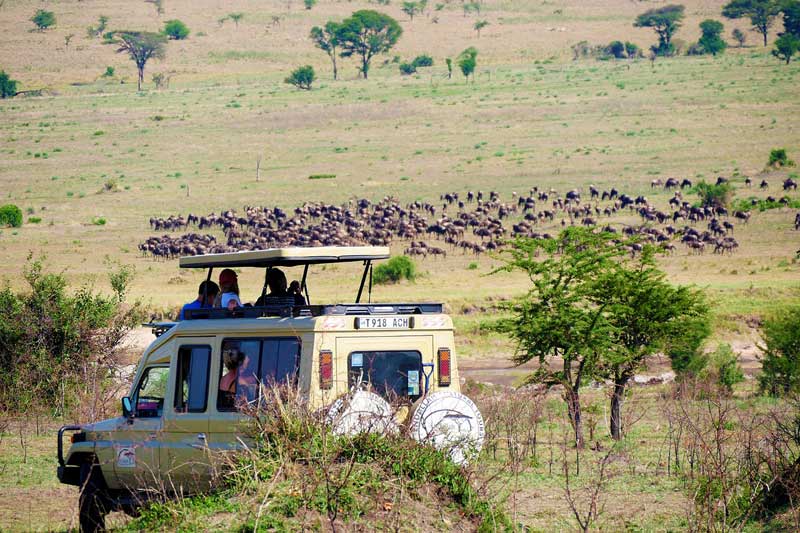 Tanzania Safari Price Comparison
Planning Your Own Safari
Planning your own trip to Tanzania does require a lot more work on your behalf. If you have the time for some good research, you can save on third-party fees by making all bookings and travel arrangements yourself. If you are going the DIY route, be aware of hidden costs and bargain a little extra on unforeseen expenses.
Booking with an Agent
Thankfully, Kilimanjaro tour operators also offer epic safari add-ons. In general, safari agencies take the stress out of planning your holiday and customise your trip to your preferences. Agents may take a commission of around 20% but they often get good deals with tourism operators which are not available to consumers and which often offset these charges.
In addition, booking a tour with an existing itinerary or using a travel agent means that unforeseen expenses and airfares get included in a one-off price.
Tanzania Safari Cost Variability: $200-$1,500 per person per day
A huge factor that will impact the cost of your safari is your choice of accommodation. Serengeti hotels are especially varied by cost. Other price factors are extra activities, group size and time of year.
Time of Your Travel
High Season Tanzania Safari Costs of June-October
Peak seasons, when prices are highest, are June-October which is the best time for wildlife viewing and again over December during the Christmas holidays. Most properties have fixed surcharges from the 24th of December till the 1st of January and some have a minimum stay period over this time of year.
Mid-Season Safari Costs
Also called shoulder-season, January, February and June prices are usually lower by about 20% than those during the peak season.
Low Season Safari Prices
During March, May and November, some lodges and tour operators drop their prices by 30-50%, the parks are also less busy during these months.
Where You Have Your Safari and For How Long
Length of Your Safari
Of course, the longer you spend in Tanzania, the more expensive your trip will be. More transfer flights also quickly add to the price. For example, it will work out cheaper and make for a more leisurely holiday to stay 3-4 days in two camps rather than spend 1-2 nights in four camps.
Northern vs Southern Safari Routes
Northern Safari Routes usually start in Arusha, Kilimanjaro International Airport and include Tarangire, Ngorongoro Crater and Serengeti national parks.
Southern safari routes start at Dar es Salaam and include the Selous and Ruaha national parks. This safari circuit is generally more expensive as it's a more off-the-beaten-track and fewer flights go to Julius Nyerere International Airport.
Average Cost of a Tanzanian Safari
The guideline prices below are given for peak season (July to October) on the Northern Circuit Parks. Most safari package prices include park fees but exclude international flights.
Tanzania Safari on a Budget or with a Group ($200-$300 pp/day)
Group safaris are the cheapest option and a chance to meet new people as you will travel with a group. These tours have a set itinerary and departure dates and there is limited flexibility for your own preferences, so book in advance.
Overland Tour Costs
Overland tours take groups of 22-30 driven around in a large truck adapted with bus seats. Price is from $200-$280 per person per day. The overland trips include camping or basic dormitory-style accommodation, all meals, vehicle, driver, guide and activities as stated on the itinerary.
Most overland tours are around 6-9 days. Some routes include Kenya and many go to Tanzania's most popular national parks and tourist destinations. Extra activities and upgrades are sometimes available at an extra cost.
Small Group Camping Costs
Group Camping safari tours cost between $250 per day and include all meals, camping equipment, 4×4 vehicle, driver, guide and chef.
Group camping safaris are smaller than the overland tours and usually take a maximum of 7 people. Your safari team will set up and disassemble camp as you move around between campsites in national parks and private reserves. National park campsites are unfenced so there is always the chance of animals strolling right through camp!
Group Lodge Safari Costs
There are many options for group safaris of 4-12 people. Some are exclusively in Tanzania's national parks but many also include Kenya's, Masai Mara. Costs per person are around $350-$625 per day with a choice of longer or shorter trips.
Accommodation can be in mid-range hotels, guest houses, lodges or even tented camps. Included is a pop-up roof safari vehicle, perfect for game viewing and sightseeing, with a driver and guide.
Private Safaris
The appeal of a private safari is that you have much more input on your trip. You decide your accommodation type and itinerary preferences.
Private camping safari
A private camping safari costs from $250, if you travel with family or friends in a group of 7 or more, to $500 pp per day for a couple. Private camping trips include vehicle and driver, an English guide and chef, sometimes this is the same multi-talented person.
Private safari in Mobile Camps and Lodges ($500-$1,000 pp/day)
From $500 per day for a group of 7 or more to $1,000 per day for a couple. Staying in mobile camps, tented camps (think glamping), lodges and hotels.
Please Note: The difference between 2 and 3-4 star accommodation can be as little as $15-$30. Many safari packages have the option to upgrade which is worthwhile considering if you are willing to spend a little extra for a huge improvement in accommodation and location.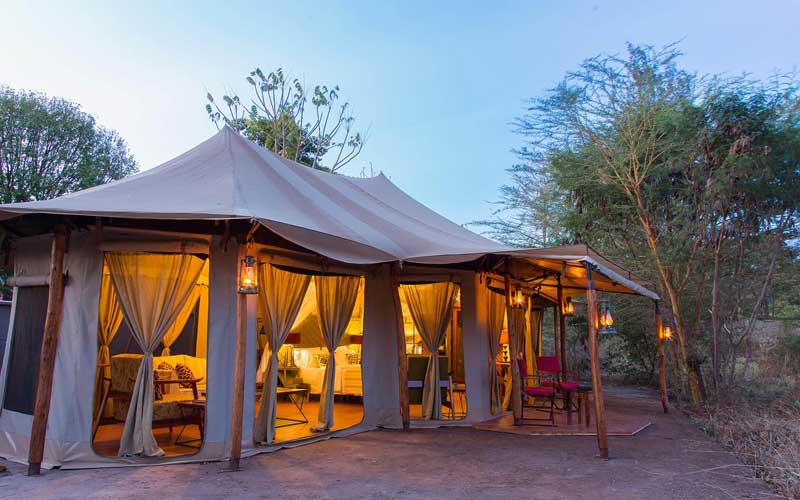 Luxury Safari
From $1000 per person per night and upwards. For this price, you can expect 4-5 star lodges, fine dining, amazing locations and expert guides to take you out on daily activities. Luxury safari tours are sometimes called fly-in safaris as they often include shuttle flights in small fixed-wing planes and transfers from the airstrip.
Some luxury safari packages are all-inclusive of basic drinks such as cooldrink, house wines and spirits and may even include extra activities.
Special Interest Safaris
If you have a particular passion or are looking for a more specific trip, specialist safaris Include expert guides that focus on your key interest.
Specialised Group Safaris
Join a group of travellers who share your passion for birds, photography, hiking or a combination of all three! These safaris can also be arranged as private at a greater expense. Below are some examples of specialist safaris and daily costs per person :
Walking Safaris– $275-$500
Birdwatching Safaris– $570-$700
Photographic safaris – $700- $1,200
Chimpanzee Trekking
Western Tanzania is an expensive part of the country to visit but trekking to see the chimps of Gombe National Park is one of the most special things to do in East Africa. Costs around $820-$1,300 for a 3-4 day trip.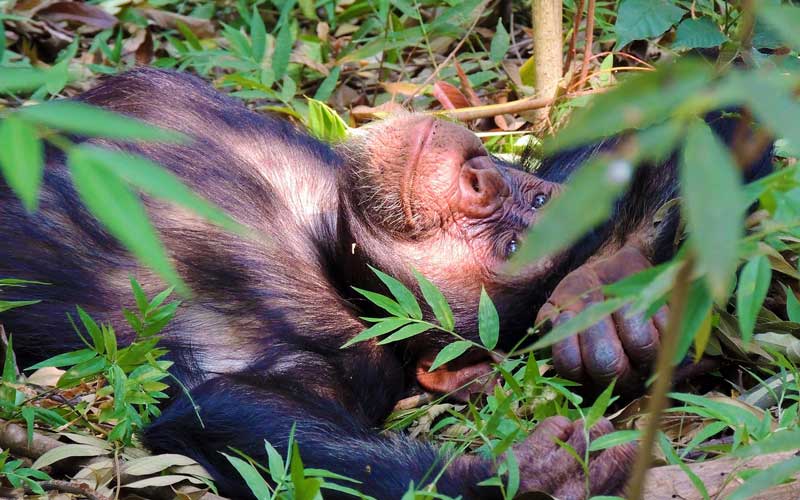 Costs Involved in a Safari
Whether you are thinking of planning your own trip or are just interested in why a safari is so expensive, the following is a breakdown of safari expenses.
Accomodation
Average price per person, per night for different accommodation types:
Camping, campsites: $50
Basic accommodation: $75-$300
Mid-range accommodation 3-4 star lodges and mobile camps: $350-$500
Luxury tented camps: $600-$1,400
5-star hotels, lodges and camps:$1,000-$2,000
Please Note: When available, laundry services at lodges usually come at an additional cost per item.
Vehicle and Driver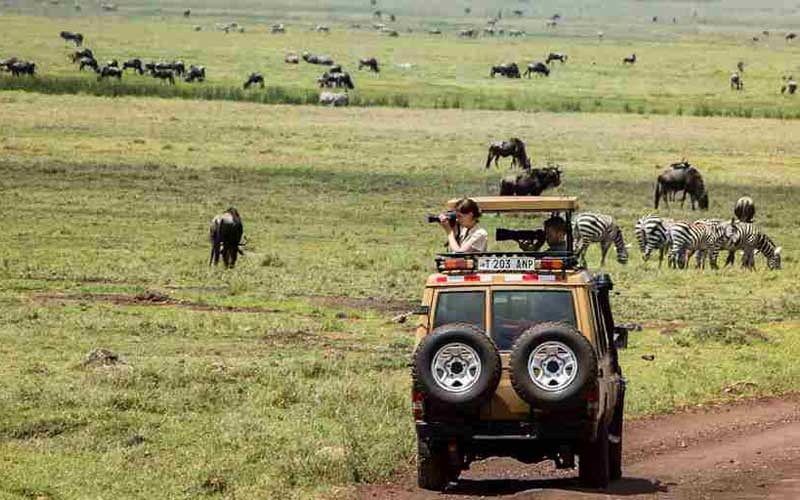 Travelling in an off-road vehicle over dirt tracks is part of the authentic safari experience. Daily rates for hiring a standard 4×4 required to enter the parks are from $120 self-drive, $150 with a driver or $180 with driver and fuel.
Food and Drink
Most accommodations include main meals but do not include alcohol. If food is not included in your stay, budget between $10-$20 a day depending on the establishment.
Travel Insurance
Good travel insurance is essential. Your policy should not only cover medical issues like injury and illness but also insure against flight cancellations and theft. Travel insurance is included with most safari packages and costs around $80 for two weeks.
Visa
You can apply for your visa online or on arrival at the airport for $50-$100. Tanzanian Visas are also valid for Zanzibar but you will need a separate visa for Kenya
Park fees
Park fees are used to fund the conservation management of national parks. Tanzania park fees are some of the most expensive in Africa so be sure they are factored into your safari price.
Entrance fees are as follows for the major parks in Tanzania:
Adults: $60-$80
Children 5-15 years: $10-$20
Under 5 years: Free
Concession fees ($25-$50/day) are usually added to your accommodation bill when staying within a national park. Also, be aware that Ngorongoro Crater has a hefty vehicle fee of $295.
Tips to save money on your Safari
Travel in low or shoulder season
Look out for specials and deals for free nights and activities.
Split costs of the vehicle, guide and chefs by travelling in a group.
Visit a single country to avoid spending money on additional flights and Visas
Drive rather than fly between lodges
Pack the right safari gear to avoid expensive clothing prices at park and hotel shops.
Optional Extra Activities
There is lots to do and see in Tanzania. Various tours and activities give you a break from game drives and let you experience different aspects of this vibrant country.
Hot air ballooning: $500-$600pp
Guided walking safari: $25pp
Night Safaris: $175pp
Masai village tours: $30-$40pp
Coffee farm visits around Ngorongoro: $50pp
Full-day hiking and kayaking trip to Lake Chala: $250pp
How Much Money to Take on Safari
Although most establishments accept cards, It is good to take along some cash for buying souvenirs, tips and making smaller payments as a signal for card machines is notoriously unreliable.
Tips
It is customary in Tanzania to tip staff members who go above and beyond. Tipping is at your discretion however, the figures below offer a helpful guideline.
Safari guides: $20 per day
Drivers and camp cooks: $15 per group per day
Porters: $10
Hotel Staff/General: $10