Lake Manyara National Park is one of Tanzania's smallest parks best known for spectacular flocks of almost 2 million flamingos that breed on the lake in summer. The park is also famous for its tree-climbing lions and Masai giraffe, the tallest animal on Earth.
Set below the steep Rift valley escarpment, Lake Manyara National Park is an opportunity to explore a unique landscape of salt marshes and acacia forests where elephants, giraffes and the biggest population of baboons in the world roam free. Roads can become flooded over the wet season so best to visit between the rains or explore the lake on a canoe.
In this article: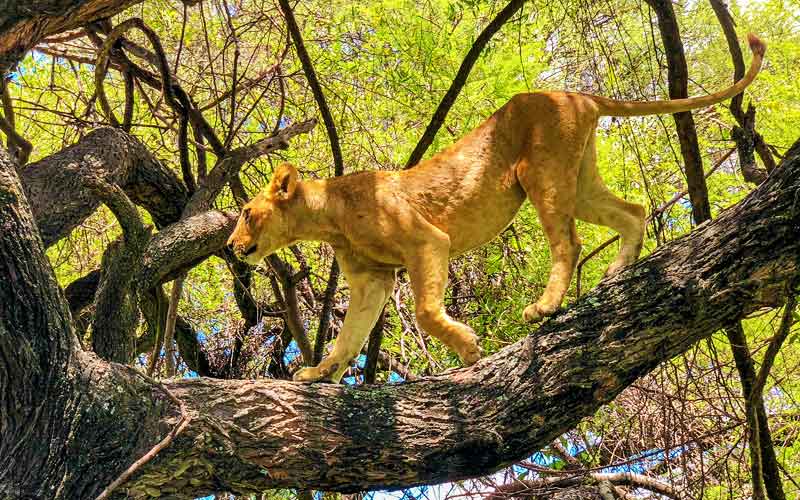 What You Need to Know About Lake Manyara Before You Visit
Lake Manyara: The Bigger Picture
Lake Manyara (pronounced Man-yah-rah) is 30 miles (50km) long and 10 miles (16km) wide, making it the seventh-largest lake in Tanzania. This massive body of water is filled with salt deposits and it is often called a soda-ash lake.
The lake extends well beyond the park boundaries into the Lake Manyara Biosphere Reserve. The biosphere reserve is an area that not only protects animals and their habitats but also includes a population of some 250,000 people, coffee and banana plantations into one giant human-nature ecosystem.
The lake is fed by underground springs and streams running down from the surrounding Ngorongoro Highlands. Its waters are shallow enough that animals like buffalo and elephants can usually wade right across for most of the year.
In addition, Lake Manyara National Park forms part of an animal migration corridor that allows large herds of elephants, wildebeests, zebras and buffalos to pass through the area in the dry season to Tarangire National Park where there is a year-round freshwater source.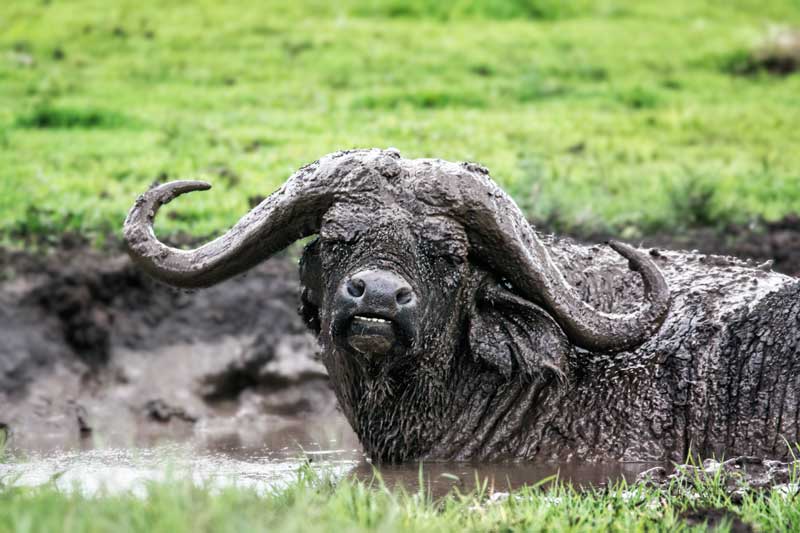 Considerations for Visitors
Lake Manyara National Park is 125 square miles (325km²) in size but two-thirds of this area is covered by water leaving only 36 square miles (93km²) of land for vehicle routes.
When compared to the Serengeti and Tarangire National Park, animal sightings are not as good and the park doesn't have the typical African-safari feel as most habitats are forests and flood plains instead of wide-open savannahs and grasslands. This aside, Lake Manyara National Park offers a spectacular landscape with a huge diversity of habitats that is well worth taking at least a few hours to explore on-route to the bigger parks.
Diversity of Habitats and Wildlife
The park boasts 11 different ecosystems and one of the worlds highest densities of large mammals. Groundwater-fed forests of acacias thrive beneath the rocky escarpment of the Great Rift Valley and the alkaline lake creates a smorgasbord of marshland, seasonal grasslands and saltpans.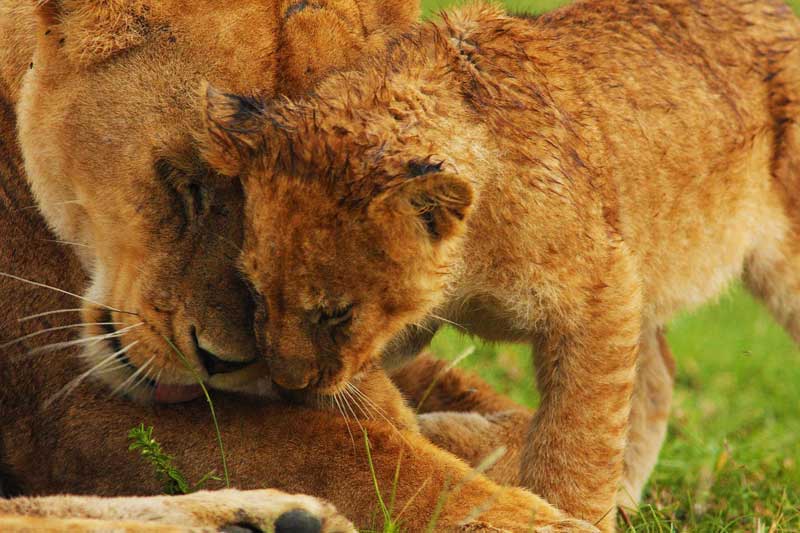 Lake Ecosystems
The waters of Lake Manyara shrink and swell depending on rainfall. Waters retract in the dry season and expand the areas of marshland, saline flats and edible grasses.
Flamingoes and other bird species
During the November-April season, around 2 million greater and lesser flamingos descend on the lake to breed. These elegant birds get their pink colour from the brine-shrimp and algae that filter out the water.
Besides the flamingos, 350 of the 390 resident and migrant bird species of Manyara National Park have been recorded on the lake. The park is a breeding area for thousands of Pink-backed pelicans, yellow-billed storks and, in smaller numbers, marabou storks and grey herons.
Floodplains around the lake are home to a diversity of waterfowl including lots of egrets, spoonbills, Abdim's Storks, Water thick-knees and other waders.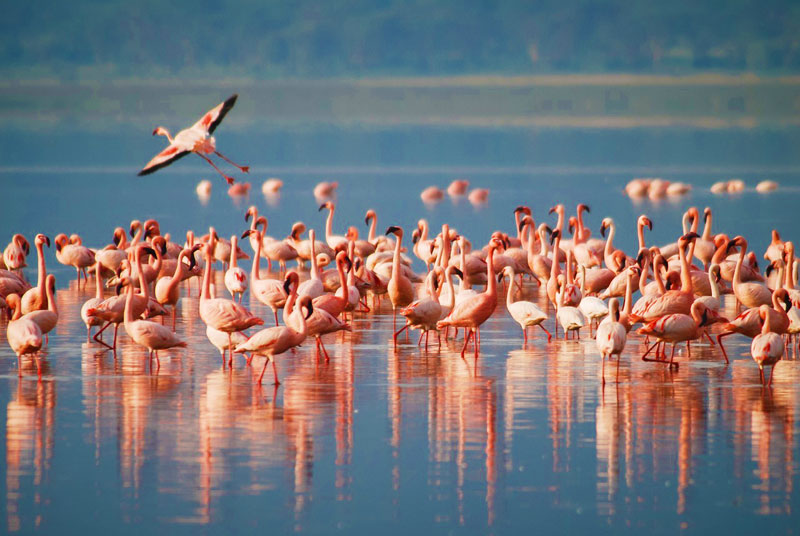 Hippo Pond
Just 10 minutes away from the main entrance to the park and a little inland of the lake's northern shores is a pool where hundreds of hippos can be seen floating, fighting, snorting and interacting. Visitors are able to get out of their vehicles at a designated place and watch them from a safe distance. After mosquitos, hippos are Africa's most dangerous animals, after all.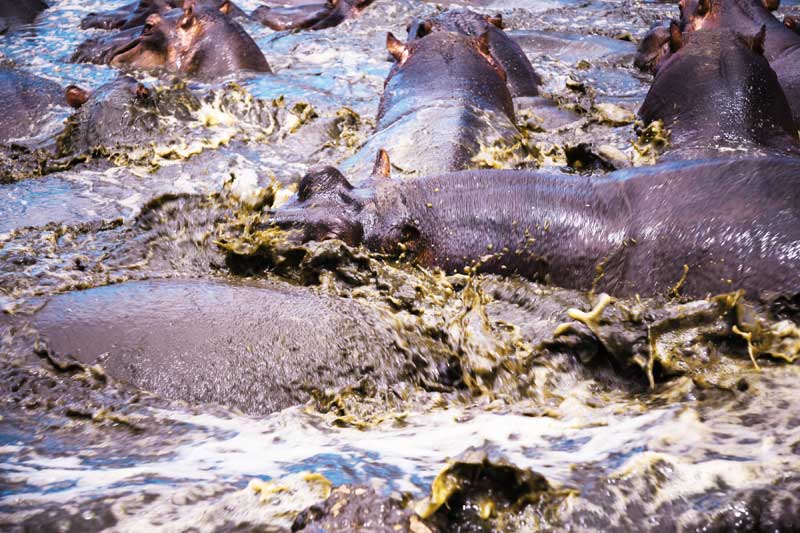 Water-Loving Animals
Some animal species are specially adapted to live in the wet environments surrounding a lake. This includes Cape clawless otters that eat mostly crabs, fish and frogs and Egyptian mongooses that will also eat fruit, insects and eggs, which they throw onto a hard surface to smash open.
Grassy floodplains
Seasonal Migrants
In the dry season, the waters of the lake retract into grassy floodplains. Large migrating herds of wildebeest, zebra and Thompson's and Grant's gazelle enter the park for short periods during their migration. Only small resident populations of these species remain in the park through the wet season.
Resident Species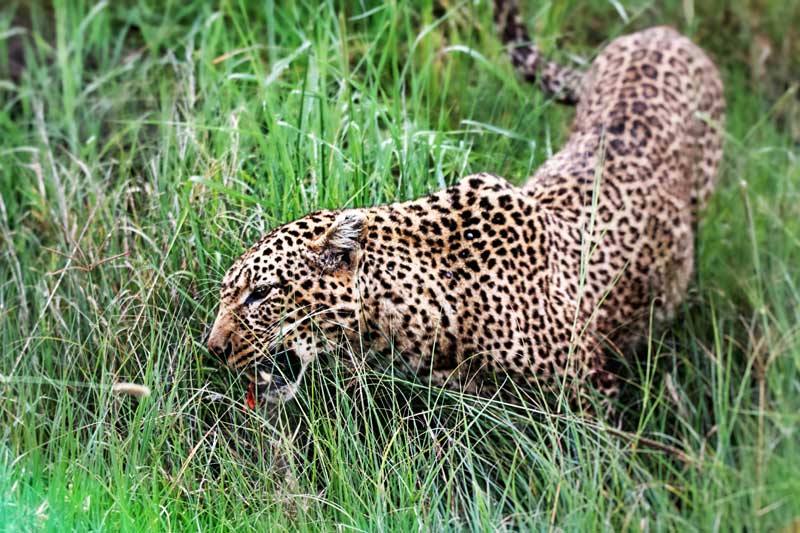 Resident animals including wetland loving waterbuck, Cape buffalo, bushbuck, impala and warthog are common year-round. Predatory species such as spotted hyena, lion, leopard, cheetah, African wild cat, black-backed jackal, bat-eared fox and African golden cat are occasionally sighted in the grasslands.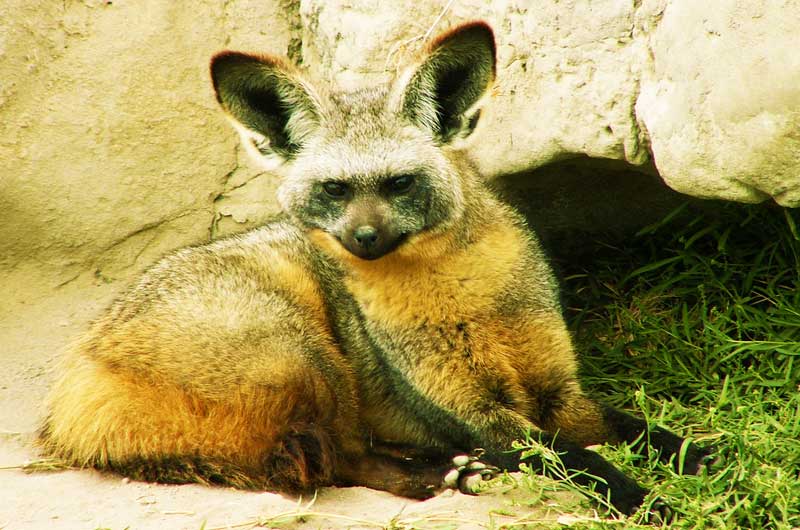 Rocky Escarpment
The western side of Lake Manyara National Park is flanked by the sharply rising wall of the Great Rift Valley. Baobab trees grow on the slopes of this rocky escarpment which is also home to the tiny Kirk's dik-dik and klipspringer, a specialised rock-jumping antelope that effortlessly navigates these rocky slopes.
Groundwater Forests
Runoff from perennial springs and streams create an evergreen forest growing along the base of the slopes. Near the gate, in the north of the park, you will find a patch of ancient fig and mahogany trees which becomes mostly acacia woodland as you move into the park.
Tree tops
The evergreen canopy is home to Sykes monkeys, hornbills, and Short-eared galago that jump between the branches at night.
Tall trees provide roost sites and perches for some of the over 30 different birds of prey found in the park. Species include; palm-nut vultures, African hawk eagles, crowned eagles and Ayre's hawk eagles.
Tree-Climbing Lions
Lake Manyara has one of only two tree-climbing lion populations in the world. Even scientists cannot agree as to why exactly these cats climb. Some people suggest it is to escape biting Tsetse flies or to get a better vantage point to scout for prey.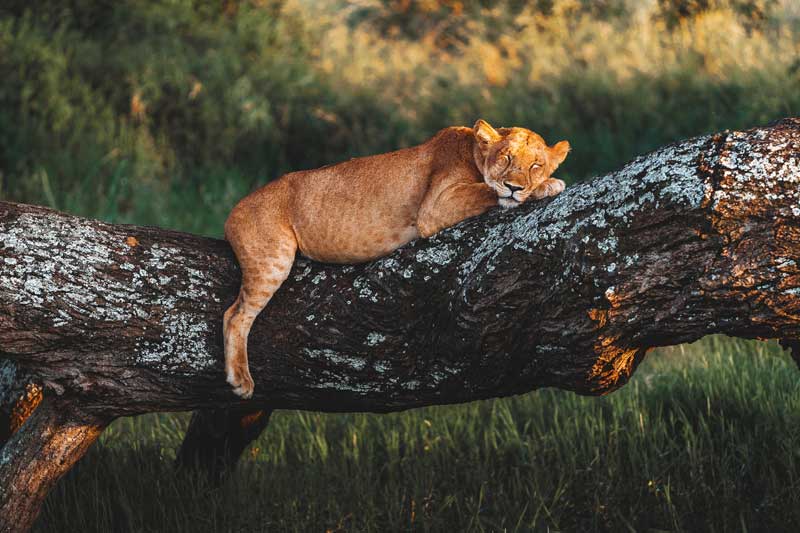 Forest Floors
Acacia leaves are the main food source for Lake Manyara's large population of elephants and Masai giraffe which, as Africa's largest giraffe species, is the tallest animal on earth. Lake Manyara is home to the world's biggest population of baboons and you are unlikely to miss seeing hundreds of them foraging between the trees completely oblivious to the presence of humans.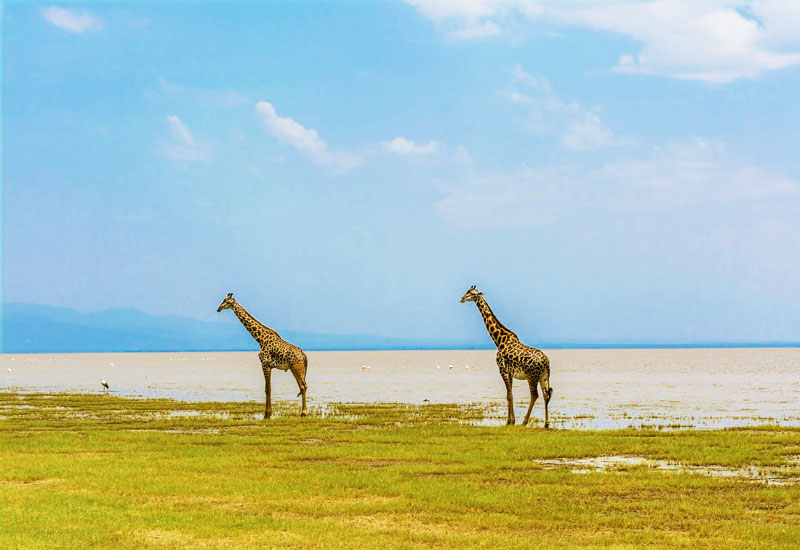 There are 180 recorded species of butterflies in Lake Manyara National Park. Most emerge in a kaleidoscope of thousands shortly after the rainy season around April-June.
Planning Your Safari in Lake Manyara National Park
Getting to Lake Manyara National Park
Generally, visitors fly into Kilimanjaro International Airport (KIA). Lake Manyara National Park is then 78 miles (126km) or 1.5 hours drive from Arusha. The park is on route to the popular Ngorongoro Conservation Area, Tarangire and Serengeti parks. Alternatively, you can get a 30-minute flight from Arusha to Lake Manyara Airstrip.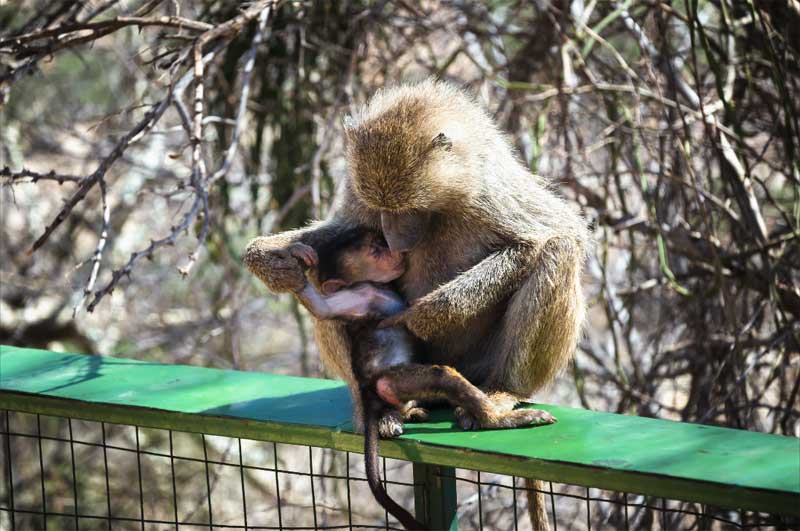 Best Time to Visit Lake Manyara
Seasonal Climate
Temperatures around Lake Manyara are moderate all year round. Days are warm and mild but nights get chilly as cool air settles in the crater-depression of the lake. You should pack a warm jacket and long trousers, even for summer.
Driest months: July-September
Wettest months: November-April
Warmest months: January-March (30⁰C/86⁰F)
Coldest months: June to July (25⁰C/ 77⁰F)
Please Note: If you are planning to visit in the wet season, be aware that roads can become inaccessible and there are a lot of Tsetse flies around this time of year. April is an especially wet month with an average of 19 rainy days.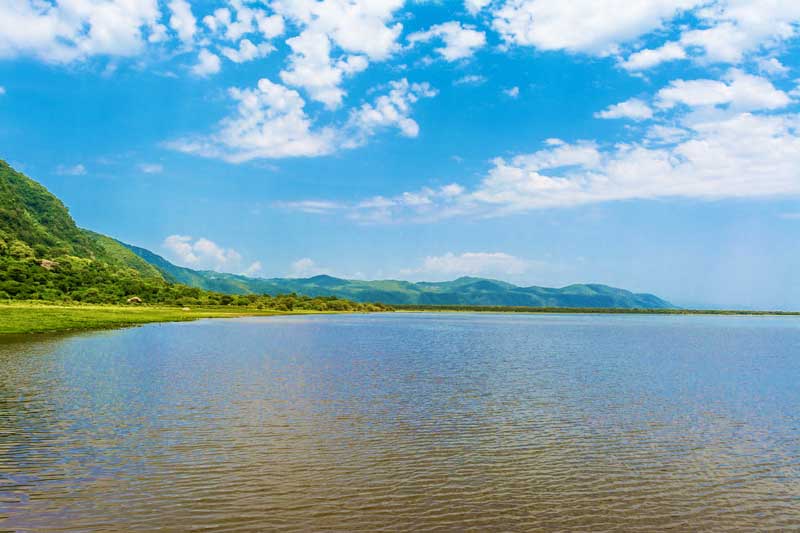 Best Time to See Flamingos and other Birds
Summer in Tanzania, November-April, is the best time to see migratory birds, including thousands of pink flamingos and pelicans. Migrants start to arrive in November during the wet season and stay around until April. Generally, flamingos can be found at the shallow edges of the lake. How far away they are from the road depends on the water levels of each particular year.
Best Time to See Wildlife
Animal sightings are consistent year-round, but peak in the dry season (June to October) when the lake retracts and there is more grazing. At this time the northern end of the park becomes very crowded. The best time to see migrating wildebeests and zebras is between March and April.
Activities in Lake Manyara National Park
Safari Drive
You can drive but it is advisable to go with an experienced driver as roads are sometimes muddy or flooded. The parkland area is small with most routes navigating through the forest. The entire road network of Lake Manyara National Park can be covered in 3-4 hours. Gates close to the public at sunset.
Night Drives
Lake Manyara is the only national park in Tanzania that allows night drives. This is, however, only available as a guided activity. Night drives are good for spotting short-eared galagos, porcupines, genets and other animals that are active after dark, including cats on the hunt.
Canoe Safaris
A unique way to see wildlife and birds is from the water. Guided canoe safaris are available when water levels are high enough. An experienced guide will take you out on stable boats for a scenic paddle around parts of the lake to look for birds and animals at the water's edge.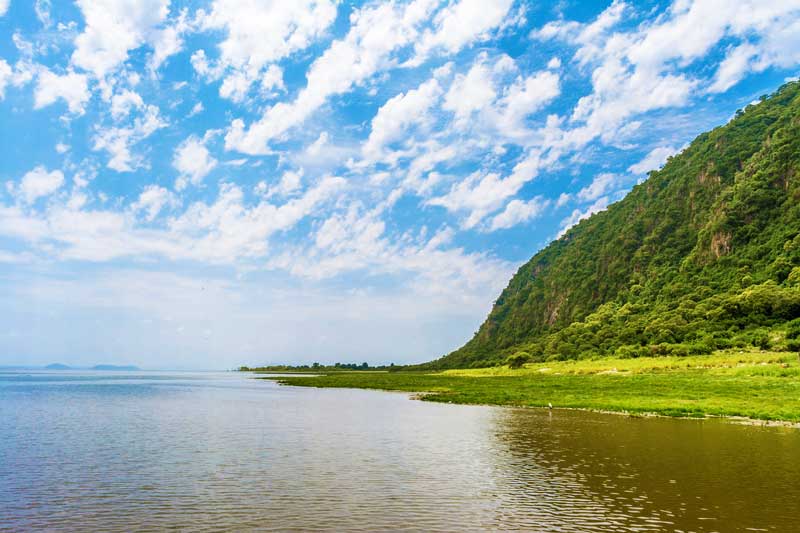 Hot Springs
In the park, visitors can explore the natural hot-springs from a 300m raised boardwalk on the lake's western banks. Water temperatures of the park's hot springs can reach a near-boiling 60⁰C (140⁰F). If you are looking to bathe and snorkel in naturally warm waters, there are tours to the nearby Chemka hot springs close to the town of Moshi. Tours cost between $70-$150 pp depending on group size.
Activities Outside the Park
Hiking
Shorter nature walks through the forests as well as longer guided hikes along the ridge of the Great Rift Valley are popular in the Lake Manyara area. These tours are usually 1-1.5 hours with a knowledgeable local Masai guide who will also teach you a bit about indigenous plants and their traditional uses.
Cycling Tours
Ride a bike on fairly easy terrain through local villages and enjoy views of Lake Manyara as well as banana and coffee plantations. Cycle trips are 2-3 hours long and suitable for most ages and fitness levels.
Village Tours
The town of Mto Wa Mbu, located close to the entrance of Lake Manyara National Park, is a community bustling with residents from different tribes and cultures. Cultural tours of the village provide an opportunity to experience daily life in an African village. Interact with artists and farmers and taste some of the local-speciality, banana beer.
Accommodation: Where to Stay
Depending on your budget, there is a variety of accommodation types available in and nearby the park.
Campsites
There are two public campsites in the park. Campsites have communal bathrooms and space to pitch tents but that's about all. You'd need to bring all your own camping gear, food and cooking supplies.
Bandas
These are basic and affordable brick cabins with thatched roofs located close to the park entrance. There are 10 double en-suite units available. Each has hot water, bedding and a cooking area. Be sure to book in advance.
Tented Camps
The best option for the traditional safari feel with the luxury of a real bed, private bathrooms and good food. Manyara Green Camp and Lake Manyara Tortilis Camp are within the park, while Kirurumu Manyara Tented Lodge is just 30 mins outside the park gates.
Lodges
The AndBeyond Lake Manyara Tree Lodge is the only lodge inside the park. The Tree Lodge has beautiful tree-house style suites and its own wooden canopy walkway for guests to explore the forest. Night safaris are also available from here.
Options to stay in lodges outside but close to the park include Lake Manyara Kilimamoja Lodge, Lake Manyara Tree Lodge, Manyara Serena Lodge and Escarpment Luxury Lodge and Lake Manyara Plantation Lodge.