As the sixth-largest park in Tanzania, this wildlife-viewing paradise is nestled between the plains of the Masai Steppe and the Great Rift Valley. Although the name Tarangire (tah-run-gEE-rEE) means River of Warthogs, the park is famous for its 300+ elephants, tree-climbing lions, iconic baobab trees, swamp networks and prime birdwatching. To explore one of Africa's most underrated wilderness areas, visit the park during the dry season.
In this article: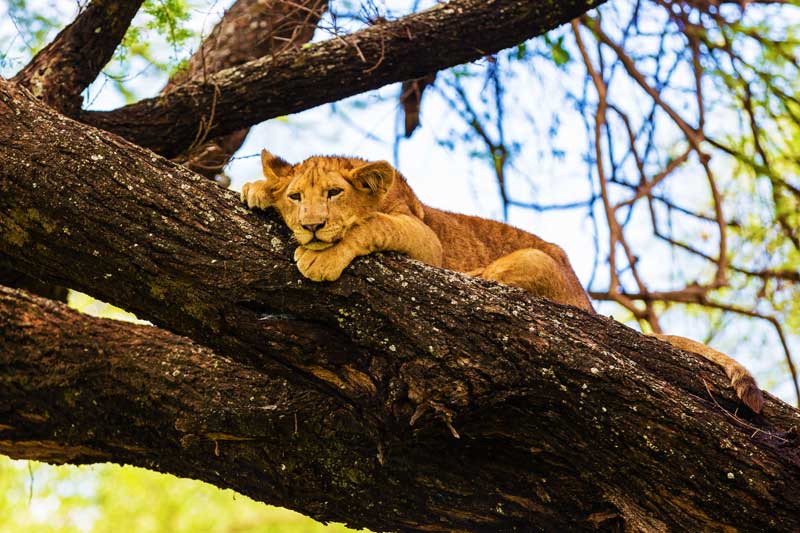 Highlights of Tarangire National Park
More Authentic Safari Spots
Although the wildlife viewing area of Tarangire is ten times the size of that of Manyara National Park, its southern area is relatively unknown on the safari circuit compared to the Serengeti and Ngorongoro Crater. 
Most visitors only pass through for a few hours during the day. Spending a couple of days and visiting the southern parts of the park will reward you with a more secluded, authentic safari experience.
Iconic Baobabs
Iconic baobab trees scattered across the landscape like odd ancient creatures are a key attraction in the park. The large, thick-trunked trees can live up to 600 years old and store 100,000 litres (26,000 gallons of water) in the trunk. That's about 650 litres of water per one cubic meter of the tree!
Baobab dried seeds are an important food source to animals, like monkeys and warthogs, while elephants often sharpen their tusks on the sturdy trunks.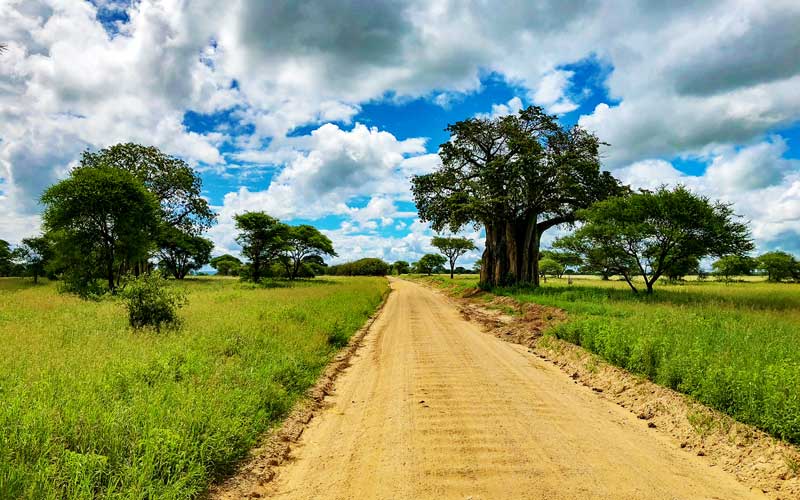 Termite Mounds
Termite mounds dotting the plains are also an iconic sight associated with Tarangire National Park. Medium-sized, burrowing, nocturnal mammals called aardvarks dig out these mounds and lap up the termites with their long tongues. The result is a hollow mound that makes an ideal home for other animals like aardwolf – a cousin of a hyena, dwarf mongoose and porcupine.
Swamp Networks
Swamp Networks in the southern and eastern parts are home to giant African pythons, the Silale swamp lions, wild dogs, wallowing elephants and buffalo. 
For birdwatchers, visiting the swamp areas is a must as many water species prefer this habitat.
Planning Your Safari in Tarangire National Park
Getting to the Tarangire National Park
The closest international airport is Kilimanjaro International Airport (JRO). From there, it's an easy 29-mile (46km) drive to Arusha and then another two hours (120km) along a surfaced road (the A104). The last 4 miles (7km) to the park's main entrance gate is dirt roads but accessible with most vehicles.
You can also charter a flight with a small plane from Arusha, but this will cost you around $240.
Lake Manyara Park is a 100km (60miles) drive away to the north, along the A104 and B144. The Ngorongoro Crater in the Ngorongoro Conservation Area is twice the distance away (200km/120miles) but along this same route.
Best Time to Visit Tarangire National Park
Game viewing in Tarangire is best during the dry season when there is a concentration of wildlife at the Tarangire River bed. The northern part of the park is along the route for bus tours and is busy this time of year with day visitors. 
Since day visitors seldom explore the southern side of the park, the area is one of the best places in Tanzania to have a true safari experience, minus the crowds.
Dry Season Animal Watching
The dry season in Tarangire is June to October when the wet marshy areas of the park dry out to become rich grasslands. With the exception of parts of the Tarangire River system, most of the ecosystem's water sources become empty.
These remaining water sources attract large numbers of animals, including elephants, zebras, buffalos, rhinoa, kudu, gazelles, hartebeests and wildebeests, as well as predators, like lions and leopards. 
The congregation of thousands of animals around the river bed make the dry season the best time to have your safari in the Tarangire National Park.
Temperatures this time of year can reach 29°C (75-84°F).
Wet Season
Between November-December and March-May, rainfall nourishes vast areas of Tarangire and causes animals to spread out more widely. Most animals migrate back out of the park to the Rift Valley and Masai Steppe.
If you avoid peak season you will still see some animals, but do prepare for rain and expect lesser gatherings around the water sources.
Temperatures in Rainy Season are between 13-17°C (55-63°F).
Please Note: Tsetse (SEET-see) flies and mosquitoes are abundant in the wet and swampy areas of Tarangire over the rainy season. These biting insects are not only exceptionally irritating but can also carry the parasites responsible for sleeping sickness and malaria.
Activities in Tarangire National Park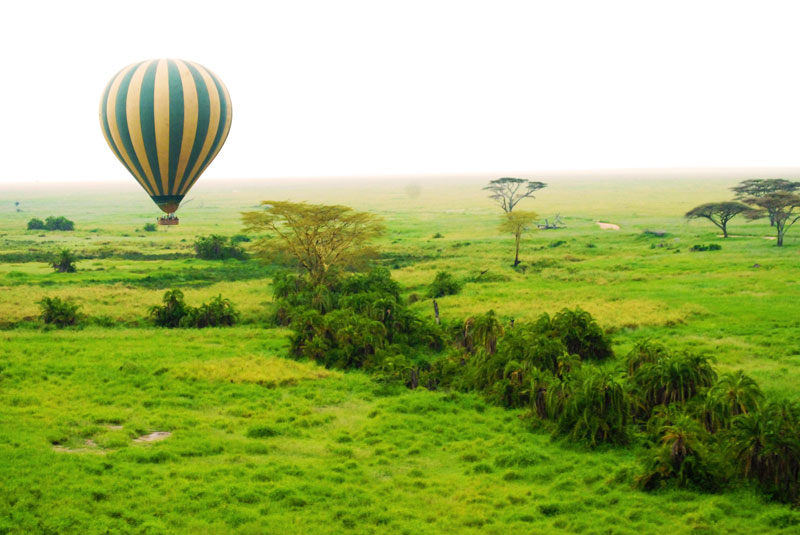 Walking Safaris
Unlike most national parks in Tanzania, walks are available at camps in the quieter south end of the park. Guided walks are a chance to get up close and personal with nature, learn about tracking, appreciate the smaller things and view wildlife like never before by approaching on foot. Walks are also good opportunities for birding as you are moving slower and can spot things you usually wouldn't see from a vehicle.
Cultural Experiences
On day trips, visit the nearby Maasai and Barabaig villages, rich with native African heritage. Hunting only with spears, Barabaig people have been nomadic in this area for over one thousand years.
Famous for their distinctive warrior customs and dress, the Maasai are the best-known group in the area.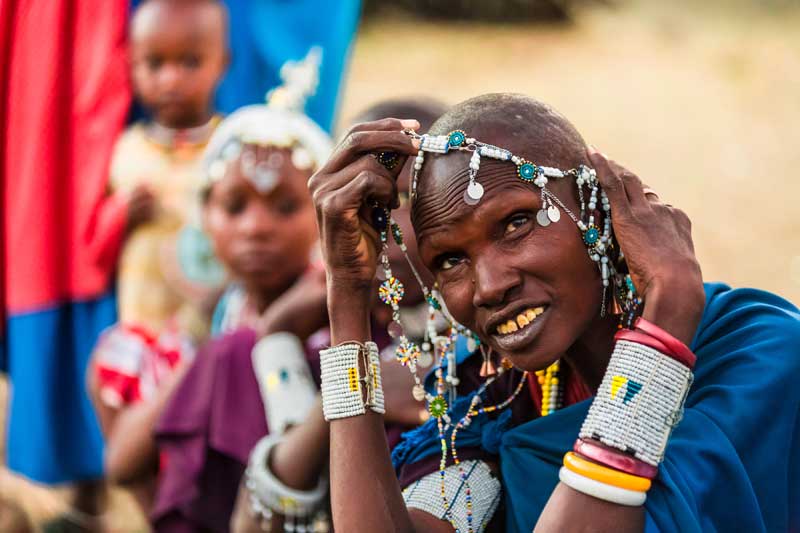 Rock Paintings
There are around 450 rock art sites up to 2000 years old in the Kondoa area on the eastern slopes of the Masaai escarpment. This is listed as one of UNESCO's World Heritage rock art sites in Africa. The Kolo site is about 3 hours drive from the park.
Night Safaris
Nigh safaris are a unique offer for a national park. Night drives are offered by some of the private camps in the park itself so long as the prior arrangement has been made. Genets, aardwolf, aardvark and servals are some of the nocturnal creatures you may see after the sunset.
Fly Camping Trips
Opt out for an adventurous way to safari with basic camping or sleep under the stars accompanied by a knowledgeable guide. 
Hot Air Ballooning
View the vast landscape from the skies above on a sunrise ride. Companies generally have limits for children above 7 and a weight limit of 120kg (264lb) per person. Flights cost around $550/ £390 per person, with all transfers and breakfast included.
Accommodation in Tarangire: Where to Stay in Tarangire National Park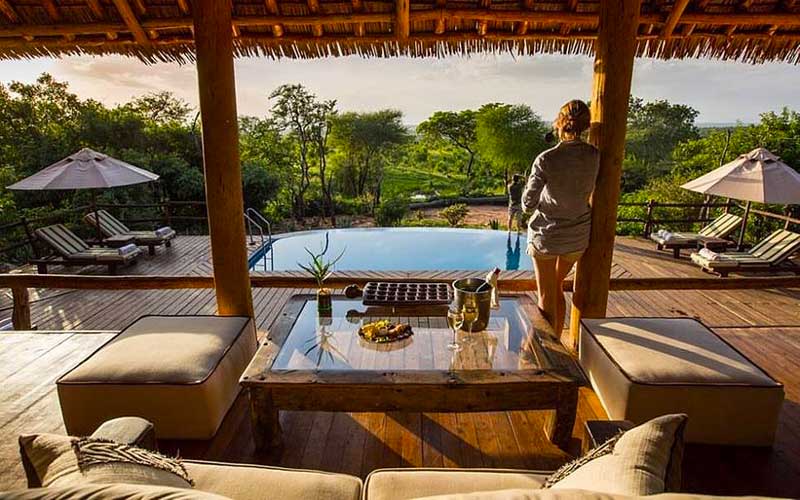 There are multiple accommodation options available for different budgets. The majority of camps are located outside of the park and these don't have access to the remote southern section. For a unique safari experience look for accommodation nestled deep in the heart of Tarangire Park. This exclusivity does, however, come with a price.
Some highly-rated, luxurious tented camp options in the central and southern part of Tarangire that offer walking safaris and night drives include Oliver's Camp, Sanctuary Swala and Nomad's Kuro (accessible by Kuro Airstrip and close to the Silale Swamps). Unfortunately, the rates at all of these lodges start at $700pp per night.
Camps in the busier northern section of the park are more basic and affordable. Baobab Tented Camp and Balloon Camp Tarangire both start at just under $300 per night (two people sharing).
Animals and Birds of Tarangire National Park
Animal habitats in the Tarangire are a mix of woodland, swamps and seasonally flooded grassland along the river's floodplains interspersed with granite outcrops and baobabs.
Animal viewing is exceptional in the dry season when herds congregate at water sources.
Resident Animals and Seasonal Migrants
Thanks to the good water supply, the park is home to well-known predators including lion, leopard, cheetah, spotted hyena, wild dog and caracal (a lynx-like cat). It should be noted that these hunters are harder to spot in the dense river vegetation than in an open savannah.
Many herbivores are also resident species here, including eland, waterbuck, impala, Grant's gazelle, dik-dik, troops of baboons and vervet monkeys, banded mongoose and dwarf mongoose which often make their homes in abandoned termite mounds.
During the dry season, Tarangire has the highest concentration of mammals in Tanzania. Thousands of elephants, buffalo, wildebeest, hartebeest, gazelle and eland move into the park to the river and the ever-shrinking water sources.
Tarangire National Park is the only place in Tanzania where you can often see the long-necked gerenuk and the fringe-eared oryx. These animals prefer dryer, desert-like habitats. The quirky-looking gerenuk with its disproportionately long neck can go its whole life without drinking, getting moisture from plants. The oryx can also go a month or more without water and its long straight horns have been known to kill lions.
Elephants of Tarangire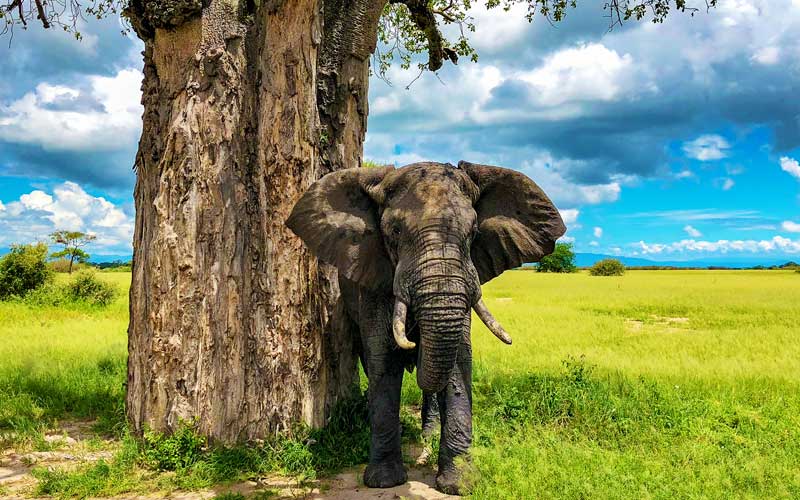 The Elephant population of Tarangire is the largest in Tanzania. The park is home to over 3,000 of these animals in the peak/dry season (June to October). During this time, herds of up to 300 elephants are a common sight.
In very dry years, elephants dig with their feet at the dry river bed until they reach the water buried beneath the surface. Other animals also use these 'elephant wells' to drink.
Tarangire National Park holds a record for the oldest mother elephant, a 57-year-old cow called Eloise, to give birth to twins in 2017. The birth of twins is a rare event that only happens in 1% of elephant pregnancies.
Elephants in East Africa are under heavy threat from poaching for ivory. The Tarangire Elephant Project has been monitoring the area's elephant populations for over 25 years. It is the second longest-running elephant research project in Africa that currently monitors 1,000 individual elephants. Monitoring deters poachers and helps rangers respond quickly if the animal's movements are unusual.
Animals in the Silale Swamps
The catchment area on the south and east of the park is a large swamp network.
This is a spectacular area for birdwatching and also a good place to see elephants and buffalo wallowing. Most of the park's wild dog sightings have been recorded in the swamp area.
Giant African pythons climb up trees in the swamp that become visible as water levels drop. They often remain in the same spot for days and even weeks.
The swampy areas also attract leopards and lions who have mastered the art of hunting in and around this damp habitat.
The Silale swamp lions are famous for their habit of frequently climbing trees, something that is unusual for these heavy cats. Since 2005 the park has been zoned as a lion conservation area.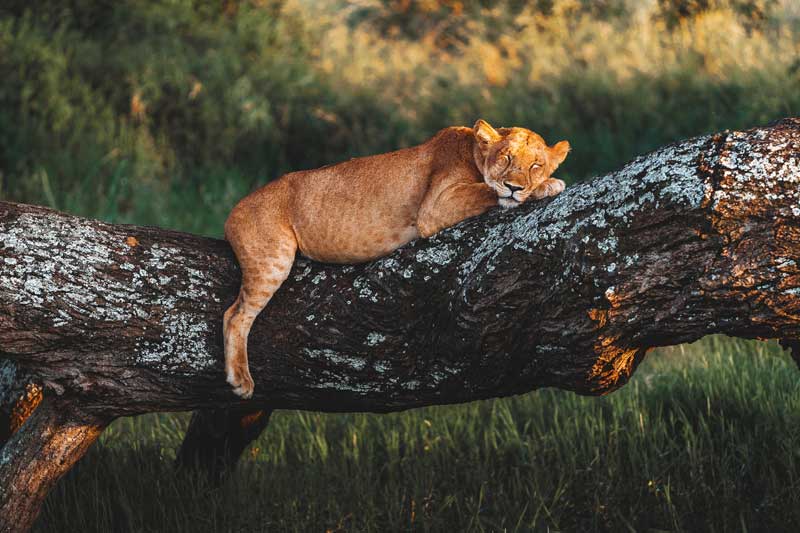 Rare Animals Sightings in Tarangire National Park
During the dry season, when animals gather in the river bed and around remaining water sources, you are 99%-guaranteed to spot an elephant, lion, giraffe, zebra, wildebeest and even buffalo.
The true prize for a safari enthusiast is to spot someone rare and elusive. The following species are not easy to see but with a lot of patience, the help of a knowledgeable guide and some understanding of the animal's behaviour and their preferred habitats, luck may be on your side!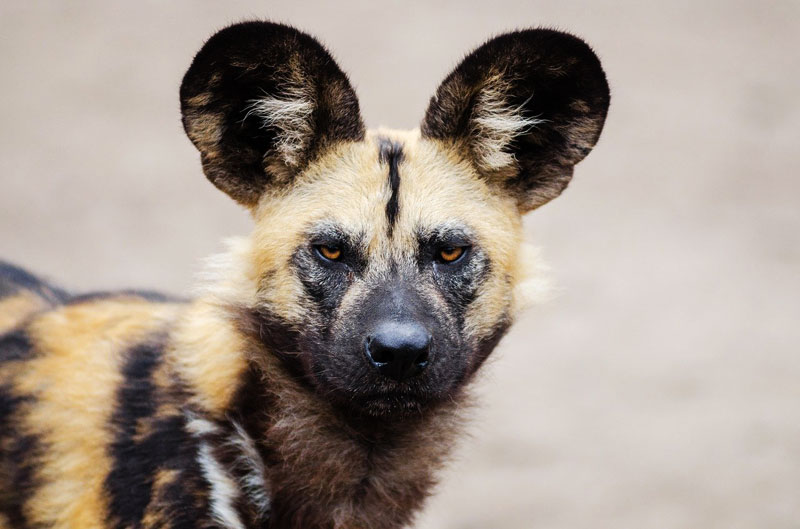 Wild dogs are not found throughout the park. Most sightings are in the south and east swamp areas.
Both, Striped hyena and the aardvark, whose name means earth pig, are nocturnal species. Your best chance to spot them is to head out on a night safari.
Pangolins are the only mammals with scales. Mothers carry the young balanced on their back. It's so rare to see one that even guides can go years without seeing one!
Honey badgers are some of the world's fiercest animals. They have a relationship with honeyguide birds that lead them to beehives. Honey badgers have thick skin and strong immunity to bee stings, a good thing as honey is their favourite treat.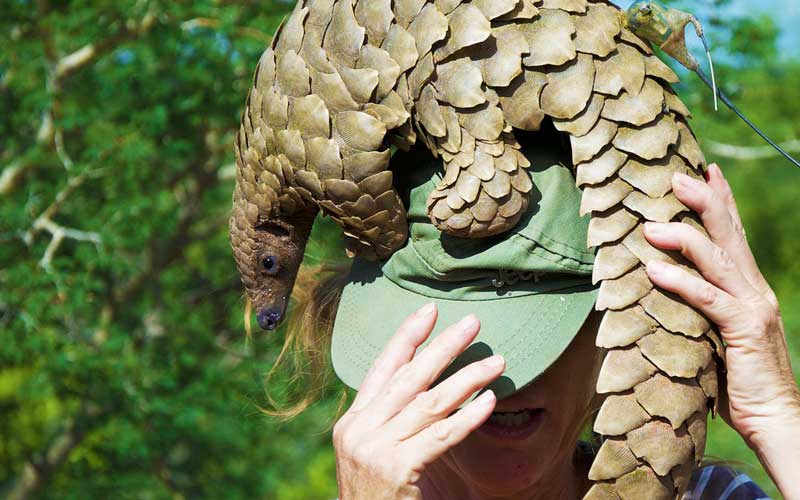 Birds of Tarangire
With 550 bird species and the most breeding bird species in a single habitat anywhere on earth, Tarangire National Park is a birdwatcher's dream.
As with animals, the dry season also brings birds to the Tarangire River but it should be noted that January is also good for birdwatching as resident birds are getting breeding plumage and some migrants have already arrived.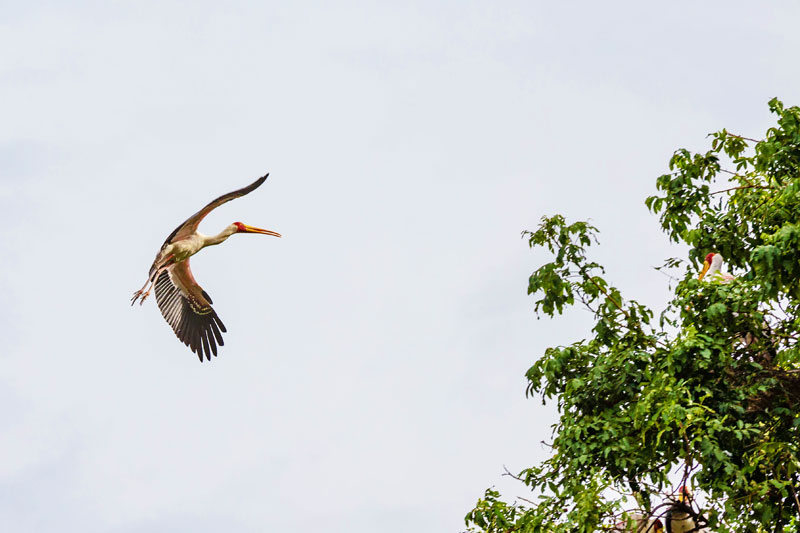 Birds to Look Out for in Tarangire National Park
Endemic Species;
Yellow-collared lovebirds
Ashy starlings
Rufous-tailed Weaver
The ostrich (the largest bird on earth) and the Kori buzzard which is the heaviest flying bird are common residents along with red-and-yellow barbets that frequently are seen feasting on termite mounds.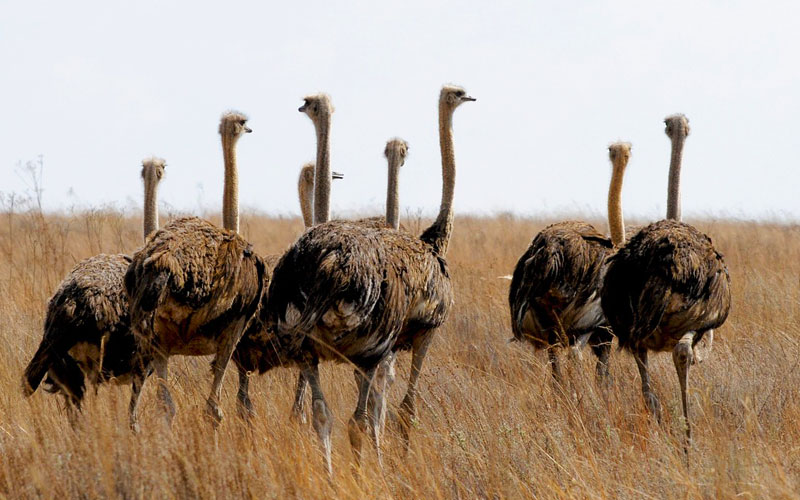 Secretary Birds stalk the plains and stomp snakes to death with their feet. Red-billed hornbills often nest in the hollows of baobabs.
Birds in the Tarangire Swamps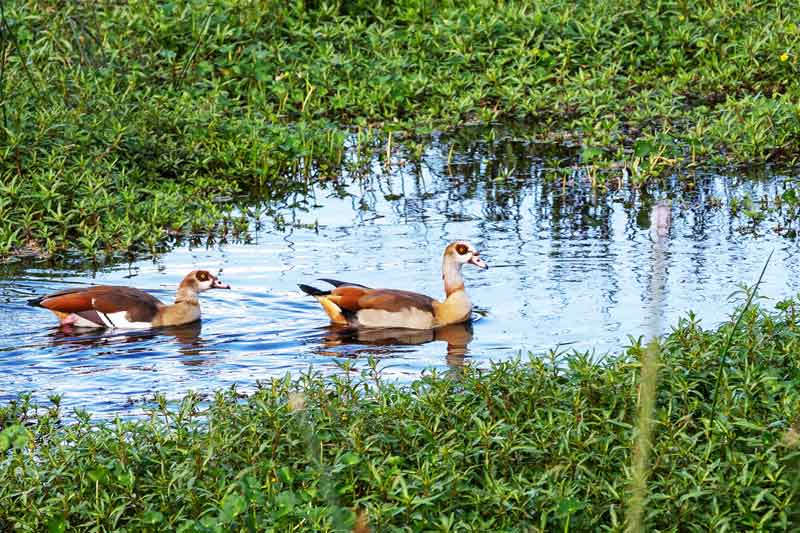 The swamp areas are home to the majority of bird species in Tarangire. Some species to look out for in the swamp habitat are:
Vulturine Guinea fowl
Black-headed heron
African Marsh Harrier
Water thick-knee
Von der Decken's hornbill
Slate coloured boubou
Donaldson-Smith's nightjar
Great white pelican
White-faced Whistling-Duck
Fulvous Whistling-Duck
Northern pied babbler