The main reasons to visit Zanzibar are its stunning beaches, perfect weather, luxurious accommodation, coral diving and food and culture of complex and inspiring Stone Town. On this map, we dotted the best spots for your upcoming holiday.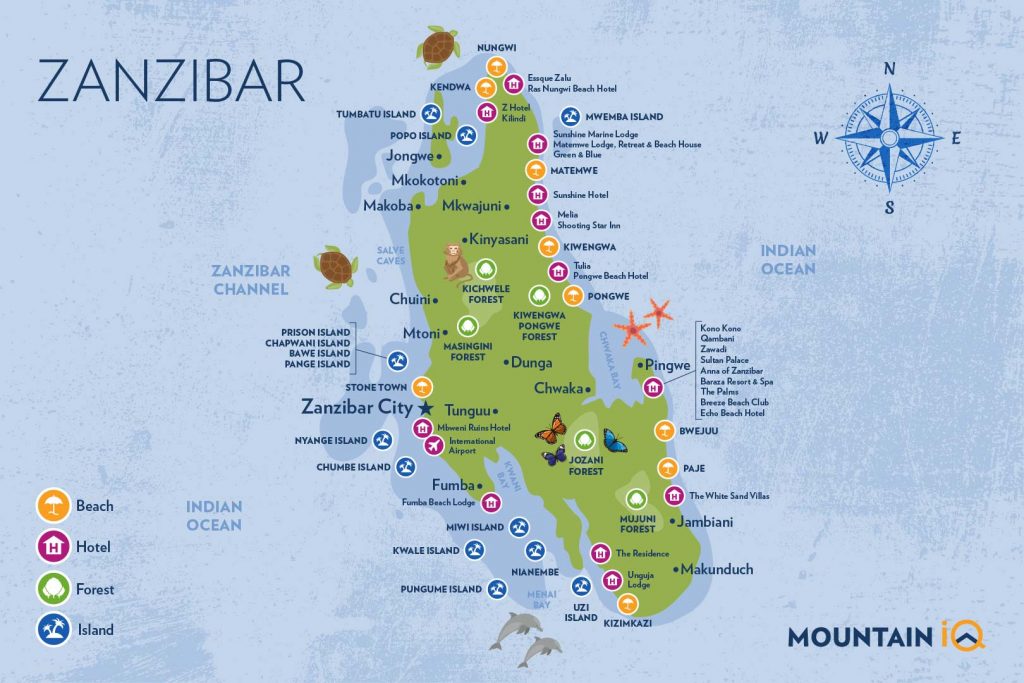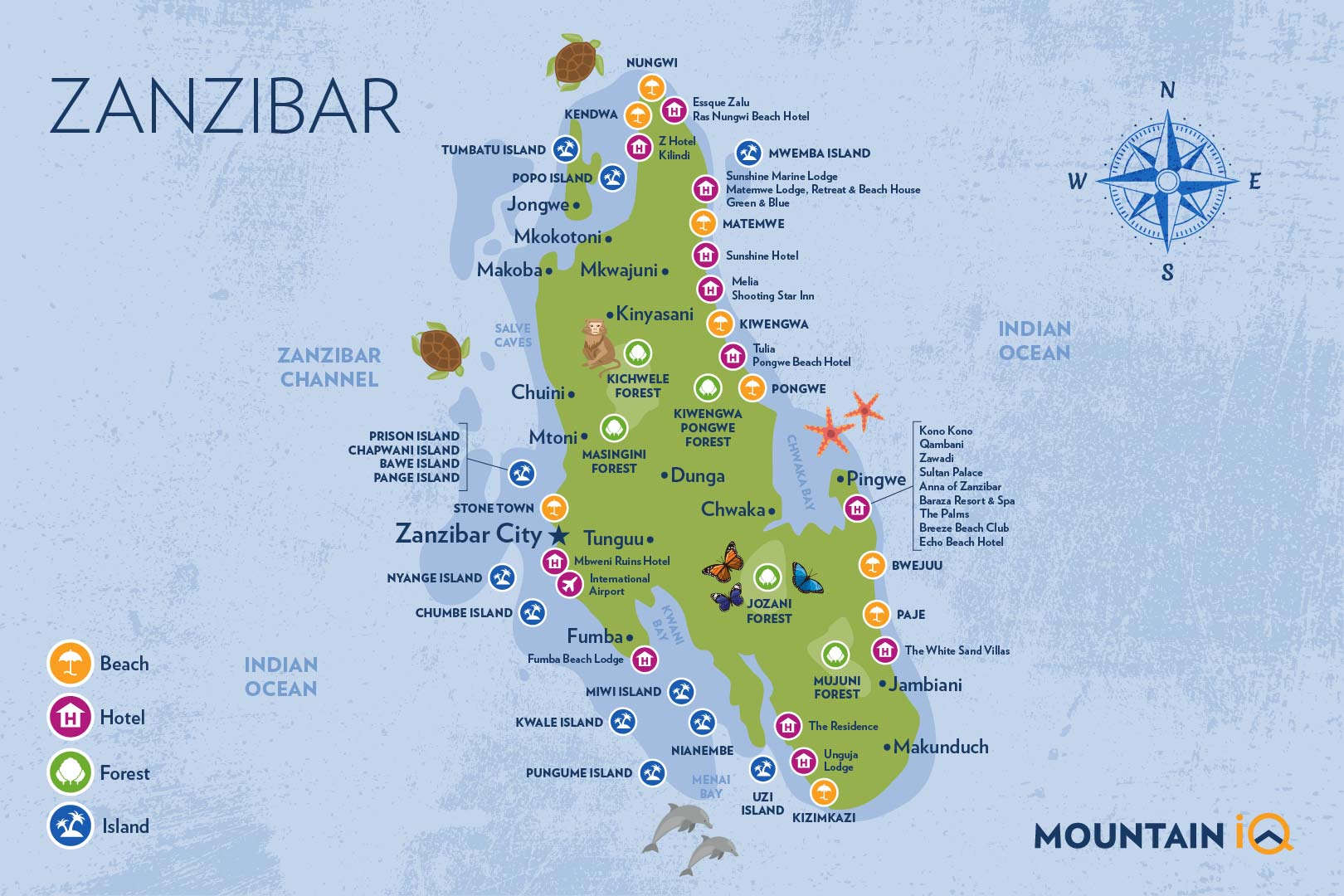 Beaches
Although most beaches are excellent, some of the best beaches are found on the east side of Zanzibar.
The very northern, Nungwi is a large village known for its dhow building (local sailboats) and its tropical coast circled by palm trees. However, due to tidal variations, the beach here is not as prominent as in other areas of the island.
To reach a truly beautiful beach, head a couple of kilometres southwest to Kendwa beach. It is very popular and populated, but its long stretch of white dusty sand won't disappoint.
Matemwe beach is famous for its gorgeous sand and nearby coral snorkelling and diving spots around Mnemba atoll. about 5 km further south, you will find Pongwe – that is your tropical beach paradise, with its palm trees and soft sand. Here, postcard views are guaranteed. The smell of the ocean here is also nice and fresh, given that there is a bit less smelly seaweed.
Bwejuu is a similarly idyllic long why beach where all you can do is swim and rest.
For a party beach, visit Paje, where it lacks in character, it makes up in bars and restaurants. This is also Zanzibar's kite surfing capital.
Jambiani is very popular because it has both a beautiful stretch of white sand and a lively village atmosphere.
Kizimkazi Dimbani and Kizimkazi Mkungunu are famous for dolphin swimming, but both offer interesting beaches with interspersed coral rock.
Stone Town
In Stone Town, you will find some of the major sites, including the Old Fort a huge bastioned building dating back to the very beginning of the 18th century. Sadly no longer operational as intended, the Hamani Persian Baths were the first public baths in Zanzibar.
Various ruins around town represent now destroyed a number of previously grand palatial buildings including Maruhubi Palace and Mtoni Palace.
The town has a few beautiful mosques, and the Misikiti was Balnara or Malindi Minaret Mosque is the queen of them all. It is the oldest mosque in town. Ijumaa Mosque is another beautiful example of Islamic architecture on the island, but in order to visit you might need to be appropriately dressed and ask for permission first.
Wildlife
Jozani Forest is home to a beautiful wild tropical forest where you can still encounter rare Red colobus monkeys. The walk through the area will take about one hour, but there is a cafe along the way. Just before Jozani, make a stop at the Butterfly Centre with one of the largest butterfly conservation in East Africa.
At the Menai Bay Conservation Area you will see a turtle breeding project, which educates against turtle consumption and supports turtle hatchlings so they reach the ocean in greater numbers. You can also encounter dolphins if go on a boat ride slightly off the shore.
Smaller Islands
Changuu, Chumbe, Tumbatu and Mnemba and other islands are perfect for day boat trips. All of them offer perfect snorkelling or diving opportunities, each with its unique flair.
About 5 km northwest of Zanzibar, Changuu is known as a Prison Island for slaves but is also home to giant tortoise conservation.
Mnemba Atoll is the ultimate tropical beach. Only guests at the Mnemba Lodge are permitted to use the island itself. Coral reefs encircling the island, however, are free to enjoy whilst snorkelling or diving. You are likely to see massive tuna, reef sharks, barracuda and moray eels, among the mesmerising variety of colourful reef fish.
Chumbe Island is unpopulated, but during your visit, you will be mesmerised by its Coral Park – one of the very best underwater ecotourism destinations in the world. With over 200 coral species and 350 kinds of fish, the island is a success story of marine conservation unrivalled around the globe. Unlike on the other islands, you can rent a bungalow to stay here overnight.
Tumbatu is home to one of the original tribes of Zanzibar and is better for a cultural day, and not just a lazy afternoon on the beach.
Bawi and Chapwani are privately owned islands and, although you can still snorkel on their shore, visiting islands is reserved for the guests only.