Perhaps you've just explored the vast plains of the Serengeti, hiked the peaks of Kilimanjaro or simply looking for a beach holiday like no other, then the spice islands should certainly be your next stop. But just how do you travel to Zanzibar?
Whether you choose to fly to Zanzibar over the stunning blue waters to view the tropical wilderness from the air, or take a ferry to Stone Town and experience the heart of Zanzibar from the ground – or the ocean – Zanzibar won't disappoint.
Where is Zanzibar
Zanzibar is an archipelago just east of Tanzania, East Africa, also known as the spice island archipelago, owing to its long history of agriculture and export of cinnamon, cloves and nutmeg. The main island is called Ugunja and is surrounded by many small islands boasting idyllic beach resorts, incredible diving spots and world-class fusion cuisine.
North of Ugunja is Pemba Island the second largest island, which has far fewer tourists and is excellent for an off the beaten track experience. 
Take a Ferry to Zanzibar from Dar Es Salaam
Zanzibar city is located to the west of the island and is between one and two hours from Dar Es Salaam, the main business port of Tanzania. The ferry gives travellers a unique oceanic view of Ugunja as the horizon of white coral stone buildings of Stone Town (the oldest part of Zanzibar city) line the turquoise water around the port and come into view.
There are two main ferry companies (Azam Marine and Fast Ferries) both offering modern catamarans, that provide a comfortable and fast excursion to the island, with multiple departure times throughout the day. Prices range between $35 and $50 depending on your seats and times of travel, but be sure to book a day or more before as they can get busy.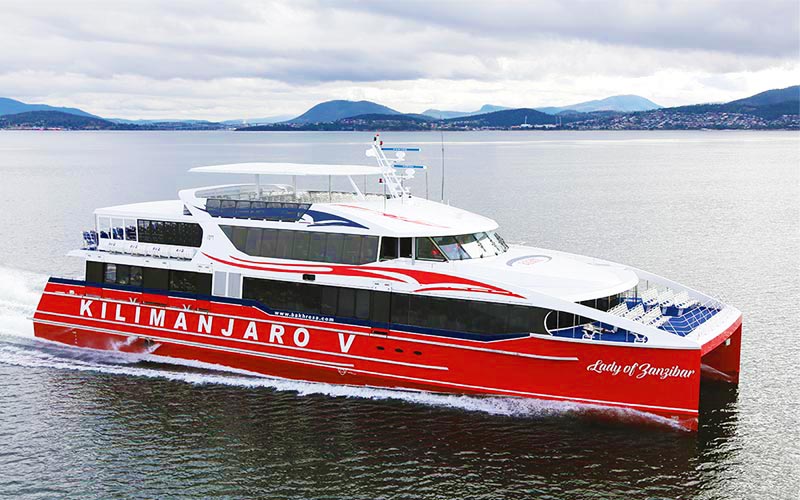 Best Times to Travel to Zanzibar
Most travellers try to avoid Zanzibar during the rainy season which lasts between March and June, with short spells over the month of September. The best times to visit Zanzibar would be between June to August and October when the weather is warm and dry.
As a small warning, the ocean can get rough, so if you're the type of person that doesn't fare well with boats and choppy seas opt for the skies and book a flight to Zanzibar.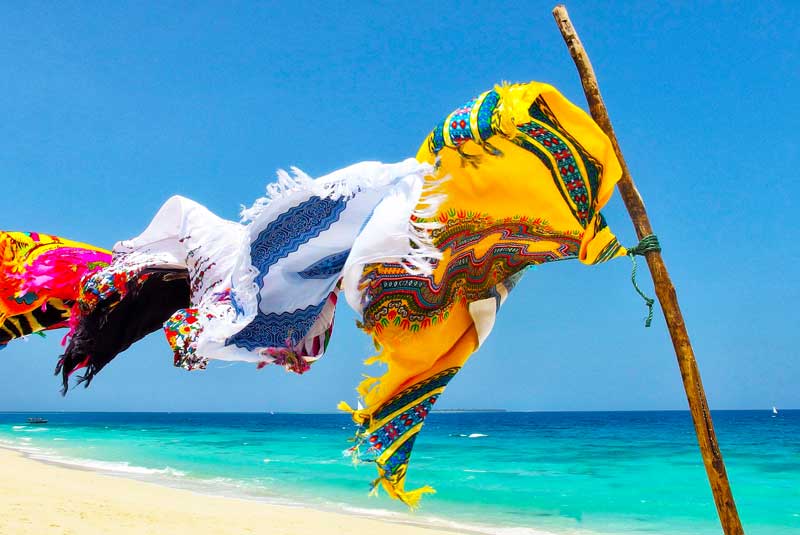 Spend a Weekend at Coco Beach before Catching a Ferry to Zanzibar
Travellers coming to the end of their Kilimanjaro hike or ending their safari across the Serengeti can head to Coco Beach before ferrying off to Zanzibar. Take a day to laze in the sun, meet the locals and taste some of the incredible street food in and around Oyster Bay.
The Coco Beach is a soft sandy strip on the Msasani Peninsula of Dar Es Salaam that attracts tourists and locals alike for its live music, fruit beer, food vendors and of course white sandy beach and warm waters.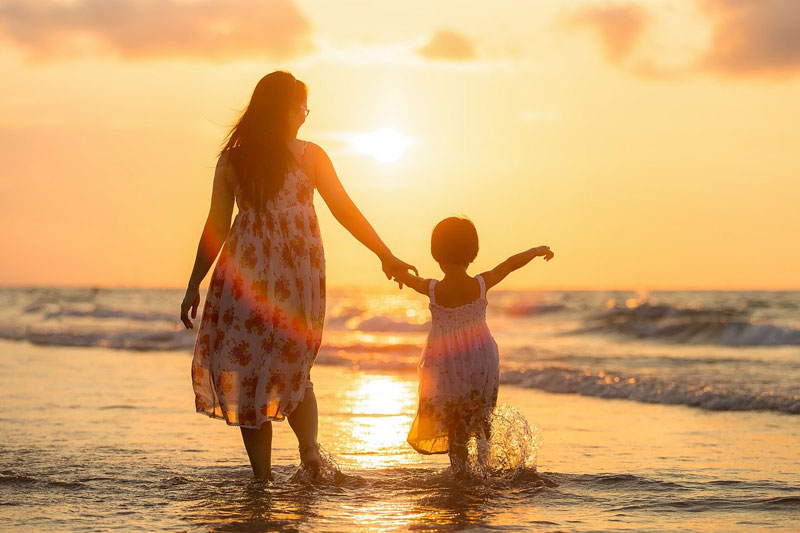 Stop Off in Stown Town
Arriving in Zanzibar by ferry, passengers enter through immigration, so it's good to have your passport with you when travelling between mainland Tanzania and Zanzibar at all times. The ferry is unique in that passengers get to step off into the heart of Zanzibar's Stone Town and visit the incredible landmarks including the Old Fort, Forodhani Gardens, wander the ancient stone lanes and explore the bustling Darajani Bazaar right after the ride.
Zanzibar Dress Code and Culture
As if entering another world, visitors will immediately notice the vast difference between mainland Tanzania and Zanzibar. Men dressed in the traditional lightweight Kanzu dress and Kofia hats and women in their brightly coloured Kanga, reflecting the Muslim Arabic and Swahili cultures that dominate the islands.
For holidaymakers and visitors entering into Zanzibar both men and women are advised to keep themselves covered, especially whilst visiting local villages and Stone Town, the beach resorts and hotels are a better option for bare arms, shorts and swimwear.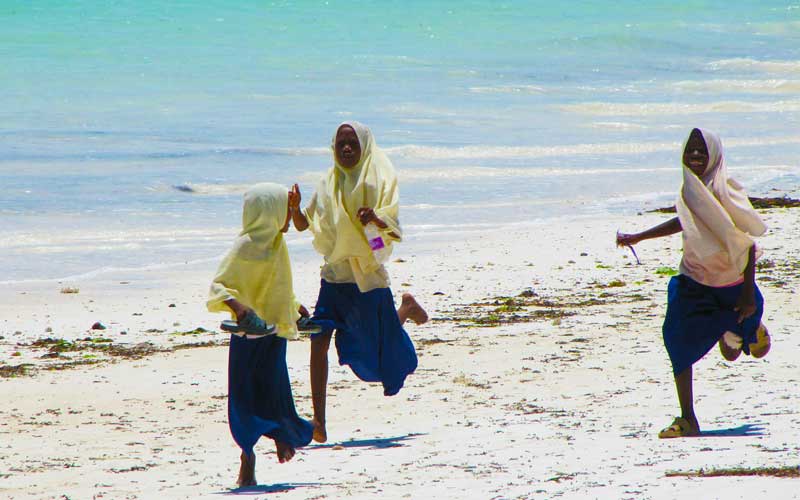 Take a Trip to Prison Island
Spend a few days in Stone Town before shuttling off to a lazy beach resort further north of Ugunja, like Kendwa or Nungwi Beach. Learn more about its rich Arab, European, African and Indian history, the Zanzibar spice trade, as well as its role in the early 18th-century slave trade. With a short 30-minute boat ride travellers can visit Prison Island.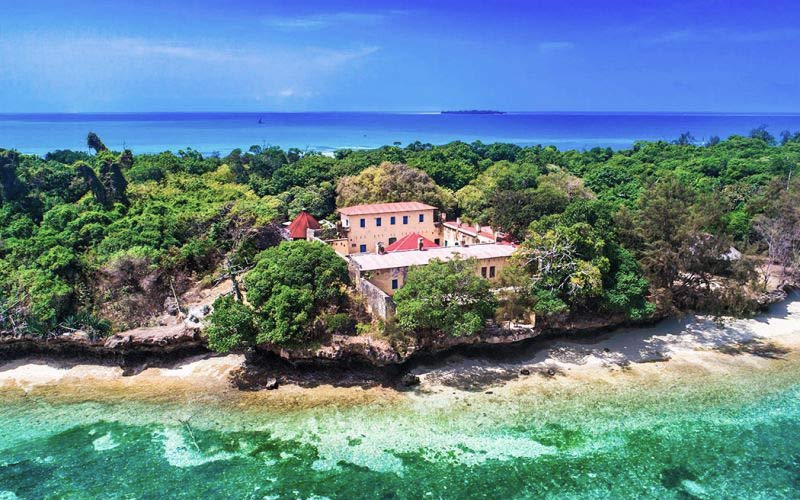 Flights to Zanzibar
Flying to Zanzibar from Dar es Salaam is only marginally more expensive than catching a ferry but the views from the sky are stunning and with so many flights available it's a fast and reliable option that takes you straight to Abeid Amani Karume Airport in Zanzibar City where you have the option of spending a few nights in Stone Town or going straight to your vacation spot.
Flights to Zanzibar from Kilimanjaro
Mountaineers and tourists visiting Kilimanjaro can fly straight to Zanzibar from the airport in Makao Mapya. This direct flight takes only one hour and with multiple airlines and daily scheduled flights, getting to Zanzibar is reasonably priced and flexible, for a spontaneous post-hike getaway.
Safari in Tanzania before Flying to Zanzibar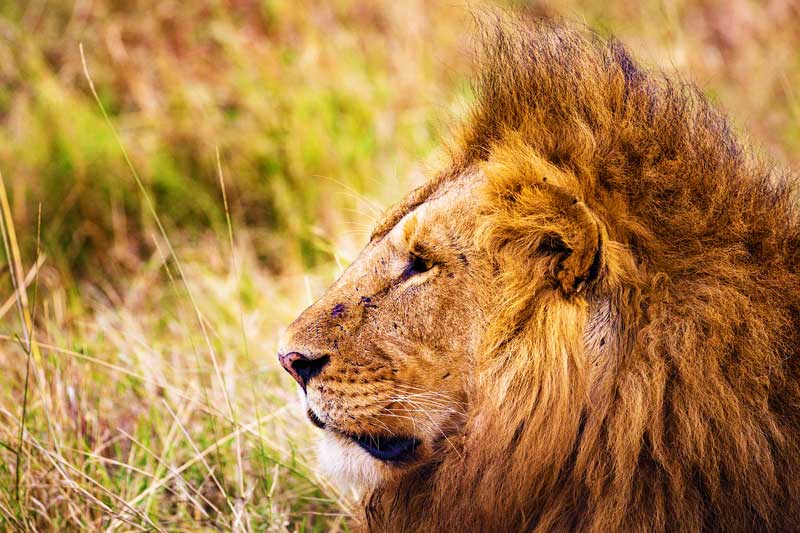 Many travellers enjoy the option of booking their safaris in Tanzania before flying directly to Zanzibar for a post-trek relaxing beach holiday. Travellers visiting Mount Meru can fly directly from Arusha to Zanzibar for between $230 and $270 with an approximate hour and a half flight to Zanzibar and if you're booking through an agency, a shuttle can be arranged to take you straight to your hotel or resort.
Hikers and tourists visiting Mount Kenya have a choice of flying from Nairobi to Zanzibar or stopping off at Dar Es Salaam before making their way to the Spice Islands. Prices range from $190 and $250 directly to Zanzibar from Nairobi and back.
For the best travelling experience make sure all your essentials are covered and you have travel insurance for peace of mind.
Is Zanzibar Safe?
Zanzibar is considered one of the safest holiday destinations along the East African Coast, that being said muggings, pickpocketing and thefts do occur so it is advised to stay alert, especially when wandering around Stone Town or late at night and to keep valuables locked in a safe at your hotel as a precaution.
Travellers enjoying a Safari trip to the Serengeti have a few options when flying to Zanzibar, one is to fly directly to Abeid Amani Karume Airport (Zanzibar) from Serona, with prices ranging from $400 to $450 per person. Other airstrips offering flights to Zanzibar include Grumeti and Koge.