Take a trip to the wild-side in Gombe Stream National Park. Visit the famous Kasekela chimpanzee community, a human-habituated troop from books, documentaries and movies following Dr Jane Goodall's research in the park.
Gombe National Park is Tanzania's smallest park. It's a 20-mile square (52 km²) patch of rainforest-covered hills on the eastern shores of Lake Tanganyika, well off the beaten safari track. Getting to Gombe will not be easy or cheap but spending time with our closest animal relatives is an opportunity of a lifetime and well worth the extra effort.
In this article: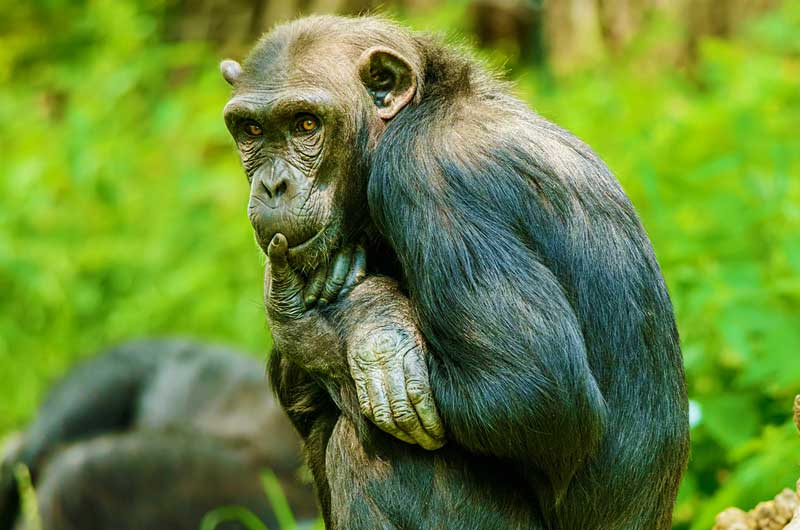 Jane Goodall and the Chimpanzees: The Story of Gombe
A short history of Gombe
In 1960, when not much was known about chimpanzee behaviour other than they were similar genetically to humans, Jane Goodall first arrived in what was then Gombe Stream Game Reserve. She was 26 with no academic background and with only her mother, a cook and his family for assistance. Goodall's research was funded by Dr Louise Leakey, a now renowned archaeologist and anthropologist who believed that research into chimpanzee behaviour would help us better understand our early human ancestors.
Goodall spent months tracking chimpanzees, in particular the Kasekela community, and she was eventually accepted into the troop. This is the only time in history that a group of chimpanzees has accepted a human as one of their own. With the chimpanzees completely relaxed with her company, Goodall had the opportunity to study chimpanzee behaviour as no one had before.
Goodall's findings resulted in improvement in conservation of the chimpanzees and their habitats which led to the establishment of the Gombe Stream National Park in 1968.
Chimpanzee Behaviour
Similarities with Humans
Chimpanzees share 98% of their genes with us. They live for over 50 years and show a range of emotions, including sorrow and joy. They are often seen tickling, hugging and even kissing each other as a sign of affection.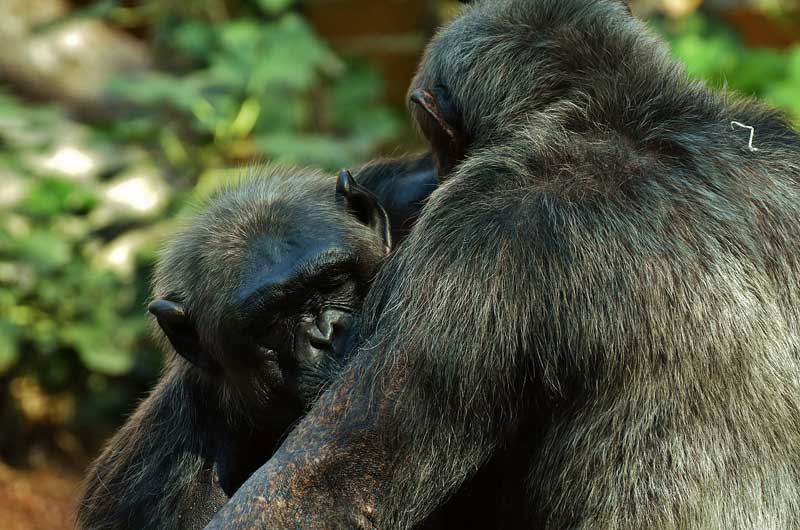 Up until Goodall's research, it was accepted that only humans could use tools. But she observed a chimp using a grass stalk to extract termites from a termite mound. 
Jane Goodall also revealed a darker side to chimpanzee behaviour. She documented females occasionally killing other's young in an act of dominance, and that there are ongoing, violent wars between different chimpanzee groups.
What Do Chimps Eat
Like us, chimpanzees are omnivores and not peaceful vegetarians. While spending hours amongst the group, Goodall witnessed the chimpanzees actively and strategically hunting and eating red colobus monkeys. Chimpanzees hunt and kill a third of Gombe National Park's red colobus monkey population each year.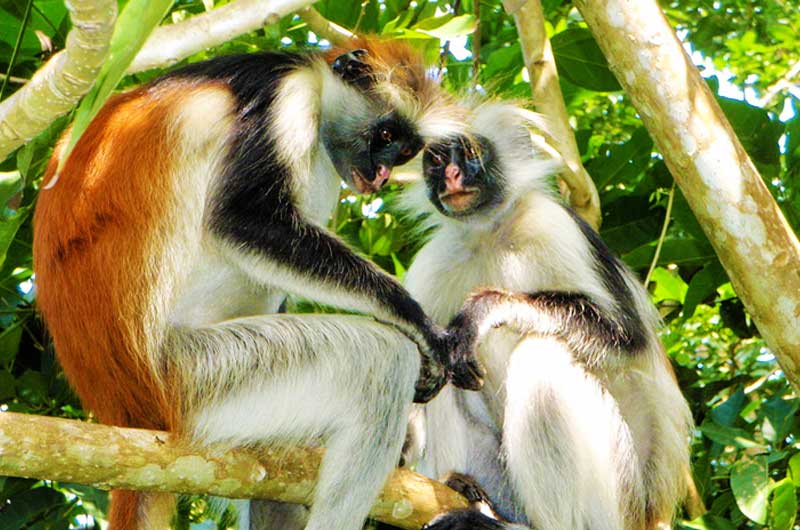 Gombe Stream Research Centre
To coordinate research of chimpanzee behaviour, Gombe Stream Research Centre was established in 1965. The project started by Goodall in 1960 has been ongoing for 60 years making it the longest-running field study of any animal species.
The centre also trains new Tanzanian scientists, hosts visiting researchers and specialists and provides insight into threats like habitat loss, poaching and disease. The information gained from research at the centre supports conservation management.
Chimpanzee Trekking in Gombe National Park
Almost all visitors to Gombe National Park go there for a chance to meet the chimpanzees. There are around 100 chimpanzees remaining in the park. This includes the Kasekela community who are mostly descendants of the group that Goodall studied. The Kasekala chimps are completely habituated to humans allowing you to get up close and watch their fascinating interactions.
How to Get to Gombe National Park
To get to Kigoma, you can fly commercially from Julius Nyerere International Airport (DAR). There are only 6 of these flights scheduled each week at $150-$220 one way.
Alternatively, driving from Dar es Salaam to Kigoma will take 22hrs or 18hrs from Arusha. You can also catch a bus or train along the central route. Public transport will take significantly longer than driving and developing country transport systems often have unforeseen challenges.
From Kigoma the only way to Gombe is by boat. Again you have a choice.
Lake taxi: This public ferry departs daily at 1 pm from Kibirizi beach. It is cheap ($5) but uncomfortable. Expect a 4hr long, crowded trip with multiple stops. Plus, the public boat does not operate on Sundays.
Private boat: These are expensive ($200-$300) but take only 1.5hrs and you can choose your departure time.
Best time to visit Gombe's Chimpanzees
Chimp trekking in Gombe National Park can be done year-round but they are easier to find at the end of the dry season (July-October) when troops remain on lower slopes where there is fruit. If possible, stay at least two full days in Gombe in case you don't find the chimpanzees on your first day.
What to Know about Tracking Chimpanzees
Start Early
Guides are usually ready to get started as soon as possible to catch the chimps before they move too far up the mountain. It is better to spend the night in the park before your trek. If you are staying in Kigoma, arrange your private boat transfers for early in the morning.
Please Note: If you take the public boat, you will need to spend 2 nights in the park to work around the limited boat times.
Be Prepared
Chimpanzee trekking is not an easy activity, you will need to have a decent level of fitness for the hike. Experienced guides track the troop down steep valleys and up the mountains. These are wild animals that do not follow roads or clear pathways so expect to be going through thick bush. Wear long trousers and your hiking boots. The humid climate makes for a hot and sweaty hike so bring plenty of water (hydration reservoirs that your insert into a backpack are great for that).
There is no guarantee as to how long the trekking will take or if you will find the chimps. Some days are lucky and they are located in half an hour but other days you may walk four hours or longer. There won't be time for stopping so best to eat your breakfast before setting off.
Talk to Your Guide
Guides spend hours with these animals, they recognise each individual and have interesting stories to tell. Remember the guides have a challenging job and do not receive high salaries, tipping is customary.
Other Highlights of Gombe National Park
Animals and Birds
Primates are the main attraction of these rainforests. Besides the chimpanzees, troops of olive baboons walk the beaches foraging for food while vervet monkeys, red-tailed monkeys, blue monkeys and red colobus monkeys climb and leap through the canopy.
Mammals in the forest include bushpigs, bushbuck, duiker, civets and white-tailed mongoose.
There are over 200 bird species in the park. Iconic Fish eagles and three different kingfisher species hunt on the lake and colourful little Peter's twinspots are regulars at the Visitor Centre. True to name, vegetarian Palm-nut vultures are often seen in palm trees on the lake shores.
The forests are also home to a wide range of amphibians and reptiles like pythons, as well as to 400-500 species of butterflies.
Activities in and around Gombe National Park
Swimming and Snorkeling
Lake Tanganyika is the longest and deepest lake in Africa. Calm beaches along the shore of Gombe National Park are perfect for swimming. You can also book a snorkelling tour to see the endemic cichlid fish.
Hiking
Take a gentle walk along the shores of the lake or hike the Kakombe Valley trail to the Waterfall. Hiking is best in the dry season (May-October).
Visit Mwamgongo Village
Located next door to the park, cultural tours around Mwamgongo village offer a glimpse into the culture of traditional dance and the local woman's crafting of pottery, fabric, mats, grass hats and baskets.
Other Activities
Catch-and-release fishing trips can be booked with experienced crews and all equipment included. The lake is also perfect for kayaking tours when the weather is calm or to take a traditional dhow cruise to see Tanganyika's spectacular sunset.
Accommodation: Where to stay In Gombe National Park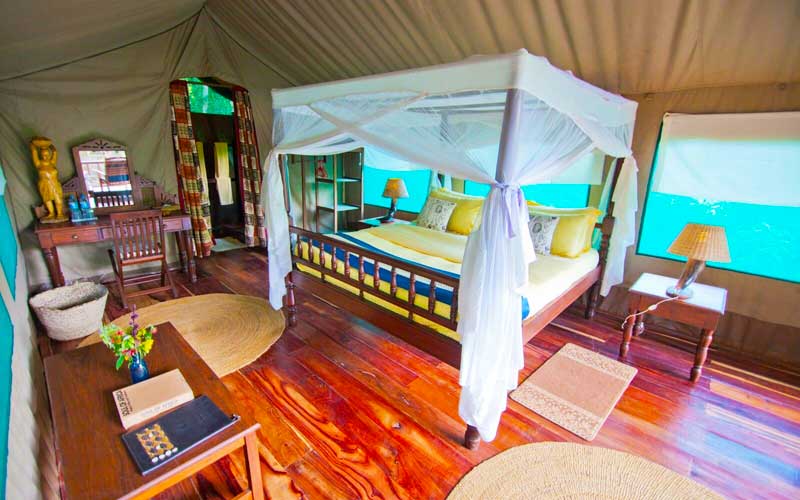 Budget Rest Houses
Rest houses are more affordable but very basic and sometimes lack care and maintenance. This, however, brings down your entire safari cost a lot. Don't expect too much for $20 per person a night. Kasekela Rest house sleeps 12 and has a restaurant that serves local and western dishes, Mitumba rest house sleeps 5, the park provides a catering or self-catering option. 
Luxury Accommodation
Kasekela luxury tented camps ($50- $60 per person) or Jane Goodall Memorial House ($35 per person) are Gombe National Park's higher-end offers.

Mbali Mbali lodge (formerly Gombe Forest Lodge) has 7 luxury private tented rooms for a bigger budget. The price of $900pp per night includes all meals, house drinks and boat transfers.