Visitors are drawn to East Africa by the spectacular landscapes, animals, wide diversity of cultures and historical sites. Tanzania's national parks can broadly be divided into North, South and West amongst which are the most famous safari destinations but also few hidden gems.
19 national parks and nature reserves in Tanzania cover about 37% of the country. These 155,000 square miles of protected areas are home to an incredible 310 mammal species, including the Big Five and over 910 different types of birds.
Tanzania National Parks – Northern Circuit
Serengeti National Park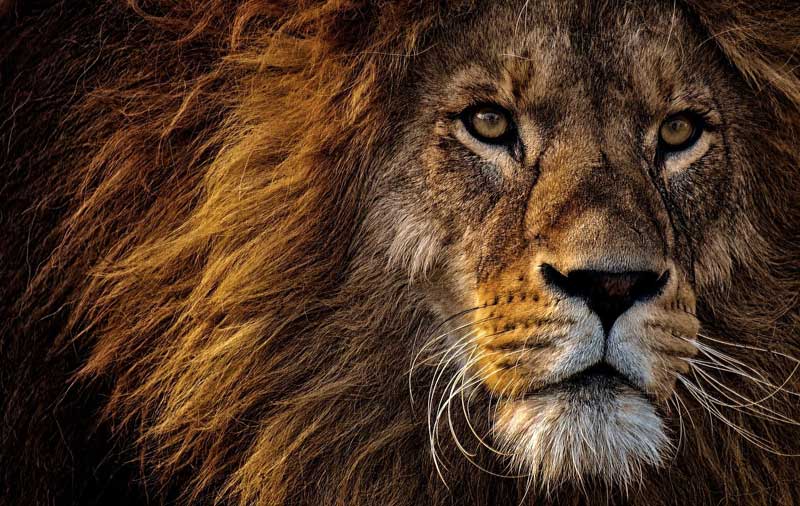 Serengeti National Park is located 320km northwest of Arusha. With a name that means endless plains, this is the most famous safari destination. The major attraction in the Serengeti is the Great Wildebeest Migration when over 1.5 million wildebeest, zebra and gazelle migrate to Kenya's Masai Mara following the rains. The Serengeti is a great place to see hunting predators, especially during calving season (January-February).
Size: 5,700sq miles / 14,760km²
Notes: Low day fees. Crowded during peak season.
Ngorongoro Crater Conservation Area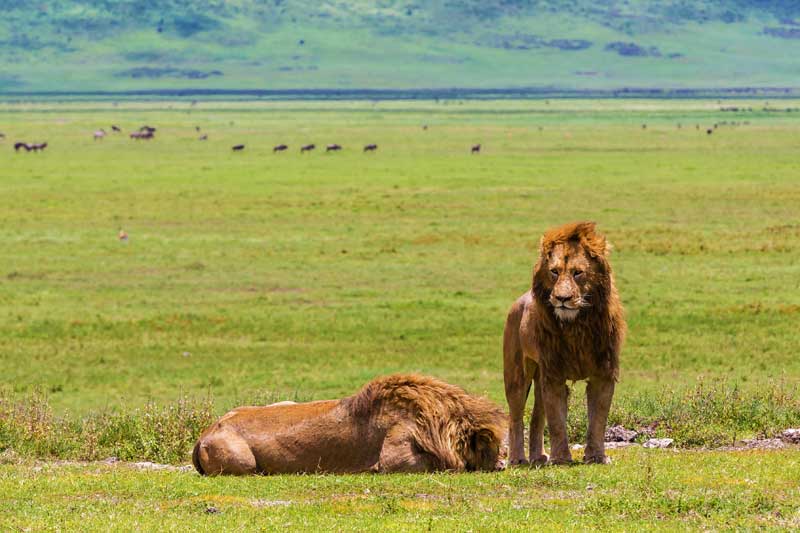 Between Arusha and the Serengeti, the Ngorongoro Conservation Area is home to around 25, 000 large animals. This is a chance to see all of the Big 5, including the elusive black rhino, in a single day! The conservation area is home to nomadic Maasai tribes and livestock and wildlife graze side by side. The Olduvai Gorge is a significant archaeological site for human evolution.
Size: 3,166sq miles / 8,200km²
Notes: Entrance is rather expensive ($200 per vehicle) and it does get crowded.
Tarangire National Park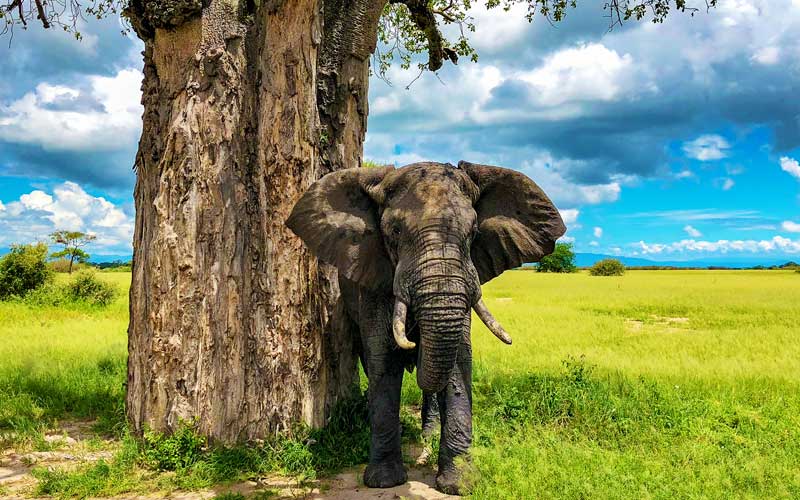 Tarangire National Park is a 3-hour drive from Arusha. High densities of animals including about 3,000 elephants migrate to the Tarangire River during the dry season. At this time the park is exceptional for game viewing and has more elephants per square mile than any other park in Tanzania. Tarangire is also well known for its stunning landscape of baobabs and scattered termite mounds that house dwarf mongoose families. The extensive swamp system supports some of the 550 bird species in this park.
Size: 1,100 square miles / 2,850km²
Notes: Wildlife-viewing is seasonal during June-October.
Lake Manyara National Park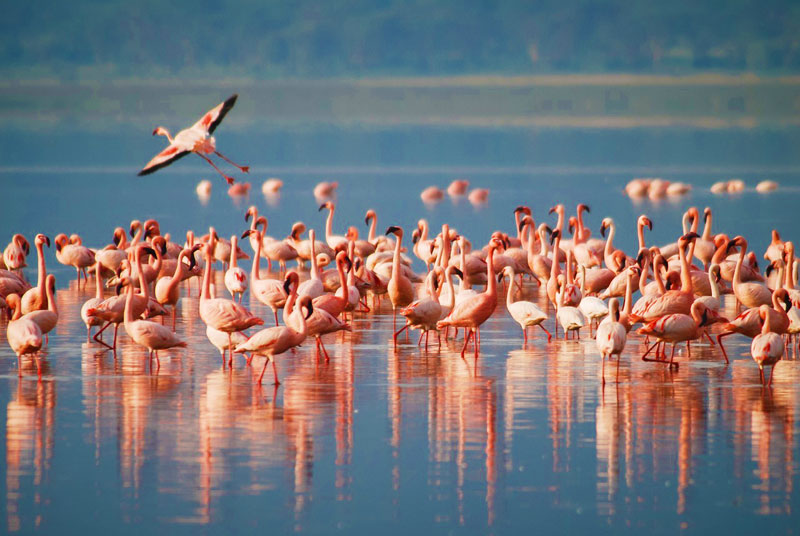 Most of Lake Manyara National Park is covered by water. Just 78 miles / 126 km outside Arusha, it is perfect for a few hours visit to see the hot springs and take a canopy walk. Tree climbing lions are a huge drawcard as well as relaxed elephants and thousands of baboons in the groundwater forests. Roads can become flooded between April-May.
Size: 250 sq miles/ 648km²
Notes: It is best to visit early morning as crowds arrive in the afternoon.
Arusha National Park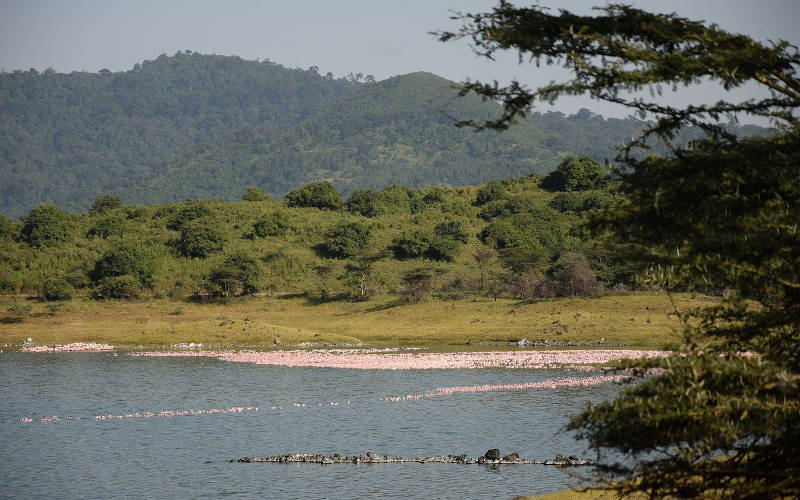 Located 1.5 hours outside Arusha on the foothills of Mt Meru, Africa's 5th highest mountain. Many hikers use this peak to prepare for Kilimanjaro. Arusha National Park's common big game species are giraffe, zebra and buffalo as well as primates in the forest patches. You can also see flamingos, whilst canoeing on the Momella Lakes.
Size: 53 sq miles / 137 km²
Notes: Not a Big 5 park.
Kilimanjaro National Park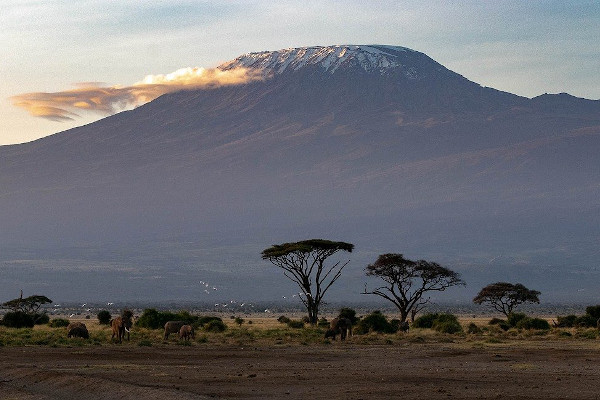 Kilimanjaro is Africa's highest peak (5895m) and attracts hundreds of climbers each year. The park borders Kenya in the Moshi region. Other than climbing Kilimanjaro, visitors can find 140 mammal species here Including elephants, leopards, buffalos, tree hyrax, blue monkeys and black-and-white colobus monkeys
Size: 652 square miles 1688km²
Notes: June-October trails are dry for hiking.
Mkomazi National Park
Mkomazi National Park is 120km east of Moshi and shares boundaries with Tsavo National Park, Kenya. Animals move freely between the countries in the Mkomazi-Tsavo ecosystem. The usually rare gerenuk and oryx are easily sighted here and wild dogs have recently been reintroduced. Mkomazi has the Big 5, rhinos are in a fenced-in area.
Size: 1,256sq miles / 3,254km²
Notes: good sightings with fewer crowds
Southern Tanzania National Parks
Ruaha National Park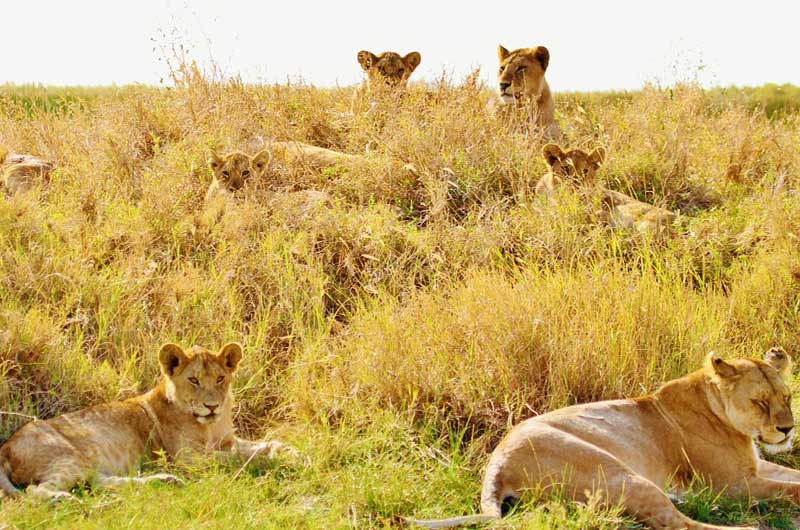 Located in central Tanzania, Ruaha is the second largest national park in East Africa. Home to 10% of the world's lion population and Tanzania's largest elephant population, Ruaha is also one of the best places to see wild dogs and rare striped hyenas.
Size: 7,807sq miles / 20,220km²
Notes: Few tourists but limited and expensive accommodation.
Nyerere National Park (Selous)
Nyerere National Park (formerly Selous Game Reserve) is the largest wilderness area in Africa. Wildlife is abundant and there are few tourists. Some of the 4000 lions can usually be seen on the lake shores and you have a good chance of finding leopards and wild dogs. Boat trips are offered along the Rufiji river to see crocodiles and hippos.
Size: 21,000sq miles / 54,000km²
Notes: Animals spread out over the wet season.
Mikumi National Park
Located 155 miles/250km from Dar es Salaam, Mikumi is often called the 'Little Serengeti". In the dry season, the Mkata floodplains and baobab scattered savannah attract large herds of wildebeest, zebra and buffalo pursued by hyena and lion. The rare Somali giraffe, sable and Lichtenstein's hartebeest are frequently sighted along the park's single road circuit. Circuit.
Size: 1,247sq miles / 3, 230km²
Notes: Good mid-price accommodation.
Kitulo National park
The Serengeti of Flowers, Kitulo National Park has an amazing diversity of plant species including 45 different orchids. Zebra, reedbuck and eland graze the grasslands of the plateau where you can also find Tanzania's only population of Denham's bustards. A new monkey species, the Kipunji, was discovered in these forests. Half-day hikes take you over the Livingstone mountains to Matema Beach on Lake Nyasa.
Size: 160 sq miles/ 413k m²
Notes: No dangerous wildlife.
Katavi National Park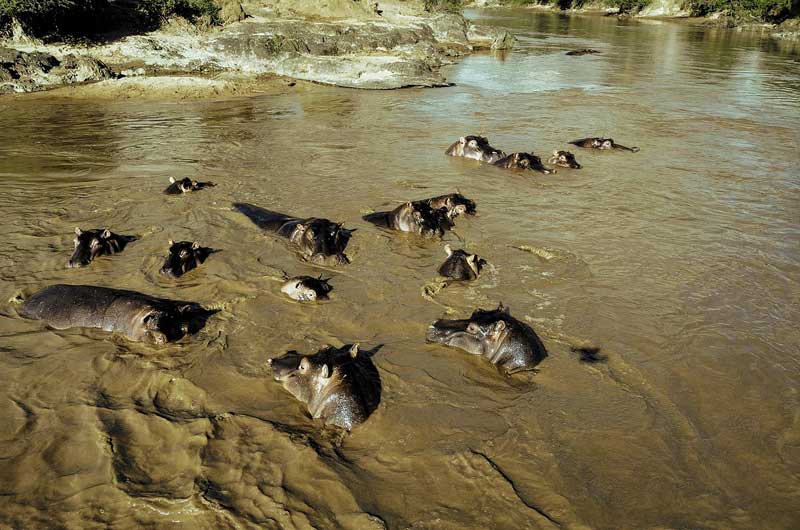 Katavi is extremely remote but worth the effort for its exclusivity and amazing wildlife viewing. Animals congregate at the Katuma River including thousands of buffalo, hippo and rare roan antelope. Katavi has a lot of cheetahs and is the best place to see lion-buffalo interaction. It is often remarked that you will see more predators than people in this park.
Size: 1,730sq miles / 4,500km²
Notes: There are two weekly flights to Katavi from Dar es Salaam.
Udzungwa Mountains National Park
Tucked in Tanzania's Eastern Arc Mountains, Udzungwe has no road network and can only be explored on foot. Options range from short and easy walks to the Lumemo trail, a 6-day camping trek. A popular trail goes to the 170m Sanje waterfall, one of the biggest in Tanzania. The park is a biodiversity hotspot; a quarter of the plants and four primates, including the Sanje mangabey, are endemic.
Size: 770 sq miles / 1, 990 km²
Notes: No dangerous wildlife.
West Tanzania National Parks
Gombe Stream National Park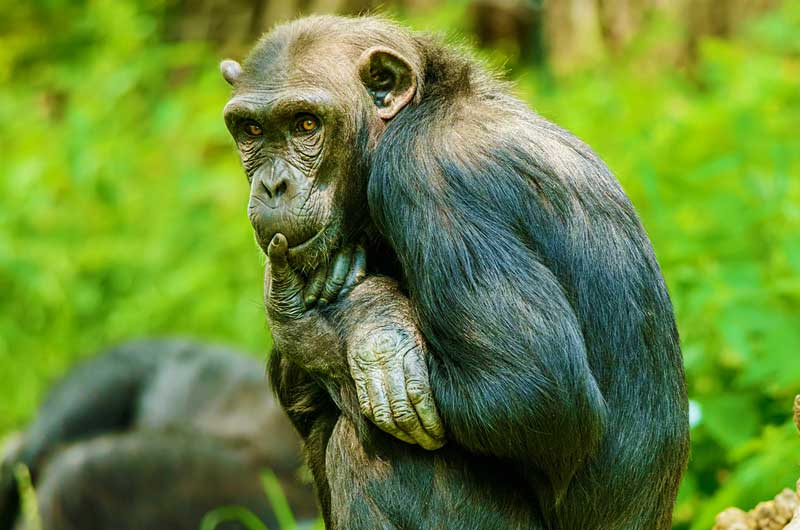 Situated 10 miles from Kigoma by boat across Lake Tanganyika, Gombe Stream is a patch of tropical rainforest, a primate's paradise. The park is famous as the site of Jane Goodall's research and the main attraction is trekking to see chimpanzees. Visitors also swim or snorkel in the lake.
Size: 13.5 square miles / 35 km²
Notes: Never crowded. Takes extra effort to get here.
Mahale Mountains National park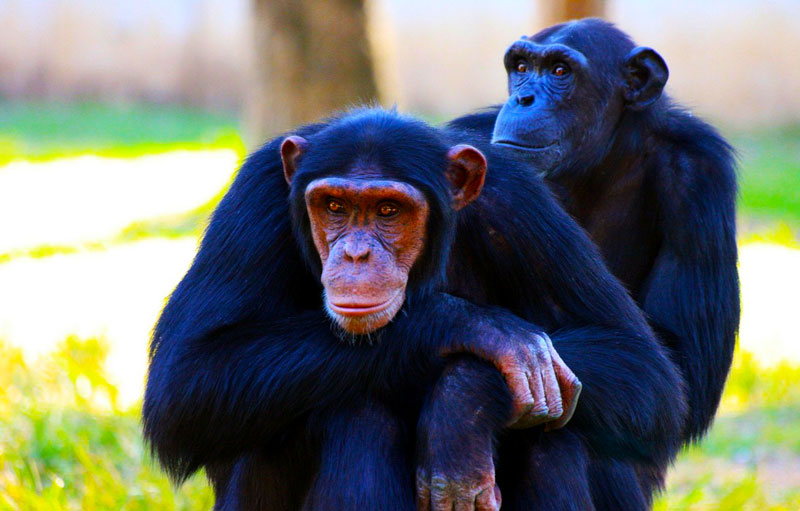 In the extreme west of Tanzania, Mahale Mountains is the largest protected population of eastern chimpanzees. Of the 800 resident chimps, a community of 56 are very habituated to people. Habitats here are mostly rainforest, bamboo forests and grasslands where you will find eight other primate species, including 3 types of galago. Lions and elephants are rarely seen.
Size: 618 sq miles / 1,600 km²
Notes: Never crowded. Accommodation is expensive.
Tanzania's Lesser Known National Parks
Burigi-Chato National Park
In 2019, three-game reserves were combined to create Burigi-Chato National Park. The main attraction here is Lake Burigi, Tanzania's 3rd largest lake. The park's swamps are known for the shoe-billed stork and rare sitatunga antelope. Giant Cape elands are also common here.
Size: 1,817 sq miles / 4,707km²
Notes: Big 5 except Rhinoceros. Only camping available
Rubondo Islands National Park
The island has its own airstrip and you can fly-in or take a boat from Kasenda. 75% of the island is covered by pristine rainforest. Chimpanzees, giraffe elephants and sitatunga were introduced here in the 1960s. Rubondo Island Camp is the only accommodation.
Size: 176 sq miles / 456 km²
Notes: Remote and exclusive.
Saadani National park
Saadani is the only Tanzanian reserve bordering the ocean. It may not be the best park for game viewing but does have elephants and buffalo as well as less common red forest duikers and Roosevelt's sable. The park is a green turtle breeding site and there you may spot humpback whales and dolphins from the coast.
Size: 410sq miles / 1,062 km²
Notes: Closest park to Zanzibar with connected flights.
Saanane Islands National Park
Saanane islands on Lake Victoria is the smallest Tanzanian national park. The islands are 2km southwest of Mwanza city and can be reached by boat. There are zebra and impala here as well as rock hyrax, vervet monkeys and clawless otters. You will also find interesting reptiles including monitor lizards, pancake and leopard tortoises and agama lizards.
Size: 0.84 sq miles / 2.18 km²
Notes: Day visitors can pic-nic, walk or go fishing.