Mount Kilimanjaro is Africa's highest mountain and one of the world's most iconic peaks.
In this extensive Mount Kilimanjaro facts article we have tried to distill the most interesting and fun facts about this famous mountain and the people who trek it.
We encourage you to use the quicklinks below to help you navigate to the Mount Kilimanjaro facts that are most interesting to you.
Please note: if you are planning to hike Kilimanjaro and want to read some excellent guides and books about the mountain, we recommend either getting Henry Stedman's comprehensive guidebook called Kilimanjaro: The Trekking Guide to Africa's Highest Mountain or our very own editor's guidebook, Mount Kilimanjaro: Trekkers Guide to the Summit. If you looking for something a little more entertaining then we recommend checking out these true life stories from Kilimanjaro trekkers.
Quicklinks:
Mount Kilimanjaro Facts
Geography and Altitude
Mount Kilimanjaro is situated in the Northern part of Tanzania, in the Kilimanjaro National Park. It covers an area of 100 kilometers long and 65 kilometers wide.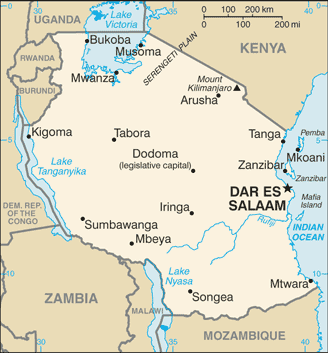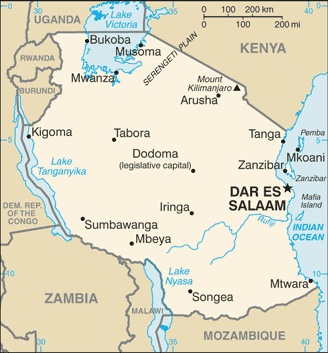 The mountain is a dormant volcano which is comprised of three volcanic cones, Shira, Kibo (on which Uhuru summit stands) and Mawenzi.
Kibo is classified as dormant but not extinct. The last major eruption from Kibo occurred 360,000 years ago. The last volcanic activity happened 200 years ago and resulted in today's ash pit (visible from Uhuru Peak)


Mount Kilimanjaro is the highest mountain in Africa and the highest free standing mountain in the world. By free-standing, or non-massif, we mean it is not part of a mountain range.
The summit on Mount Kilimanjaro is called Uhuru Peak and stands at 5,895m or 19,341 feet. To put this in perspective, Mount Everest, stands at 8,848 meters (29,029 feet) – just over 2,950 meters higher.
But here's an interesting Kilimanjaro Fact: Both Everest Base Camp's – South and North – are below the summit of Kilimanjaro; however, most climbers take upwards of 8-10 days to reach EBC.
On Kilimanjaro trekkers on fast routes reach the summit within 4-5 days. The rapid ascent of Mount Kilimanjaro makes it a difficult and rather dangerous mountain to hike due to the risks of Altitude Sickness.
As the highest mountain in Africa, Mount Kilimanjaro makes up one of the Seven Summits (i.e. highest mountains on each of the seven continents). The other mountains on the Seven Summit circuit are:
Mount Everest – Asia – First ascent 1953 – 8,848 meters
Aconcagua – South America – First ascent 1897 – 6,961 meters
Mount McKinley – North America – First ascent 1913 – 6,194 meters
Mount Kilimanjaro – Africa – First ascent 1889 – 5,895 meters
Mount Elbrus – Europe – First ascent 1874 – 5,642 meters
Mount Vinson – Antarctica – First ascent 1966 – 4,892 meters
Mount Kosciuszko – Australia – First ascent 1840 – 2,228 meters
Here is a chart that shows the relative heights of the Seven Summits in relation to the 14 highest peaks of the Himalaya.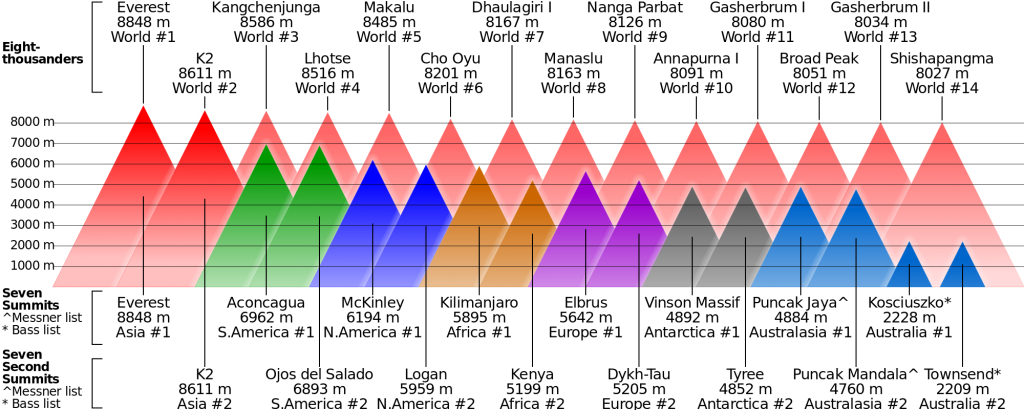 Weather and Climate Change
Weather
Kilimanjaro's weather is heavily influenced by the interaction of trade winds with the structure of the mountain.
The South-east trade winds travelling over the Indian Ocean carry loads of moisture. When they hit Kilimanjaro, around March, then are forced upwards where they condense, form clouds and precipitation. This means March through to May is the wettest season on Kilimanjaro.
Anti-trade winds from the North-east carry very little moisture but blow strongly. The strength of these winds which last from April through to October keep the South-east trade winds below them, hence these months are usually dry and cloud cover and precipitation is generally restricted to the lower slopes.
The North-east monsoon arrives in November and brings some light rains to the northern slopes of Kilimanjaro.
March, April and November are the wettest months on Kilimanjaro. January-March and June-October are the best months for trekking. Snow fall and cold temperatures are common during December-May.
The chart below shows average snowfall in cm on the summit of Kilimanjaro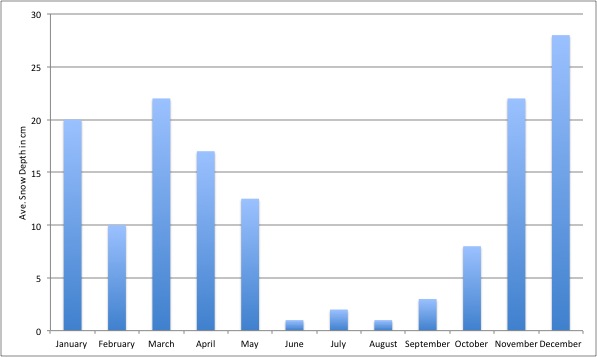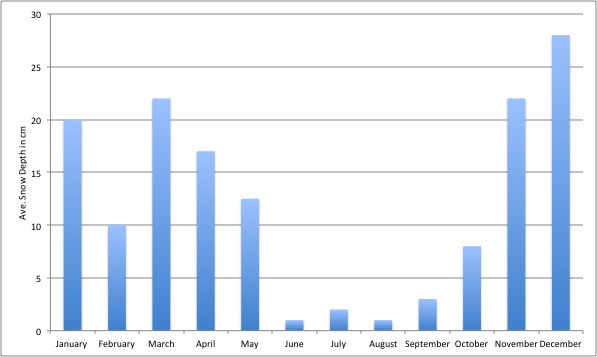 See here for detailed information on Kilimanjaro weather.
Climate Change
There is scientific consensus that Kilimanjaro's glaciers have been rapidly receding for the past century, and that human-induced climate is largely to blame.
At one stage the whole mountain summit was covered by an ice cap, probably more than 100 meters deep. However, since 1912 Kilimanjaro has lost 82% of its ice cap and since 1962 it has lost 55% of its remaining glaciers.
If the present rate of recession continues the majority of the glaciers on Kilimanjaro could vanish altogether.
This article on climate change and Kilimanjaro gives a good overview.
Routes
There are six official Kilimanjaro routes. Three routes – Machame, Umbwe, and Marangu – approach from the South, two routes – Shira and Lemosho – from the west and Rongai approaches from the North-East. The Northern Circuit is a seventh route option that approaches from the West using the Lemosho start point, but then circles around the north of Kilimanjaro and follows a summit assault passage via Gilman's Point.
In total there are three summit assualt passages. The first approaches the summit from the south via Stella Point, the second approaches from the East via Gilman's Point and the 3rd approach uses the Western Breach, which is more technically challenging.
The Mweka route is used for descent only.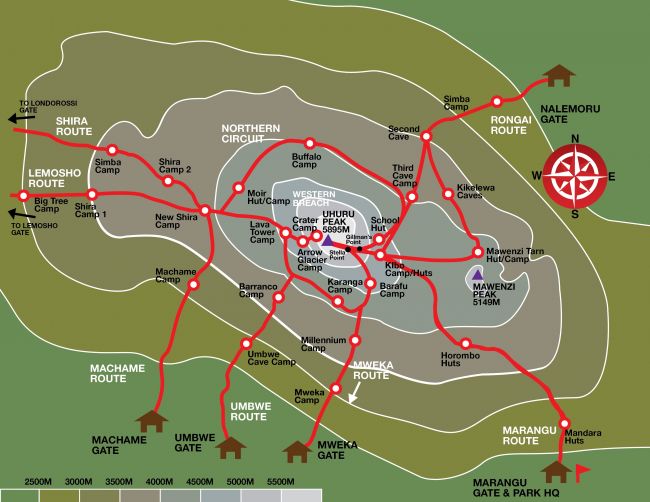 Kilimanjaro Trekkers
Approx. 35,000 people attempt to climb Kilimanjaro every year
Summit Success Rates
The chances of reaching the summit of Kilimanjaro is highly dependent on the number of days taken to trek the mountain.
The more days the higher the probability of success as your body has more time to adapt and acclimatize.
Here are the success rate figures as published by the Kilimanjaro National Park. These numbers are admittedly quite old and success rates are most likely higher as route configurations have improved and the number of people taking 5 day treks has plateaued.
All climbers, all routes 45%
All climbers, all 5 day routes 27%
All climbers, all 6 day routes 44%
All climbers, all 7 days routes 64%
All climbers, all 8 day routes 85%
Insight from two reputable tour operators that we work with shows that success rates are over 85% for all the trekkers they take up Mount Kilimanjaro.
Annual Deaths
Many conflicting figures are banded around on the number of people who die on Kilimanjaro each year.
Based on research from a number of reliable sources, we estimate between 3-7 deaths a year. Deaths on the mountain occur due to various reasons including AMS (such as HACE and HAPE), falls, and hypothermia.
Sometimes porters die due to the onset of malaria whilst on the trek.

Amazing Kilimanjaro Records
First Ascent
German geologist, Hans Meyer, Ludwig Purtscheller and a local called Lauwo were the first people to summit Mount Kilimanjaro in October 1889.
However, it is possible that Kilimanjaro's summit was reached by locals prior to Hans Meyer, but was never recorded.
Fastest Ascent
The fastest ascent and descent of Mount Kilimanjaro is held by Swiss mountain runner, Karl Egloff, who ran to the top the summit and back in 6 hours and 42 minutes in August 2014. This incredible feat beat the previous record which was help by Spanish mountain runner, Kilian Jornet and set in September 2010. At the time, the Spaniard was 22 years old. He reached the summit in a record time of 5 hours, 23 minutes and 50 seconds – beating the previous ascent record from Kazakh mountain runner, Andrew Puchinin, by one minute! He then ran back down for a total round-trip time of 7 hours and 14 minutes, beating the previous round-trip record set by local Tanzanian guide Simon Mtuy of 9 hours and 21 minutes!
Check out this awesome video of Kilian Jornet's record ascent of Kilimanjaro.
The fastest ascent by a women is held by German born Anne-Marie Flammersfeld, who in July 2015 climbed to the top of Mount Kilimanjaro in 8 Hrs 32 Minutes, smashing the previous record held by Becky Shuttleworth by over 3 hours. In total it took Flammersfeld 12 hours 58 minutes to ascend and descend, breaking the record 18 hour 31 minute record set by Debbie Bachmann. Read more about Anne-Marie's record here.
Youngest and Oldest People to Successfully Summit Kilimanjaro
The youngest person to reach the summit of Kilimanjaro is Keats Boyd, at the tender age of 7 years old. The Los Angeles resident reached the summit on the 21st January 2008 – an incredible achievement made even more impressive as he somehow managed to dodge the minimum age rule for young climbers (i.e. 10 years or older).
The youngest British person ever to climb Kilimanjaro is Zain Akrim at 9 years of age on the 8th of August, 2015.
Richard Byerley was 'officially' the oldest person to reach the summit of Kilimanjaro. Byerley reached the summit in October 2010 at the ripe old age of 84 years and 71 days. However, his record was incredibly surpassed by Martin Kafer (85) and his wife Esther (84) in October 2012. The Canadian-Swiss couple now hold the record as the oldest man and oldest women to climb Kilimanjaro. Esther's achievement surpassed the previous oldest woman to reach the summit, Bernice Bunn, who climbed to the Roof of Africa at age 83.
Update: Robert Wheeler has now become the oldest person to climb Mount Kilimanjaro at age 85 and 201 days. He reached the summit on 2nd October 2014. Read about his incredible feat here.
Update: Angela Vorobeva (Russia, b. 4 February 1929) has now become the oldest person and women to reach the summit of Mt. Kilimanjaro, aged 86 years 267 days, on 29 October 2015.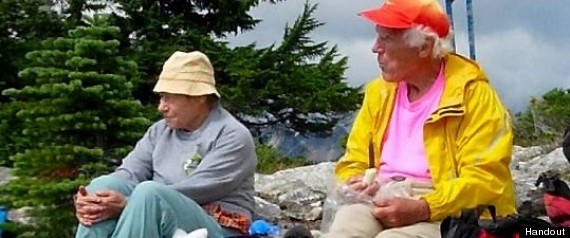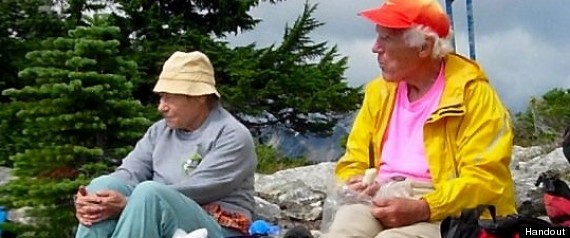 Nonetheless, there is some controversy around who is the oldest person to have reached the summit. Frenchman, Valtee Daniel, reached the summit at the age of 87; however, the climb was not independently verified and did not have sufficient documentation to be verified (i.e. logbook notes, photographs and film).
Incredible Ascents by Disabled People
Wheelchair-bound South African, Bernard Goosen, scaled Mount Kilimanjaro in 2007, taking six days.
Kyle Maynard, who has no arms and legs, crawled unassisted to the top of Kilimanjaro in 2012. Watch this documentary about Kyle and his Kilimanjaro achievement – it's amazing!!

Other Interesting Kilimanjaro Facts
Highest Cricket Match
In September 2014, 30 cricket players and official climbed to the top of Kilimanjaro and then descended to Crater Camp to play the highest game of cricket ever recorded. The previous record was held near Everest Base Camp in 2009.
Read about the highest cricket match here.


Team Building for Tour de France Cyclists
In October 2014, the Russian-backed Tour de France team, Tinkoff-Saxo, climbed to the top of Kilimanjaro. Cycling stars Alberto Contador and Peter Sagan were part of the team that reached the summit.
Read more about their trek here.

Highest Pizza Delivery
In May 2016, Pizza Hut set an official Guinness World Record by delivering the highest altitude pizza to the top of Kilimanjaro.
Read more about their trek and record here.
Africa's Tallest Tree Discovered on Kilimanjaro
Measuring an almighty 81.5m in height, Africa's tallest tree was discovered on Mount Kilimanjaro in 2016. The tree is of the Entandrophragma Excelsum species and could be up to 600 years old!
Read more about the finding here.
Highest Football Match
In June 2017 a group of 30 female footballers from 20 nations played the highest game of soccer on record. The game was played in Kilimanjaro's volcanic pit and lasted a full 90 minutes. An incredible achievement!
Read more about the amazing record click here.
Golf on Kilimanjaro
A number of trekkers over the past few years have hit golf shots off the summit of Kilimanjaro into the crater. We're not sure who was the first to play golf on Kilimanjaro, but here is a Youtube video from 2010 that's quite entertaining.
FAQ
Still have questions about these Kilimanjaro facts, or want to add some more facts to this page? Leave a comment below and we will respond within 24hours.