The image above shows a Mt Kilimanjaro glacier from the summit, March 2013
The approach to the summit at Uhuru Peak (5,895m) is surrounded by incredible glaciers.
This particular glacier sits just south of Uhuru Peak and is enormous in size.
Mt Kilimanjaro glaciers have however been receding due to climate change. Evidence of glacier retreat can be seen as one ascends to Barafu Camp.
Mt Kilimanjaro Glacier
Glaciers on Mt Kilimanjaro are a key geographic feature. It is very likely that at one stage the whole whole mountain summit was covered by an ice cap. According to scientists this ice cap was probably more than 100 meters deep. That's the size of a 40 story building – massive!!
Since 1912 Mt Kilimanjaro has lost 82% of its ice cap and since 1962 it has lost 55% of its remaining glaciers. The recession of the glaciers can be clearly seen as you ascend from Karanga to Barafu.
Massive dark glacier scree features extend from the top to over a 1,000 meters down the mountain. The size of these glaciers must have been incredible to behold
According to climatologists and glacial scientists, if the present rate of recession continues the majority of the glaciers on Kilimanjaro could vanish altogether.
This is a major environmental catastrophe as the mountain ecosystem is highly dependent on the glacial melt that brings water to the lower reaches of the mountain.
Not only does recession of glaciers impact the entire mountain ecosystem, but also people's livelihoods in the villages that live in the shadow of Kilimanjaro.
You can read more about climate change and Kilimanjaro here.
Here are some Mt Kilimanjaro Glacier pictures
Mt Kilimanjaro Glacier pictures
A massive glacier as seen from the North East side of Uhuru Peak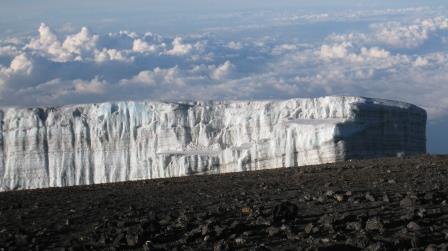 Another large Mt Kilimanjaro Glacier, this time from the South.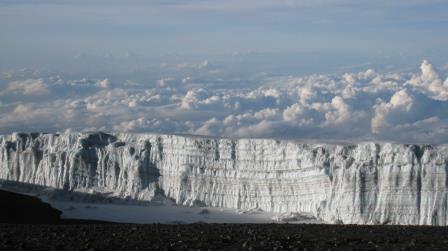 Haven't booked your Kilimanjaro hike yet and looking for the best and most affordable Kilimanjaro Tours – click here for recommendations.
You can also find a complete Kilimanjaro gear packing list here.
Recommended Gear for your Kili Adventure
A headlamp is the best torch for night hiking as you can have your hands free at all times. You will use your headlamp on summit night (yes, you summit over night, starting usually around midnight). There are many different types of headlamps on the market, some cheaper than others. We recommend going mid-range in terms of price. Make sure the headlamp is light and uses LEDs as these last much longer and are less susceptible to blowing. Headlamps from Petzl Tikka  are market leaders and provide the best value for money.