Tanzania has a wide range of resorts, safari lodges and tented camps that offer travellers comfort, luxury and accessibility to popular attractions. Tanzania resorts safari means a lot of things – but whether you are searching for wildlife in the national parks or sunbathing on the white, sandy beaches of Zanzibar, there is accommodation nearby where you can unwind and enjoy a delicious meal after a hard day's adventures.
In this article
Arusha National Park: Arusha Coffee Lodge, Arusha Serena Hotel
Serengeti National Park: Four Seasons, Mwiba Lodge, Singita Grumeti, Asilia Sayari Camp, Nasikia Tented Camps, Mobile Tented Camps (Legendary Serengeti Mobile Camp, AndBeyond Serengeti Under Canvas)
Tarangire National Park: Sanctuary Swala, Little Chem Chem and Forest Chem Chem, Elewana Tarangire Treetops
Lake Manyara: AndBeyond Lake Manyara Tree Lodge, Chem Chem Lodge, Lake Manyara Kilimamoja Lodge
Ngorongoro Crater: Ngorongoro Crater Lodge, Highlands Ngorongoro, Sanctuary Ngorongoro Crater Camp
Ruaha National Park: Asilia Jabali Ridge, Jongomero Camp
Selous Game Reserve: Sand Rivers Selous, Retreat Selous,
Tanzania's Western National Parks: Mbali Mbali Gombe Lodge, Chada Katavi Camp, Greystoke Mahale
Zanzibar Resorts
Resorts on Other Islands

Arusha National Park
Arusha is Tanzania's Safari Capital which makes the lodges and resorts here ideal to stay at before or after your safari.
Arusha Coffee Lodge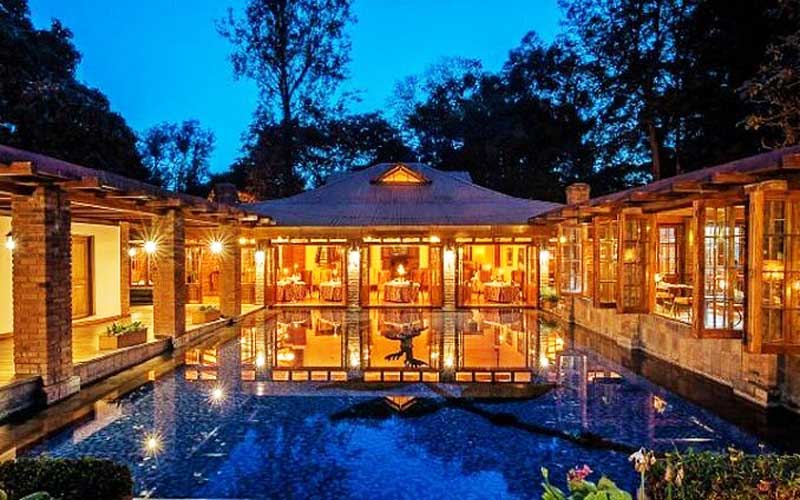 A 4-star hotel set on the outskirts of Arusha amongst lush coffee plantations. The plantation house is the main lodge with 30 separate terraced cottages. Take a tour of the surrounding coffee farms and enjoy tastings of local brews or sip a cup back at the lodge's own bistro.
Arusha Serena Hotel Resort and Spa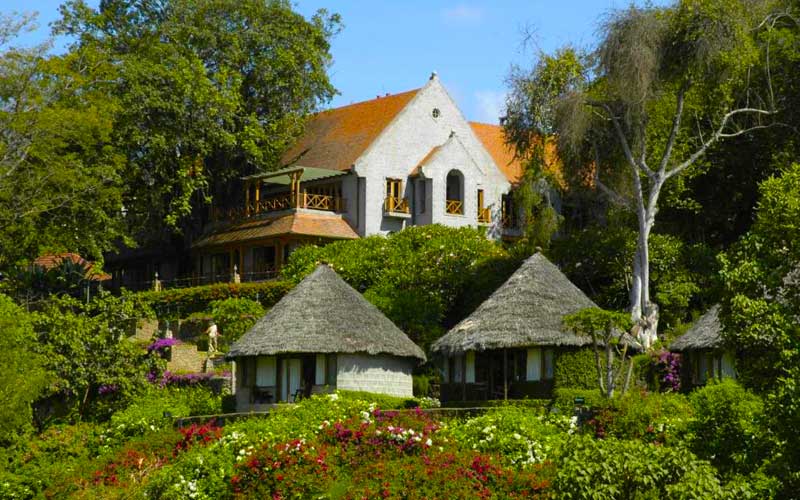 A 4-star hotel in the style of a colonial coffee farmhouse set on the slopes of Mount Meru on the edge of Lake Duluti. The lodge is 12miles/ 20km from Arusha and 37 miles/ 60km from Kilimanjaro International Airport. There are 42 guest cottages clustered in the beautifully landscaped gardens.
Serengeti National Park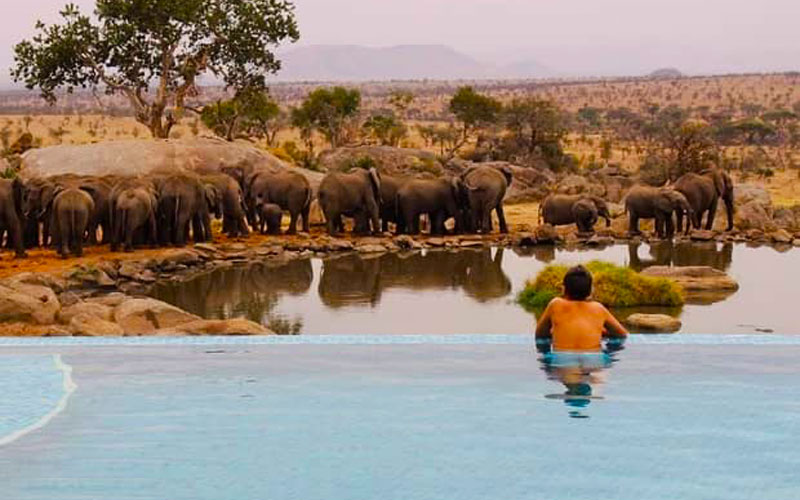 5-star luxury lodge in the central Serengeti. The modern but classic double-storey building has 77 rooms with views over waterholes and the open plains. There are 5 free-standing villas with their own pools. Four Seasons Serengeti is known for exceptional service and fine dining experiences.
Mwiba Lodge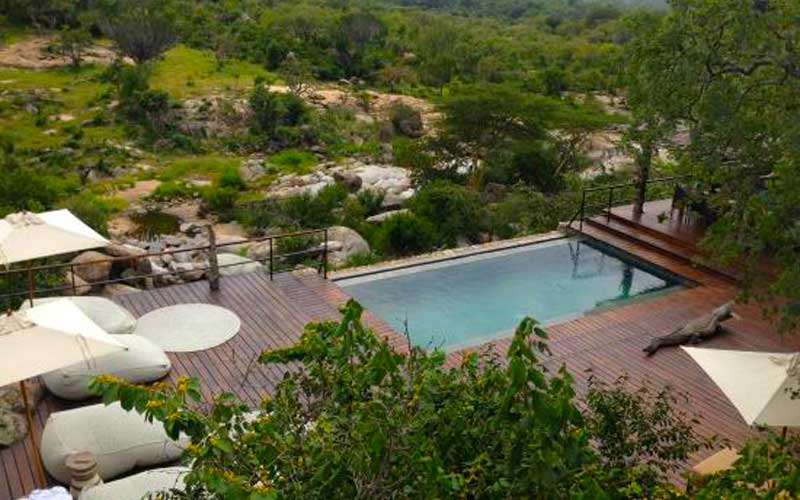 A luxury lodge in a private concession area of the southern Serengeti. The lodge is surrounded by coral and acacia trees. There are 10 tented suites, including two pairs that connect forming family suites, overlooking a rocky gorge on the Arugusinyai River. Mwiba is close to the wildebeest calving grounds (January-March).
Singita Grumeti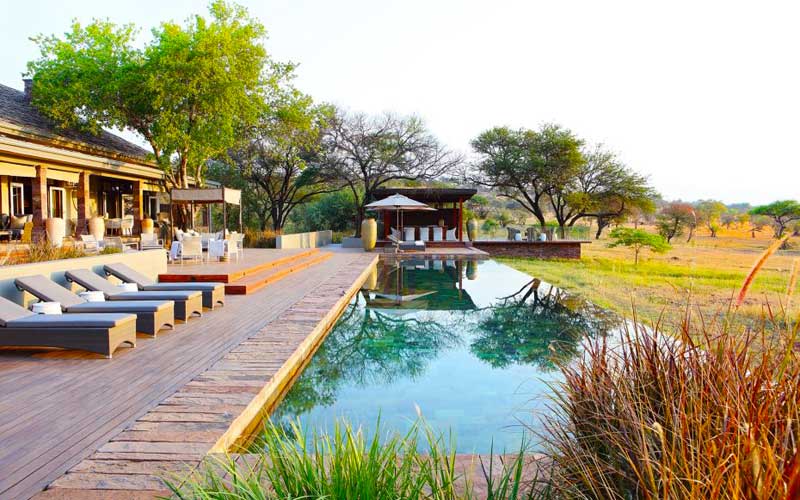 Situated in Grumeti Private Reserve in the Western Corridor of Serengeti National Park, Singita's exclusive accommodation all offer top-class luxury and service and boast their own fitness centres, pools and spas.
Faru Faru Lodge- 9 private suites in front of a busy waterhole beside the Grumeti River.
Sasakwa Lodge– An Edwardian style manor house with 10 private cottages plus a hillside suite with its own pool and butler.
Sabora Camp– 9 luxury tented suites with views over the camp's private water holes.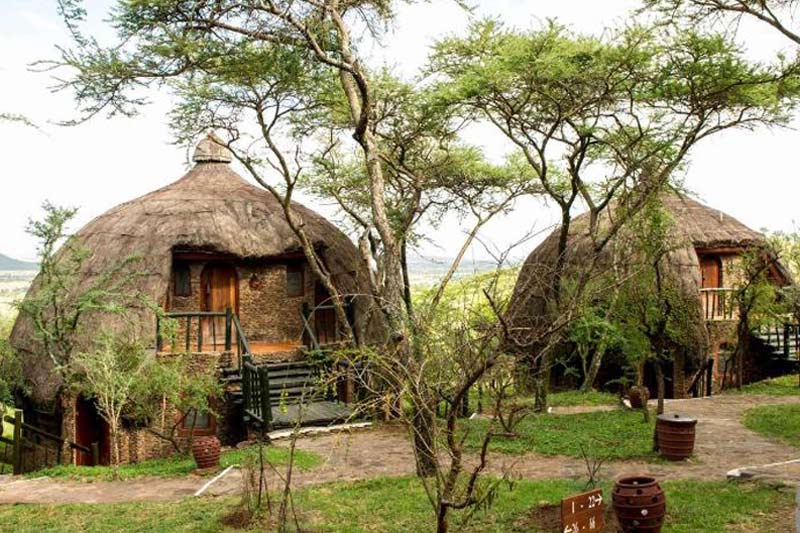 Located in the Kyabatero Hills, northwest of Seronera and adjacent to the famous Western Corridor and Grumeti River. The lodge is also situated close to the world-famous birthplace of mankind, the site of the Olduvai Gorge.
It is set on a hill with the rolling Serengeti plains below, offering you a front-row seat of the incredible annual Wildebeest migration. The grounds are cooled by the groves of acacia trees and watered by many sparkling streams.
Asilia Sayari Camp
A luxury tented camp with 15 spacious suites in northern Serengeti. Located close to the Mara River, it is an ideal area to watch the migration and river crossings between June and October. The camp is closed during April and May.
Nasikia Tented Camps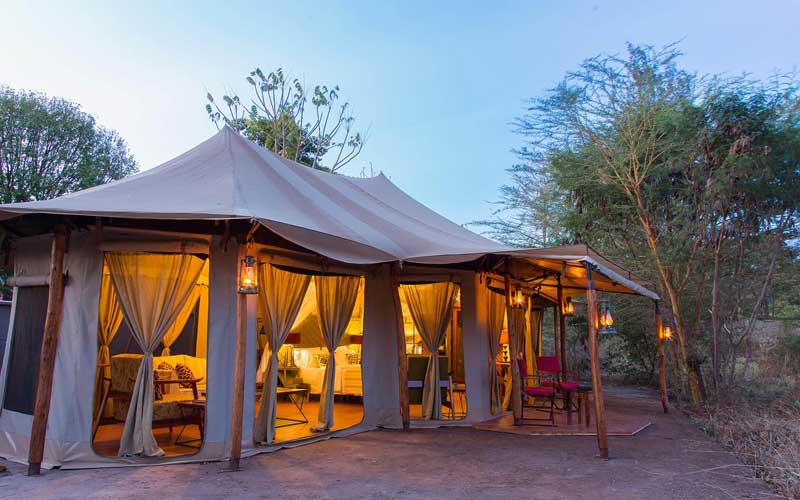 Kaskaz Mara – Ten tented suites in the northern Serengeti close to the Kogatende Airstrip. The Mara river is nearby so there is an opportunity to see migration river crossings between June-October. Guests can go on walking safaris with armed guards or take a hot air balloon ride.
Ehlane Plains Camp – (pictured) luxury tented camp Eastern Serengeti 8 tents with views of the serengeti plains include one family suite. Two tents are open rooftop 'star domes'. The Ehlane Plains closes over April and May.
Mobile Tented Camps
Mobile camps follow the herds of migrating wildebeests. Generally, they are located as follows:
North Serengeti (July-November)
West Serengeti (May-July)
South Serengeti (December-April)
Legendary Serengeti Mobile Camp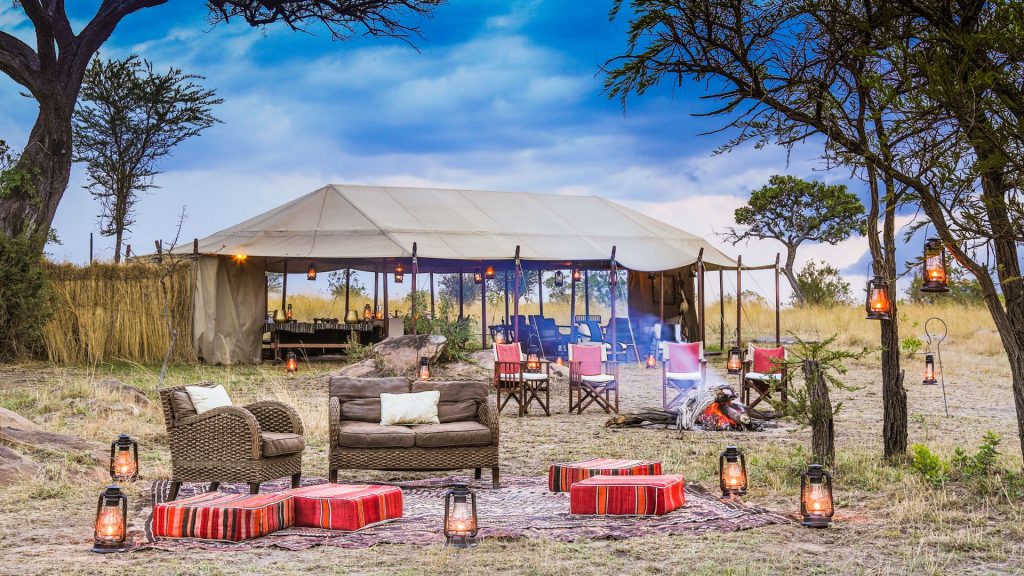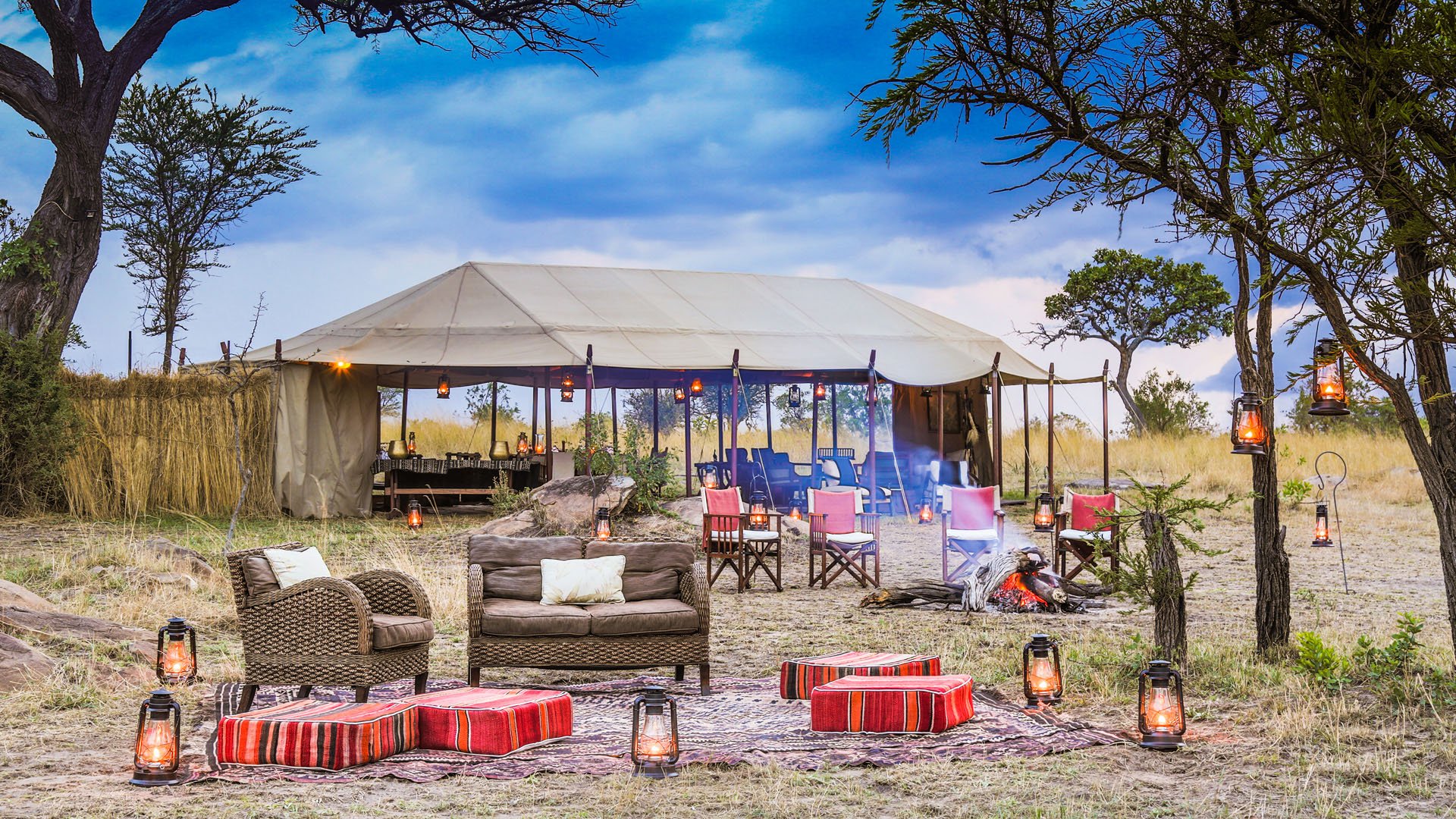 Legendary Serengeti Mobile Camp has 11 luxury tents split between 2 sections with independent dining and lounge areas. Location changes between 3 different areas.
andBeyond Serengeti Under Canvas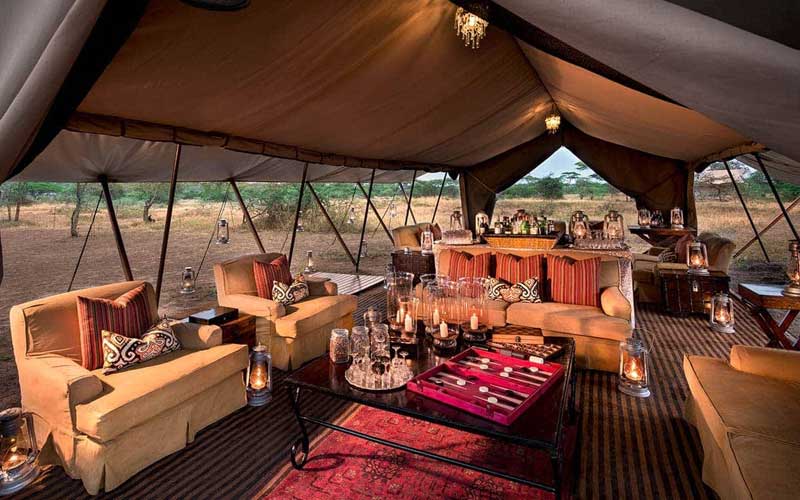 andBeyond Serengeti Under Canvas is a luxury tented camp that moves between 5 locations across the Serengeti. There are 9 safari tents and 1 family tent per camp.
Tarangire National Park
Sanctuary Swala Camp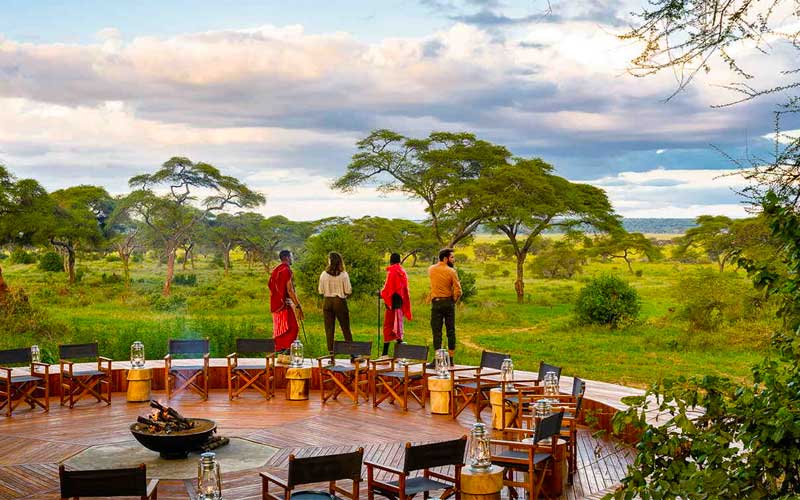 A tented camp with 12 luxurious canvas pavilions between acacia trees in a secluded part of Tarangire National Park. The camp strives for eco-friendly practices and a low-carbon footprint.
Little Chem Chem and Forest Chem Chem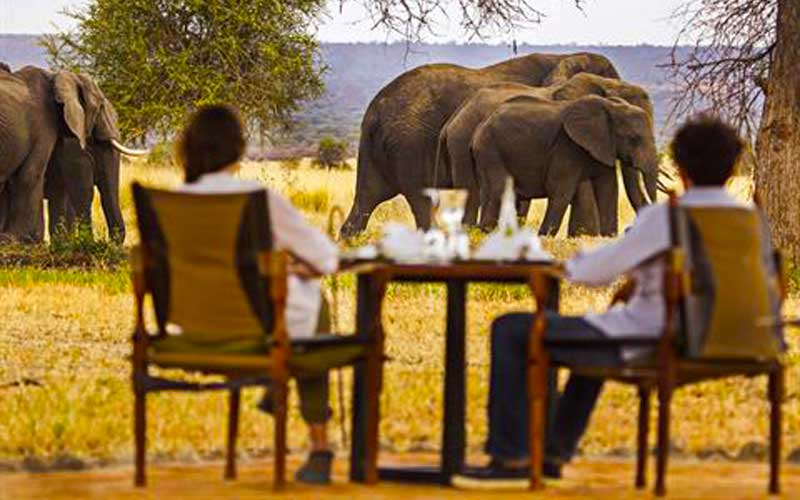 Luxury tented camps are set on the 16, 000ha concession area adjoining Tarangire and overlooking Lake Burunge. Little Chem Chem has 6 classic safari tents while Forest Chem Chem is even smaller with 3 standard and 1 family tent.
Elewana Tarangire Treetops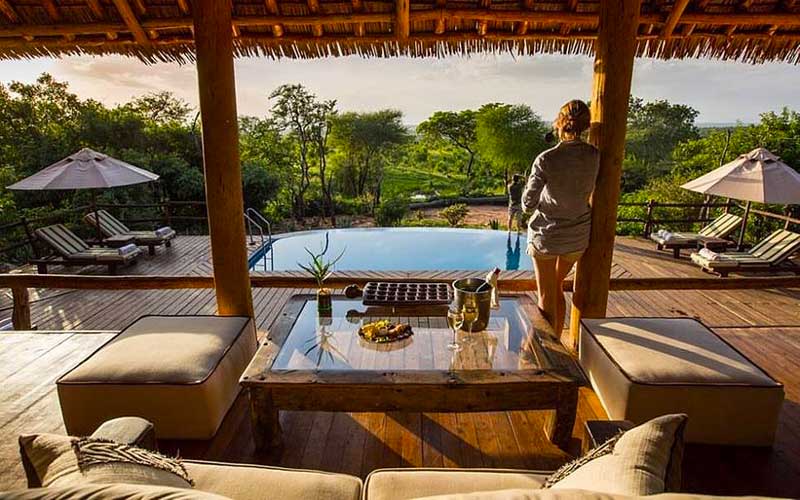 A 5-star lodge with 20 stilted suites just to the east of Tarangire National Park on an elephant migration route and within a game area. The main lodge is built around a baobab tree.
Lake Manyara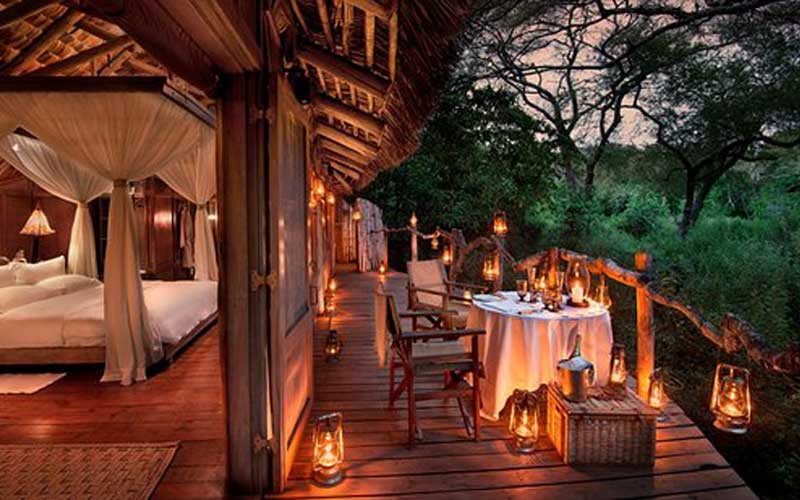 A luxury lodge with 10 tree house style stilted cottages amongst the branches of ancient mahogany trees. Neutral tones and minimalist furnishings give an elegant feel to the lodge. Guests can walk on a special canopy walkway or go for a night safari.
Chem Chem Lodge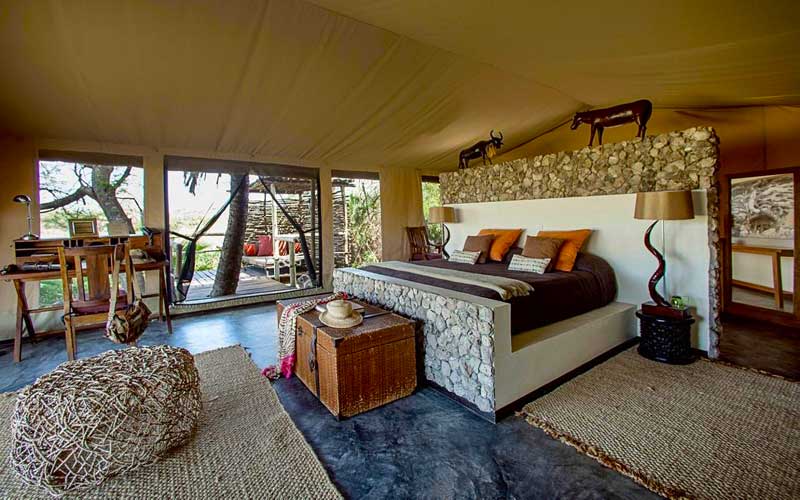 A boutique luxury lodge, known as Sunset-Lodge, with 8 exclusive tented suites on the eastern shores of Lake Manyara. The lake is a paradise for bird watching or to re-awaken your inner hunter on a jog with a Masai warrior.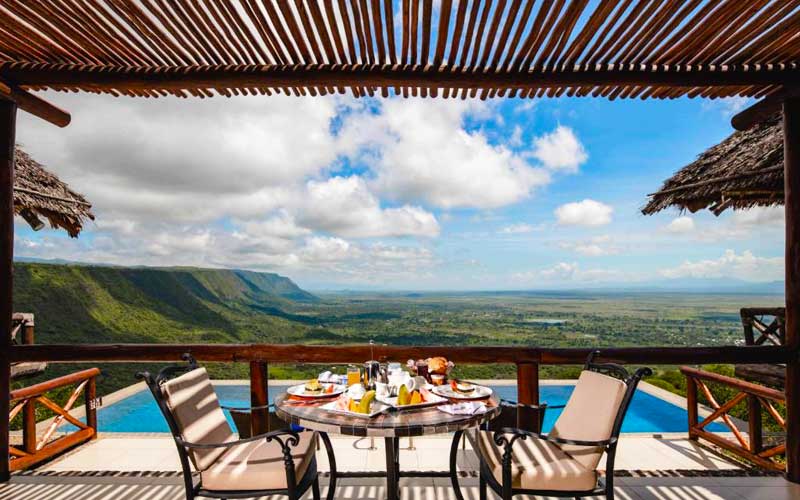 A Classic-meets-Africa style luxury safari lodge with 50 free-standing thatched-roof suites and two villas. The lodge has views over Lake Manyara and The Great Rift Valley, walking distance to local villages and a 15-min drive from Lake Manyara National Park.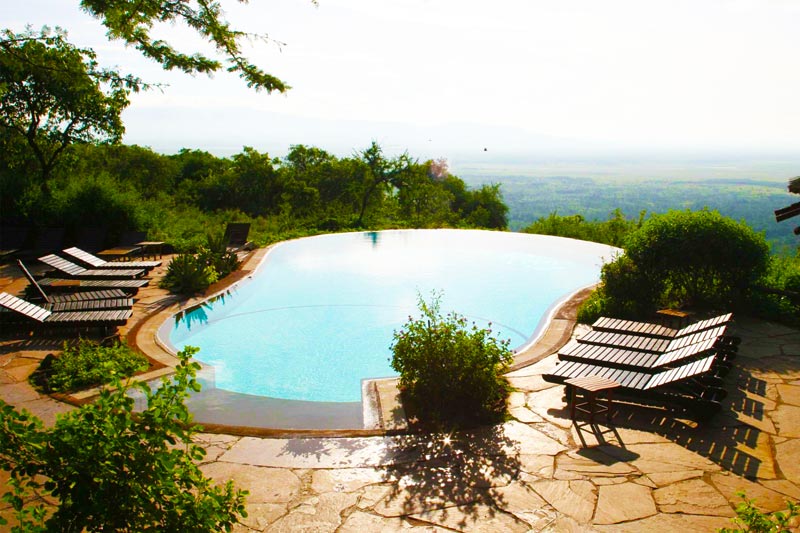 Perched on the cliffs of the Mto Wa Mbu escarpment, Lake Manyara Serena Safari Lodge is set around an infinity pool with its edges disappearing into the horizon. The traditional rondavel style accommodation and authentic Masaai culture-inspired décor provide a unique safari experience. For an extra touch of class, the lodge also offers the luxurious Losimingori Suite.
Ngorongoro Crater Reservation Area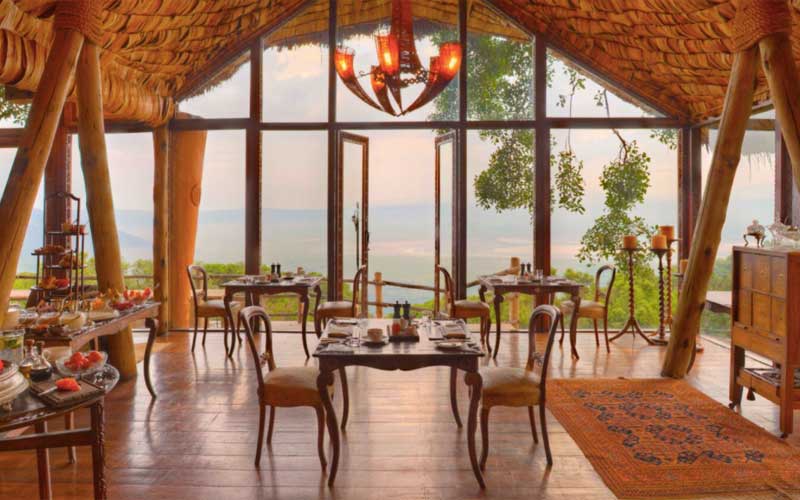 A luxury hotel with 3 camps and 30 Maasai-style stilted mud and stick manyattas. African art, Victorian furniture and an abundance of roses create unique, quirky interiors. With food and service that surpasses expectations, this is rated as one of Africa's top lodges.
The Highlands Ngorongoro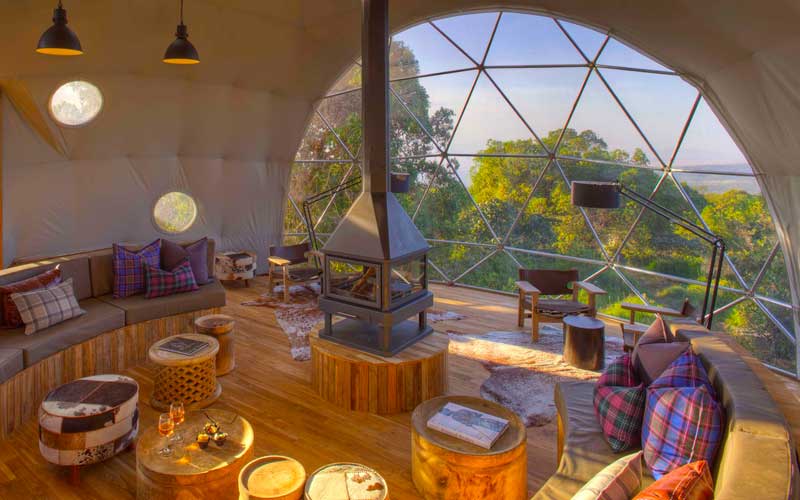 Afilias luxury lodge on the forest edge of Olmoti Volcano to the north of Ngorongoro Crater. Eight glass-panelled, dome suites sit on raised platforms to maximise views. Close enough for a day trip into the crater, guests can also hike up the volcano.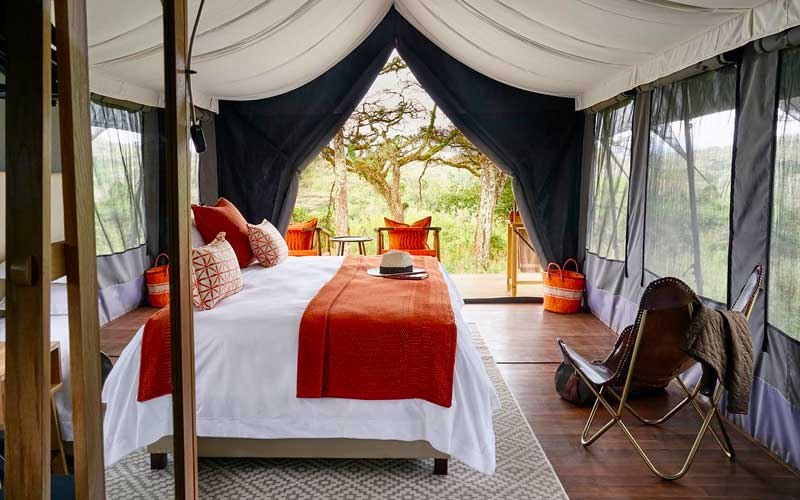 A luxury camp on the rim of Ngorongoro crater with 10 classic safari tents and a common dining area, bar and lounge. The camp is close to the access road into the crater, perfect for early morning drives.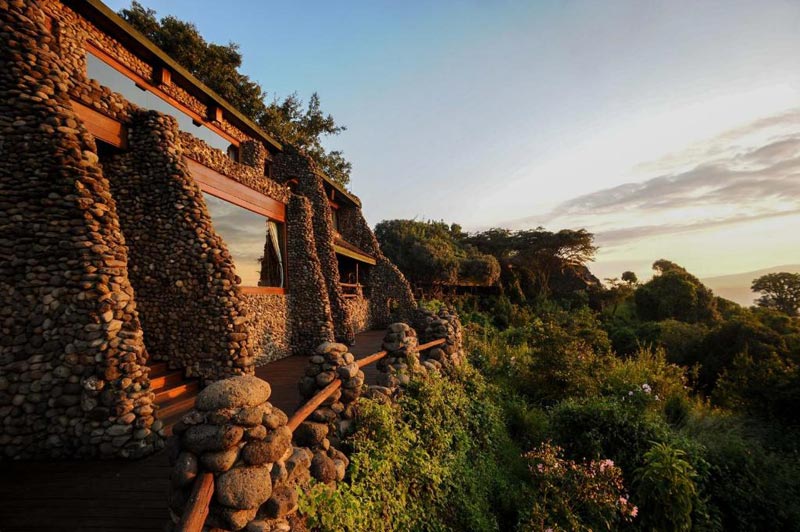 The lodge is a triumph of engineering and ecological fusion. Rooms are strung out along the Crater Edge, with their own private balconies. Guests can lie in bed at night and watch in awe as the Milky Way dances above the depths of the crater below, bursting at the seams with wildlife.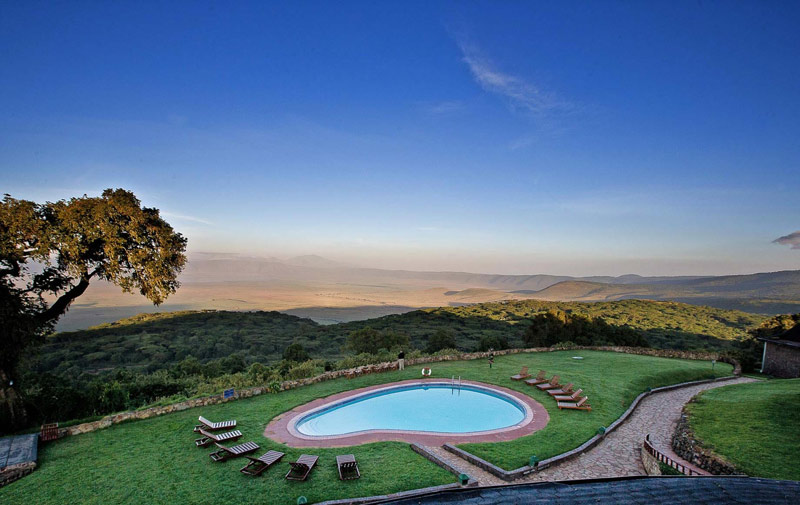 Built at a height of over 500 m above the crater floor, the lodge boasts some of the best views in Tanzania. A standout for guests is the size of the rooms at Ngorongoro Sopa Lodge, which are more like suites. The guest rooms lead onto the swimming pool via paved pathways lined with brightly coloured flora.
Ruaha National Park
Asilia Jabali Ridge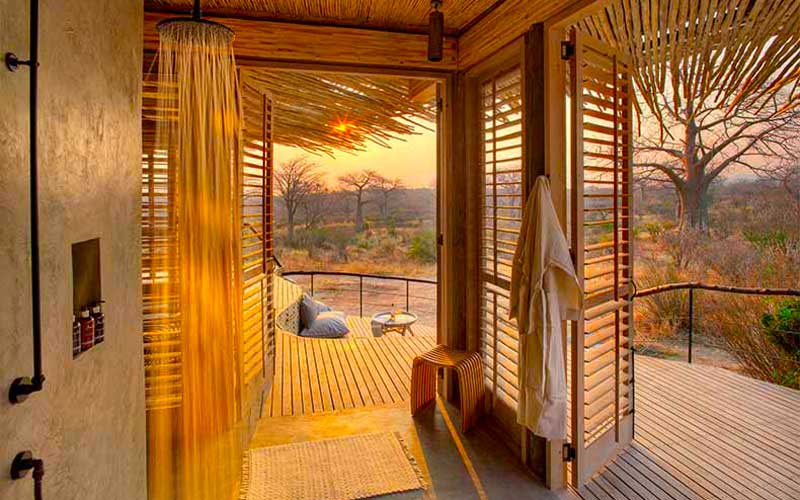 A secluded luxury lodge set amongst granite boulders on a ridge overlooking the baobab dotted plains of Ruaha National Park. The main lodge and 8 spacious rooms are designed for comfort with understated elegance.
Jongomero Camp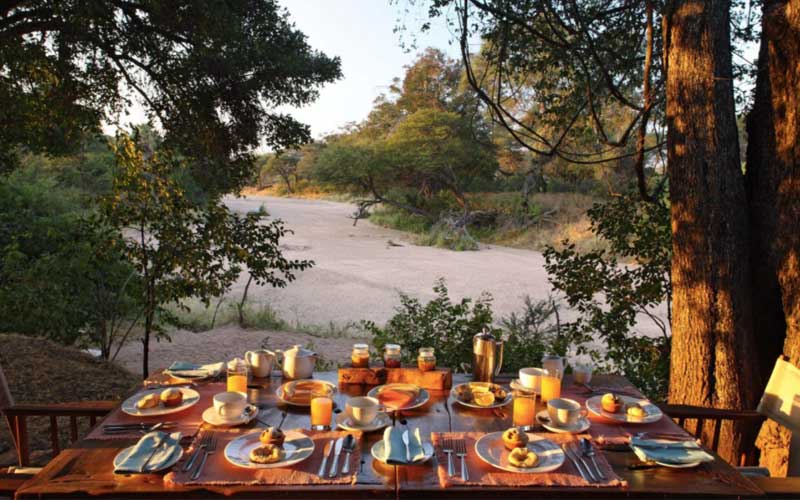 An exclusive safari lodge with 8 tented suites in the extremely remote southern part of Ruaha on the banks of a seasonal river. This is considered one of the best remote lodges in Tanzania. For the adventurous, fly camping is possible.
Selous Game Reserve – Nyere National Park
Sand Rivers Selous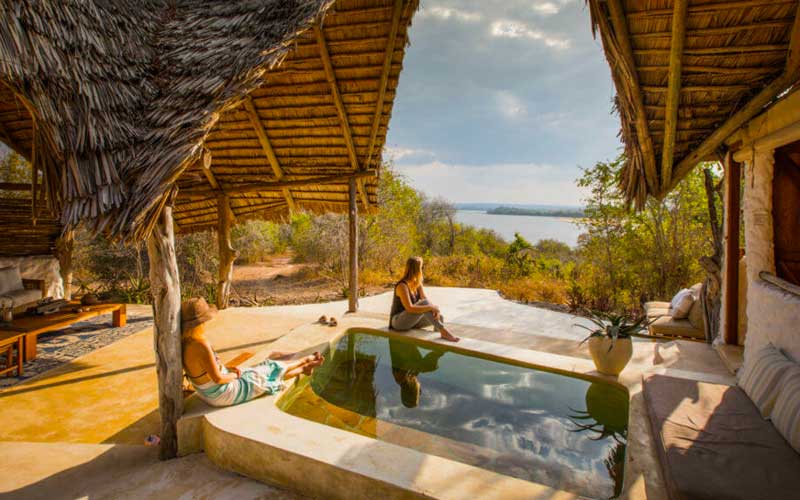 Nomad's lodge on the banks of the Rufiji River where big cats, crocodiles and hippos are plentiful in one of the world's largest game reserves. There are 5 riverside rooms and 3 hillside suites each with living areas and private plunge pools
The Retreat Selous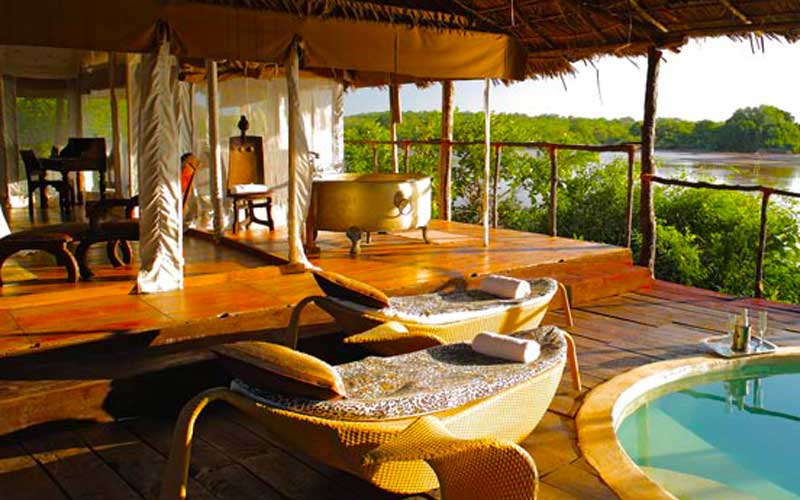 Luxury tented lodge with 12 exclusive suites located in the southern part of the Selous Game Reserve. The main house 'the Fort', historically a military lookout point from World War 1, has an infinity pool and 365-degree views of the untouched wilderness landscape. Fly camping expeditions, walking safaris and boating are available to guests.
Tanzania's Western National Parks
Mbali Mbali Gombe Lodge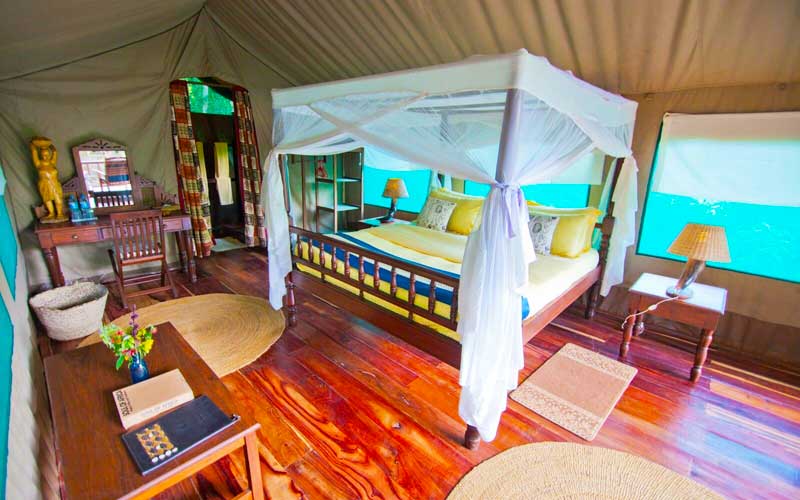 One double and six twin tented suites in the Gombe National Park. All ages are welcome at the lodge but for chimp trekking, children need to be over 16. Transfers between Kigoma Town and Gombe are included in your stay
Chada Katavi Camp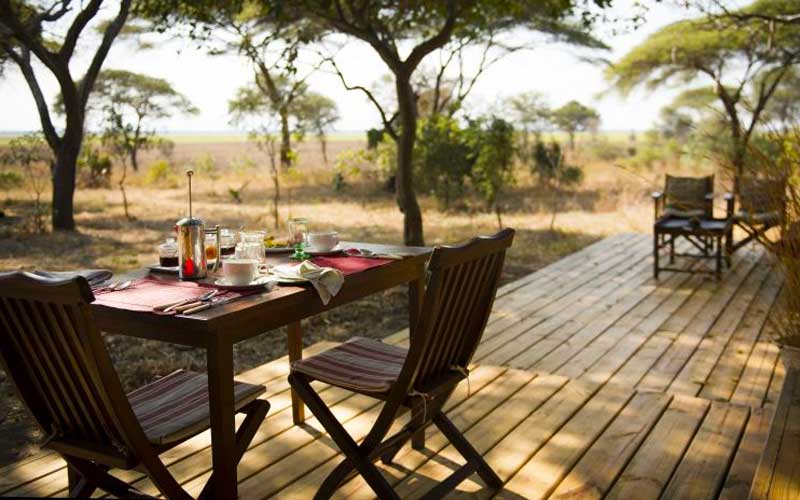 Luxury tented camp in the remote Katavi National Park. 6 stylishly furnished safari tents, the main dining tent and a fire-pit to enjoy evenings under the stars. Guests can also walk to Chada's fly camp for an authentic camping adventure on bedrolls.
Greystoke Mahale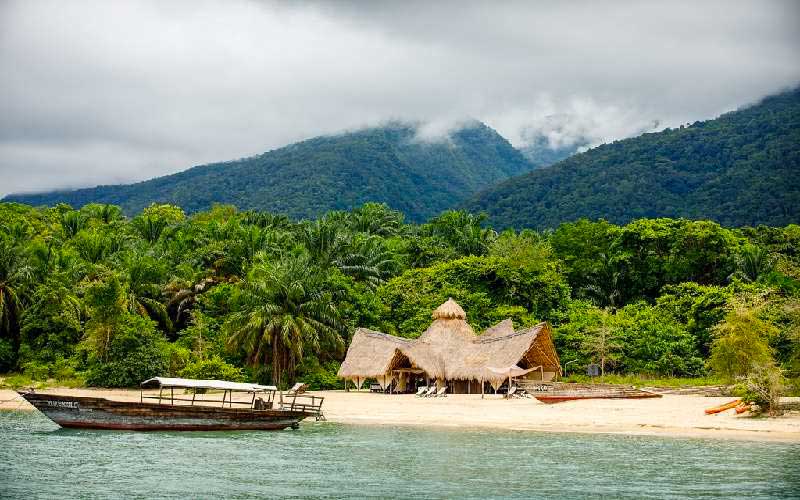 6 luxury bandas on the shores of Lake Tanganyika in Mahale Mountains National Park. Chimp trekking is the main attraction but guests can also hike, swim kayak and fish
Island Resorts and Hotels of Zanzibar
Zanzibar, the spice island, is the perfect add-on to your safari holiday. There are multiple Zanzibar Resorts and hotels to choose from with picturesque white sandy beaches and crystal blue waters.
Zanzibar Reserts and Hotels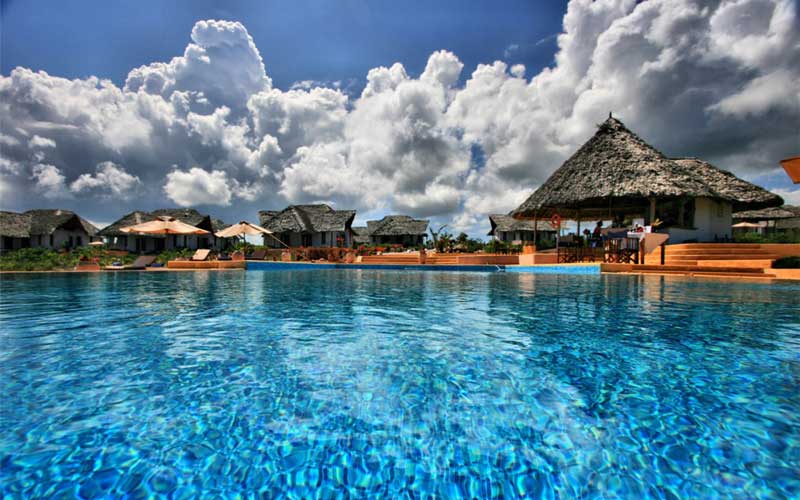 Kasha Boutique Hotel – Pictured hotel is on the north east coast of the island.
Sunshine Hotel and Zawadi Beach Hotel – Both located in Matemwe, on Zanzibar's east coast.
White Sand Luxury Villas – a boutique, eco-hotel on Paje beach on the east coast
Elewana Kilindi – An exclusive hotel set in a 50 acre tropical garden on the island's north point.
Sunshine Marine Lodge – on the remote north-east corner of Zanzibar, one of Tanzania's best dive sites.
Baraza Resort and Spa – located in Bwejuu, south-east coast.
Other Island Retreats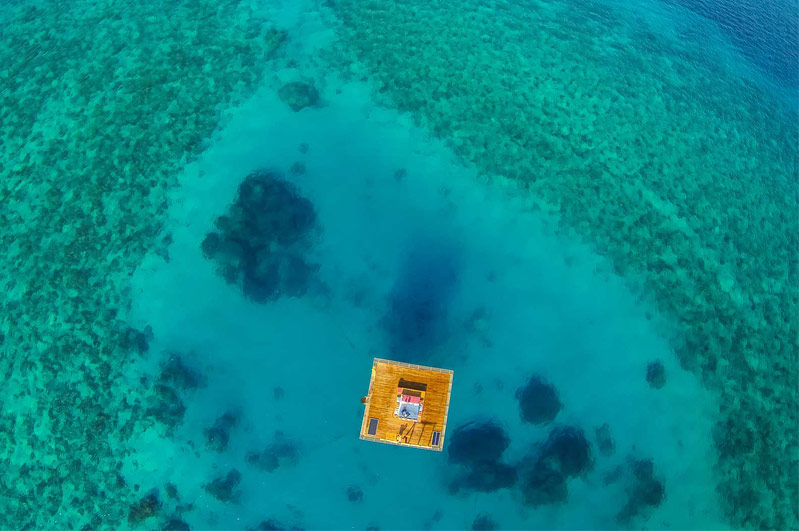 AndBeyond MnembA Island Lodge (pictured) offers 12 exclusive bandas on Mnemba island, less than a mile of Zanzibar's north-eastern coast
Thanda Island is the location of a single, exclusive-use villa that sleeps 10.  Located 18 miles/ 30km of the coast of Tanzania.
Pemba Island is to the north of Zanzibar, off the coast of Tanzania's Mainland. For more information on resorts on Pemba see here.
Limited accommodation on the island includes Manta Resort and Fundu Lagoon.